I hope you found some kind of shade this past few days! Temperatures topped out at over 100-degrees Friday through Sunday and there's no relief in sight.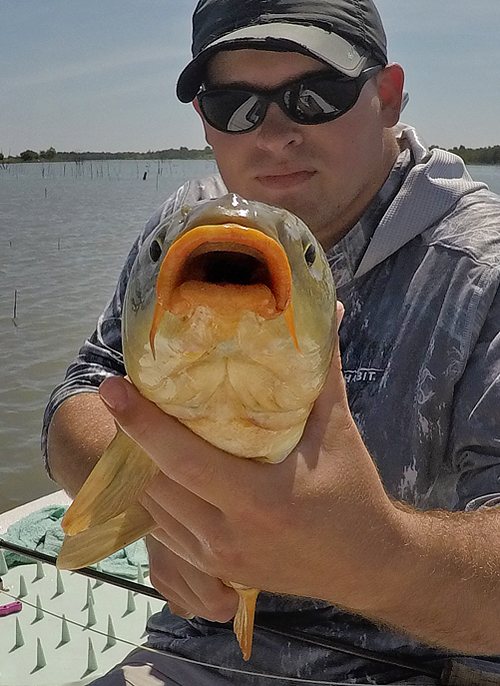 I am very happy to report that conditions for fly fishing on Lake Ray Roberts are surprisingly excellent. Over the last three days I fished Lake Lavon Friday (surprisingly bad with the exception of large sand bass), and Ray Roberts Saturday and Sunday.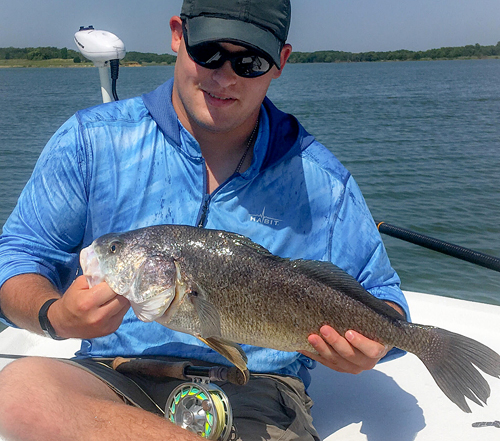 Clarity is gin clear, winds kicked in and did cause some difficult poling, but the fish? Carp are in some kind of time warp where it looks a lot like early June more than the middle of August. Carp are daisy chaining, stopping and turning on flies. We also have the added bonus of plentiful black drum which as you know, are closely related to redfish. And they are behaving just like saltwater drum / redfish behave – turning chasing and eating flies.
THE DANCE CARD
Having a North Carolina carp guide on the bow the last two days was pretty relaxing, as there were no worries about casting, accuracy or setting the hook. IF he had been targeting carp, I think we would have boated a dozen a day over the weekend.. But the target was the great buffalo, as he attempted to fill in his species dance card's blank spots. And we did have shots at buffalo, the permit of freshwater, both days. As you know, with the exception of a few days in a year, buffalo are extremely difficult to take. I don't even try very often – even when we see them topping twenty pounds. They just are not a tempting target.
HF4 took advantage of some of the Destination Fly Fishing information posted here and stayed at the Lone Star Lodge (formerly Lantana Lodge), so it was easy to just pick him up at their docks and we were on the best flats in ten minutes skiff ride from there. (Mixed reviews on the Lone Star, so I will followup on that.)
HOT DAYS AHEAD
For those of you thinking of booking a day, it starts early now and ends early. There is no point to poling after 1-pm at the latest, so we do start earlier than usual. The early start also gives us a chance to beat the winds, move if we have to and stop a good drift.
Seeing as this feels and looks like June (in fish quantity and quality) more than August, I'll have to go out on a limb and say that this will be a long season for carp on Lake Ray Roberts. Saying that is like predicting Texas weather, but if you do look back through the archives, you'll see that we do go into October many years. Unless we get an early cold front, I think we're going to be on the pole for two more full months.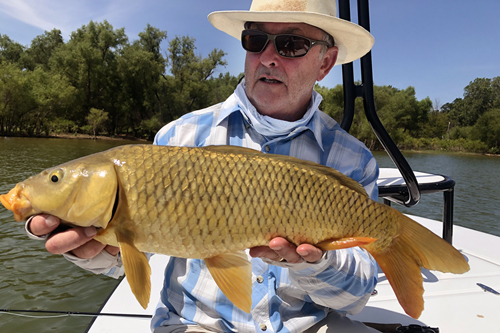 EAST CAPE PLYMOUTH FURY
We also ran into my old friend JB out on the lake, and he had a fly fisher on front to try his hand at carp — successfully. JB let me know his East Cape Fury will be on the market later this year, as he is in the market for a new Spear. I think the price is right, so feel free to contact me for more information about that used East Cape Fury for sale later this year.
TFO JOB OPPORTUNITY
Did you ever want to work in the fly fishing industry? I saw a job opening at TFO for their opening for a Social Media and Online Community Manager – Digital Marketer . That's an opening I think I may have seen three times in as many years, if that tells you anything.
WEEK AHEAD
We are expecting results from the Cowtown Classic any day now … no, really any day now! And I would hope the news gets here in time for tomorrow's irregular report – Texas Tournament Tuesday.
We also have some disturbing ecological news from Lake Whitney that I am working on the followup this week – if you know anything happening that is unusual, feel free to contact me as soon as possible
We also have blue-green algae blooms in certain parts of the State as well.
Category: Body-Mind-Soul, Culture on the Skids, Destination Fly Fishing, Fishing Reports, Flats Boats, Fly Fishing For Carp, Guides, North Texas, On The Water, Science and Environmental, Technical Poling Skiffs, Texas Skiff