Fly Line Management Systems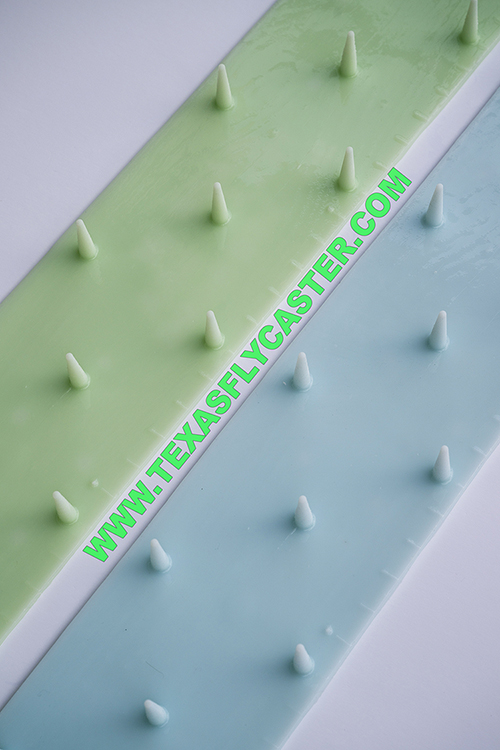 Fly line management is a difficult thing. Everyone has their own idea of how to solve the problem of fly line going everywhere, and most of them are great and creative ideas. I started making these mats – the round ones – in 2019, and offering them up for sale. They have been phenomenally successful. This year we have been testing a new prototype of a mat that was suggested by consumers. It has a longer surface area, and longer nibs which make it ideal for poling skiffs and laying across a kayak deck. It is narrow enough to lay beside a casting platform as well as behind or in front.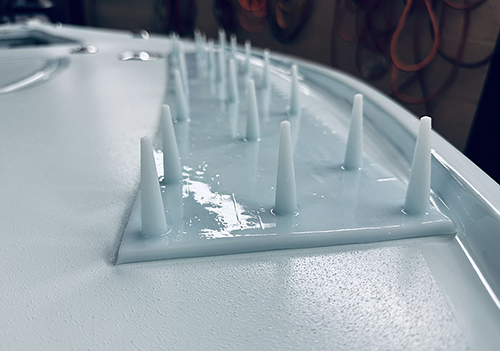 The video (at top) details the creating of the mat, pricing and performance characteristics of the new V2.1, or "Clint" flyline mat. Do You Feel Lucky? Well you don't have to be lucky to keep your fly line in line and on deck anymore.The Clint V2.1 is a game changing addition to your boat. In my use and with the feedback of users of my original round mat, I came to the conclusion that some fly fishers, many in fact, never want to think about HITTING A TARGET with their stripped line on the fall. That is what drove my thinking on "The Clint" fly line mat. At 36-inches long, it is the longest single piece fly line mat on the market today – PERIOD. In wanting a new design that would also have the weight to support the longer nibs, I settled on a round, be it English 6-inch number for the width. At 6-by-36″ this mat takes more material (uv and heat enduring rubber) to make, but on deck? It's there – in the right place at the right time. Two mats? Yes, it happens all the time; one Clint on either side of a casting platform means never having to move the mat from side-to-side based on direction changes while being poled, or while a GUIDE is doing the poling!
KEEP Your Fly Line on Deck With Line Spikes
High Grade Rubber withstands heat and cold and is very durable under normal use
The Clint V.2.1 weighs in at 2-pounds – making it heavy enough to stay on deck – won't blow off!
Cone Shaped Spikes are 1.5″ long! Yes, they'll catch your line and let you pay attention to the fish
WHITE color is the default standard color
MANY COLORS AVAILABLE – Maroon / Orange / Red / Sea Foam Green / Sea Blue / Clear / Black
Rubber is pliable, rollable and stow-able – Instantly bounces back into shape
MACHINE WASHABLE TOO! Cool cycle gentle with towels will do the job if it gets salty
Call now to order several, or get just one for your fly guy or gal's skiff deck. Wholesale inquiries welcome – starting Fall 2023!
ROUNDER – $129. — THE TICKLER – $129. — HUGE! CLINT MAT – $149.
I don't know about you, but I have been needing one of these for a long time! I finally decided to take matters into my own hands and make this fly line mat myself.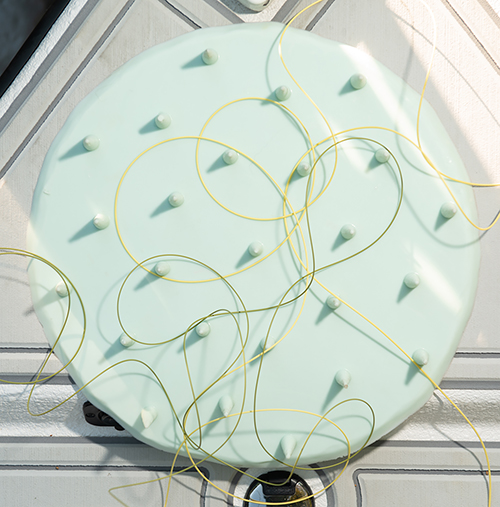 Guaranteed against workmanship defects for 12 months – that'll give you time to fish this product as much as I do in two months!
THE CLINT MAT 2.1 – THIS IS BY FAR MY NUMBER 1 SELLER! The newly evolved Clint V.2.1 is the ultimate fly line management spiked fly line mat. It measures 6-inches wide and 36-inches long, making it the most lengthy mat in the fly line business. Last and not least, I included hash marks on the edge so that you can measure from one edge – ZERO – to the other edge 36 – in one inch increments – with punctuation marks at 10-inch intervals. I'll admit the marks are subtle, but the reality is we do not measure fish all that often, do we?
THE ROUNDER – It's round, and it's the first mat I ever created. The edges are a bit "organic" looking, but the functionality is proven. THE ROUNDER started it all.
THE TICKLER – At 6″X20″ The Tickler is a smaller version of the Clint, with another difference – those holes at either end of the mat make for myriad ways to secure your line mat, and with a little creativity you could even build yourself a floating Tickler for walk wading! It's a whole new world of possibilities. Try it on the Jetties as well!
UPDATED 2023-04/01