VIDEOS
Fly Fishing Videos from Texas Fly Fishing's Texas Fly Caster
FIND THE COMPLETE FREE FLY FISHING VIDEO LIBRARY ON YOUTUBE
Texas Fly Caster YouTube Channel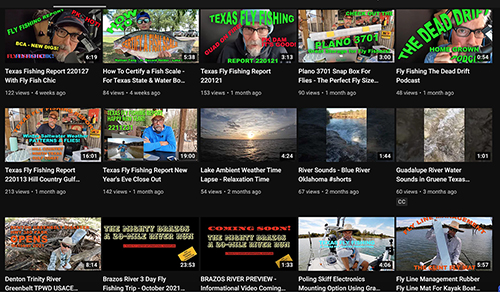 I am infinitely more interested in your fly fishing endeavors than I am in my own. So if you have something I need to see, feel free to let me know. If you tie flies, I would love to shoot a video of you – at my shop – tying the fly you want the world to see. Whatever you're doing, tell the world about it, sharing instead of showing is where it's at.
FOR THOSE WHO CARE TO WATCH
ULTIMATE FORM OF EXPRESSION?
Video is getting more popular every day. It has made huge inroads into the fly fishing culture along the way. I enjoy making videos as a further expression of my still photography work, and the relaxed environment of fly fishing lends itself to the kind of experimentation that feeds the soul. Video creation takes a lot of time and effort when compared to still photography, so I am not surprised by so few websites having good, or many videos. Many try, and many fail. Heck, I haven't done nearly as many as I should, and some videos are started but without fish – they never see the light of day.
BREAKING NEW GROUND – PATREON Subscriber Service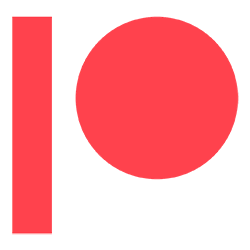 Now, you can subscribe to exclusive content that includes behind the scenes videos, expose style stories on fly fishing spots that include maps and details never previously available anywhere inside the Texas Fly Caster universe! GO TO PATREON FLY FISHING Now to sign up for different levels of subscription. The highest level subscriber gets a ticket punched for the year-end party at my place – The Fly Bar!
---
Launched June 2017 – Be sure to also visit the TFC YouTube Channel for a new series of videos about technical poling skiffs, and the mods I have made to my skiff named KoKo. You'll find inside information on where the name came from, where the mods come from, and where the skiff is going with maintenance and future mods.
My skiff approach is simple: Smart modification of a skiff that includes a) affordability (I'm no trust-funder), b) practicality, c) functionality and d) being true to the intent, look and design of a technical poling skiff.
---
WWW.TEXASFISHING.TV – This website is for sale! Contact Me For Details!
UPDATED 032023