Fly Fishing For Carp
Welcome to the Sidewalk
Good Monday Morning to those who see the good in a Monday morning! I am guiding on Lake Ray Roberts as you read this, so you'll have to let me off the hook (so to speak) for this short greet and go.
I hope you are also WATCHING the YouTube broadcasts that seem to be coming out with a little regularity – ON FRIDAYs. I am starting to enjoy the process of assembling those, and still looking for ways to be more efficient and accurate with the information provided on those Friday Texas Fly Fishing Reports. Do you have suggestions?
I've gotta let you go – catch-and-release – so I can pick up a client on the dock this morning. Thanks for reading, and we can get caught up soon!
If you are a Snapchat user, let's connect with that app! I think you would search for texasflycaster on the Snapchat app.
Getting into the groove of weekly fishing reports and now Texas Skiff videos as well
YouTube Channel Tops the 1K Mark Today!
I am pacing the Texas Skiff side project, so that video will be released later this weekend or Monday for sure. As I say in the video, time is greatly curtailed – weekend time – for the foreseeable future, unless something unforeseen happens — like hitting 10-thousand subscribers by the Christmas break. Yeah, I threw down the 10K (in the video), but with a hefty goal of two years. Heck it only took ten years to break a thousand subscribers – TODAY. One thing about the bleeding edge? You bleed.
I can certainly see why the cash rich businesses, be they brick-and-mortar fly shops, be they top-shelf clothing peddlers, be they million-selling rod makers … I can CERTAINLY SEE WHY they have not stepped up to YouTube. It's a real time burner to do it right, and a lot easier to half-ass it more than give it 100% every time.
Who knows? I am guessing something else will come along, and take me to another, as yet unknown, bleeding edge – 360-degree live feed, live broadcasting, who knows what? By the time I figure that edge out, those aforementioned fly fishing organizations will be dropping YouTube videos every day … just hide, you're good at it, and watch, you're good at that too …
(Now that we have crested the 1K mark, I fully expect the haters to unsub as soon as they realize the treachery they have released into the world!) – Thanks to you as well! I always appreciate a good pushback.
Carp guide prospecting and Texas Fly Fishing Report Update tropical storm Cindy
GIFTS KEEP ON GIVING
The plate was full this week, and with the call to repair a local fly fishing club's website (down for several days now), my plot only thickens. AND, that's the way I like it!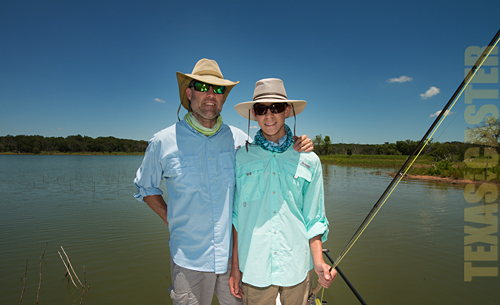 I am also getting a pretty good feed of your photographs for the Texas Fly Caster Instagram Feed – running behind, but thank you friends and readers for that! New news-tips are coming in as well, more like "you should check this out" tips really — requiring more legwork, more boat-work and more typing on these keys. Thank Goodness (that's what I should call my wife, goodness), this half broke-in laptop is now paid off! And just in time to get a check from YouTube for all those ads you watch (so I guess you will now stop watching!).
We have passed the first peak of the carp season, and are moving steadily along to the next one which will be helped along by the rains coming over the next 24-hours.
So this video is a conglomeration of some footage from prospecting for carp in preparation for the two guide trips I did this past week, and at the end is the scroll with commentary, on the Texas Fishing Reports provided by Texas Parks & Wildlife Department. I am beginning to wonder about their accuracy based on years of reading, and this week's UNMENTIONED tropical storm.
Who can blame the folks who assemble those reports really? (It's the same folks that power the once famous (now dying) www.texasfishingforum.com) The bid for that job, of providing the reports for Texas fishermen, goes to? THE LOWEST BIDDER. The State can make exceptions (Yes, I know that for those of you wonks reading this) to the "Lowest Bidder" for bids, but rarely does.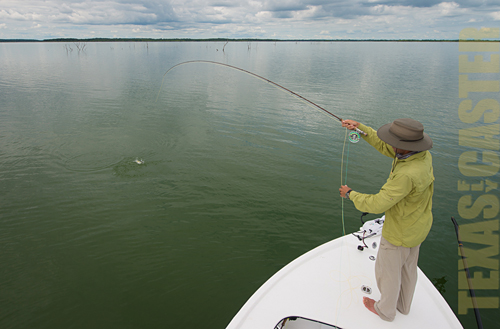 The thing about Whack-A-Mole sand bass is … at least you don't get a soggy tush, and you get any kind of bite you want – deep, mid and topwater are all contenders in this game – a game a lot like horseshoes and hand grenades.
Not only did we get on some carp this week, the sand bass are appearing on the lake – on top, and that means a great game of WHACK-A-MOLE for anyone interested — yes I can take you out for that exercise, and you can keep all the legal fish you catch. (No, I don't clean them.)The sheer numbers, many of you are into that, put other locations to SHAME again this year. I have deals starting the first day of summer, and they're called SUNDOWNERS – for those fishing, or fly fishing to eat (as I do).
Thanks for reading. I am guessing there's enough red meat here for those of you who read, and are not on your family "VACA" right now.
If you're in town, and ready to take the carp ride of your life, you know where to find me, right?