Adventure

Talking sixty and beyond. We look back to look forward at what we went through and what's to come on this long fly road.
I am patching together a video on the Brazos River float trip I did last week – with the extreme support of a great group of guys who, for some reason trusted me to be with, and part of, their experienced group of Brazos River runners, a group that has been running that river for […]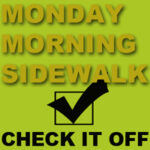 Moving along the sidewalk this Monday Morning. It's getting crowded!