Careful! Don't Slip Into the Future!
Do you feel like I do? My thoughts are still a bit clouded because of this month's huge family loss, but spring, but spring … it comes with a dose of bitter and sweet this year. My goal for the remainder is to keep running, even if my "fly" reputation is being forced into a funky transition right now, and it may not look like it, but I'm still running hard. (Yes, thanks Steve Miller Band and Peter Frampton too!)
SPRING 2022
North Texas fly fishing has never ever been exactly the same from spring to spring, but as my fly fishing reputation is changing, let me play that new image up a little … Whippersnappers! I remember spring droughts, and spring floods. Truth is, we don't know what we got until we got it. And it just might be over before it begins! We do know for sure what we don't have. We don't have any of the fun that came from the Trinity River between Ray Roberts and Lewisville Lake anymore – done and gone. Thanks for nothing USACE / City of Denton and TPWD. The worst of that is the calendar notices I keep getting from years ago – "caught hundreds of sand bass," and "hybrids at the dam," all add to the deep pain I feel about losing that fishery to mismanagement. Sad.
Yes, spring has sprung. But that means it can always bounce back, at least at first. For the science of it, have a look at the drought map below, and you'll see: Texas Needs Rain. Salt never ever looked so good to me. So there, always just … there, waiting patiently for the prodigal.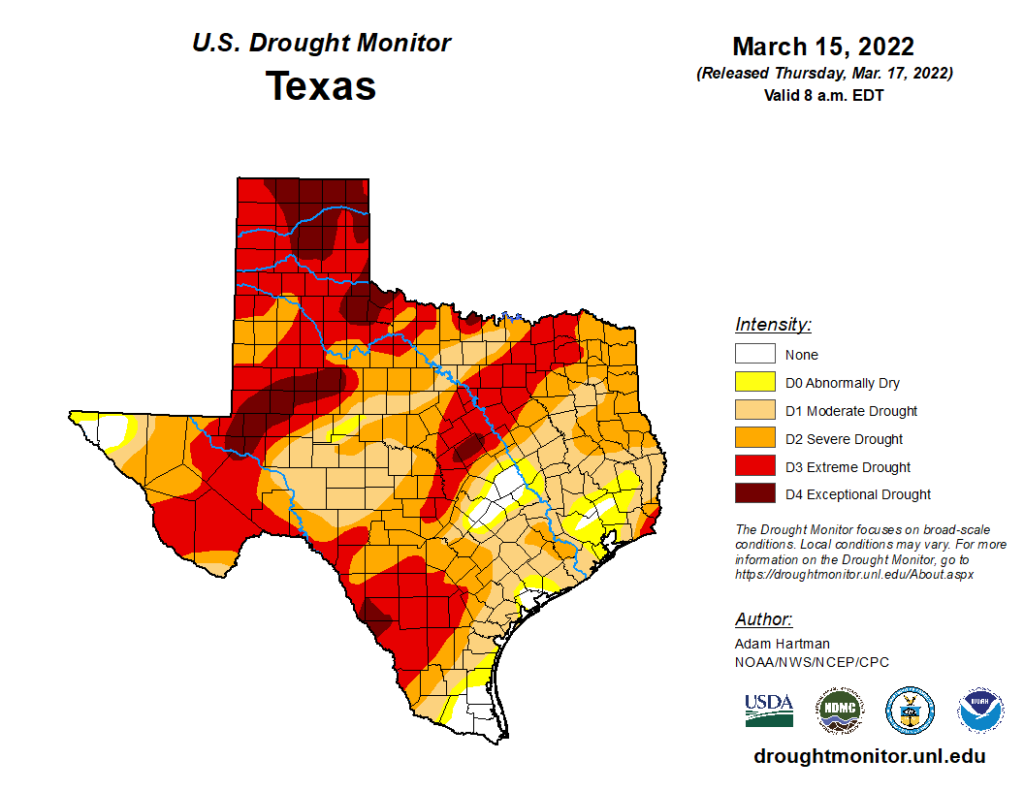 The wind did let up for one single day, and only a little – on Saturday, but the lake was completely covered up with boats it being the last weekend of Texas spring break. I drove around two ramp parking lots, and both were in overflow. It's not the crowds that get me, it's the morons. I never even looked at the ramp circus, went around the second lot and put the skiff back in storage. My mistake. Avoid weekends for God's sake, and avoid spring break no matter how desperate you / WE are!
Thanks for reading, and riding this out with me. I think I might get my sails trimmed a little this week, as I head back to HTown for the Houston Fishing Show and to be with family again as we pick up the pieces. I don't put any back ends on my road running this year. There's no telling where I'll end up after the show. Having a YouTube Channel and the expectations that come from the wonderful subscribers there means; I will have to buck-up pretty darn soon and flow you some fly content very, very soon. Subscribe, to that channel and you won't miss a thing!
Category: Adventure, Body-Mind-Soul, Culture on the Skids, Fishing Reports, Houston Fly Fishing, North Texas, On The Road