Tag: saltwater fly fishing
I bet you wonder where all this information comes from.
WHERE THE INFORMATION COMES FROM
When it comes to assembling the (sometimes weekly!) Texas Fly Fishing Reports, I glean information, that isn't FIRST HAND, from a few specific resources. These resources are NOT fly fishing based, and I typically don't report on common knowledge that is found on forums because it can be so hyperbolic that the real value is very low – to hardcore fly fishers. What I simply try to do is assemble real information together in a format that hits the highs and ignores the rest.
RESOURCES FOR YOUR OWN REPORTS
First – Texas Fishing Reports provided by TPWD. You can have e-mail alerts sent to your phone as soon as they hit the TPWD site.
Second – Fox Sports Southwest on Fox Sports Outdoors on my cable TV (which is soon to be disconnected), early Saturday morning.
Third – Texas Insider Fishing Report, again on Fox Sports SW.
HINT – You can watch Fox Sports SW on your computer. Texas Insider is at www.texasinsiderfishingreport.com
THIS WEEK – Consider Sam Rayburn for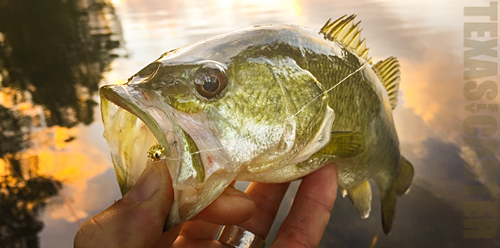 Winter Wonders and Wanders on The Fly
Good morning. I can imagine you are probably enjoying the perfection of this dying year's calendar, still off from work for another week if you're lucky, and looking for a fish to catch – trying to get lucky. Well, the temperature here in Houston went over 80-degrees yesterday, and when I was checking with a couple of fly fishing friends in DFW, the temperature hit the high 70's there as well. Amazing.
Whatever fly fishing you do, be sure to let me/us know about it, and have a great week!
"Welcome back my friends, to the show that never ends," here at Texas Fly Caster, and in the past few years on the Texas Fly Caster YouTube Channel. I couldn't help but punch the ELP button right up front, after the announcement that 69-year-old Greg Lake lost his battle with cancer this week. For those of us into slightly deeper pursuits of music, I certainly appreciated his musical impact with King Crimson over the decades.
And speaking of the show that never ends, can you believe we are headed into 2017, and the tenth anniversary of Texas Fly Caster? Time does fly, and the YouTube Channel proves it. I started experimenting with YouTube ten years ago because they had the best looking most efficient way to take video files (that were way ahead of their time and internet speeds) and put them on the Texas Fly Caster website. Look how far they've come, and look how far we have come! DSLR video, GoPros, hell, how about cameras and video in our phones? Remember what that was like in 2007?
Above is this morning's Texas Fly Fishing Report (recorded before sunup this morning). It contains information that you can translate into your fly fishing pursuits, and pass along to friends as if you invented it. I like when that happens. Folks gather so much information these days … that they forget where they got it! I demand no attributions, just let me know how it goes out there. Me? I'm staying inside where it's warm (after the Cimarrona Studio Show in our backyard tomorrow).
Speaking of tomorrow's show, there will be flies for sale at the Cimarrona Open Studio Show – flies by Mandy Mendez. I have steel to sell in many forms. For more information, go to the Cimarrona Facebook Page now, and check it out.