Tag: saltwater fly fishing
I bet you wonder where all this information comes from.
WHERE THE INFORMATION COMES FROM
When it comes to assembling the (sometimes weekly!) Texas Fly Fishing Reports, I glean information, that isn't FIRST HAND, from a few specific resources. These resources are NOT fly fishing based, and I typically don't report on common knowledge that is found on forums because it can be so hyperbolic that the real value is very low – to hardcore fly fishers. What I simply try to do is assemble real information together in a format that hits the highs and ignores the rest.
RESOURCES FOR YOUR OWN REPORTS
First – Texas Fishing Reports provided by TPWD. You can have e-mail alerts sent to your phone as soon as they hit the TPWD site.
Second – Fox Sports Southwest on Fox Sports Outdoors on my cable TV (which is soon to be disconnected), early Saturday morning.
Third – Texas Insider Fishing Report, again on Fox Sports SW.
HINT – You can watch Fox Sports SW on your computer. Texas Insider is at www.texasinsiderfishingreport.com
THIS WEEK – Consider Sam Rayburn for bass. If you know that lake, it is rising near the top of the National List for bass lakes. The heat is going to start taking a toll on all our freshwater pursuits now.
SALT – Rollover Pass on the BP sounds to be the place up north, and Port O is shaping up mid-Texas Gulf Coast. Apparently, smacks are still up for grabs on the Port Aransas jetties as well. Down south? It's South Padre Island time! Sure the land cut (inside bay side) is still going on solid, and fish are a bit deeper heading into the cuts and channel, but South Padre seems to have the best opportunities for FLY FISHING on salt right now.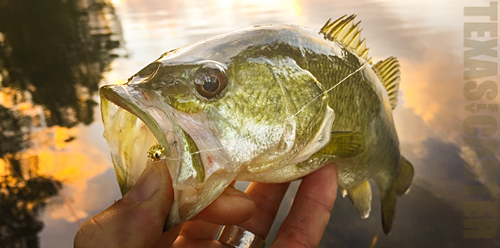 Winter Wonders and Wanders on The Fly
Good morning. I can imagine you are probably enjoying the perfection of this dying year's calendar, still off from work for another week if you're lucky, and looking for a fish to catch – trying to get lucky. Well, the temperature here in Houston went over 80-degrees yesterday, and when I was checking with a couple of fly fishing friends in DFW, the temperature hit the high 70's there as well. Amazing.
[ppw id="157815021″ description="Monday Morning" price=".25″]
What's not so amazing if you're traveling, is the front that tailed out just over the Texas line? is looking like a hurricane formed over land. There's a counterclockwise swirl of ice, snow and rain that looks like it reaches almost all the way to Canada – and it's moving east. Brutal.
I hope Santa Claus was good to you yesterday, and you got whatever you wanted whether it was fly or not. I did get the missing piece of my Under Armour 4.0 (blizzard weight) long johns to cover this bag of bones, so now maybe it will get cold enough to use.
Plans for saltwater fly fishing, due to my open-ended work schedule, have been delayed until next weekend at the very least, so I can get back and hang one project, make the turn, and come back here during better tides. Sounds like a plan, right? I hear God laughing. Well, with this weather why not go home anyway?
I was able to get out to the neighborhood pond yesterday afternoon (walking distance), and entice some marauding bass into biting a tiny fly. There's just something about fly fishing on Christmas Day … reminds me of surfing Encinitas on Christmas Day in another life.
In another month we'll probably have a clear picture on whether Texas will have a winter this year, or not. If this year is like last, it'll turn out without a winter, and with a torrential spring. We should be so lucky!
If you're as dependent on seeing new information here as others are, you may suffer a little withdrawal this week, or not? It's almost impossible to tell what this week will bring, and a little time off is deserved … by all, right? There's still a lot to do in the Texas fly fishing world regardless of season, and there are opportunities being sent our way at the moment. So I can't exactly say, "Stay Tuned," and I can't encourage you to tune out either!
[/ppw]Whatever fly fishing you do, be sure to let me/us know about it, and have a great week!
"Welcome back my friends, to the show that never ends," here at Texas Fly Caster, and in the past few years on the Texas Fly Caster YouTube Channel. I couldn't help but punch the ELP button right up front, after the announcement that 69-year-old Greg Lake lost his battle with cancer this week. For those of us into slightly deeper pursuits of music, I certainly appreciated his musical impact with King Crimson over the decades.
And speaking of the show that never ends, can you believe we are headed into 2017, and the tenth anniversary of Texas Fly Caster? Time does fly, and the YouTube Channel proves it. I started experimenting with YouTube ten years ago because they had the best looking most efficient way to take video files (that were way ahead of their time and internet speeds) and put them on the Texas Fly Caster website. Look how far they've come, and look how far we have come! DSLR video, GoPros, hell, how about cameras and video in our phones? Remember what that was like in 2007?
Above is this morning's Texas Fly Fishing Report (recorded before sunup this morning). It contains information that you can translate into your fly fishing pursuits, and pass along to friends as if you invented it. I like when that happens. Folks gather so much information these days … that they forget where they got it! I demand no attributions, just let me know how it goes out there. Me? I'm staying inside where it's warm (after the Cimarrona Studio Show in our backyard tomorrow).
Speaking of tomorrow's show, there will be flies for sale at the Cimarrona Open Studio Show – flies by Mandy Mendez. I have steel to sell in many forms. For more information, go to the Cimarrona Facebook Page now, and check it out.