There's news, and then there IS NEWS. There are very few of those all caps news days around here anymore, but you've been with me long enough – nearly fifteen years – that when I say there is NEWS? You know there really is something to read …
OUT OF THE SHADOWS
Through bouts of mandatory silence, and all kinds of mystery we have wandered along this year. We started with the proposition of a new coffee-fly shop, me in the driver seat, in Fort Worth, Texas. That adventure was to be called "Coffee & Caddis," and that is not dead, and the name is still on the burner, back burner, for a shop here in Northern Central Texas. 
The front burner turned to boil this past Saturday, June 11, 2022, when I flew with the proprietor (DK) of the C&C business to Harlingen, Texas. There, we were met by Ben Christensen. Ben, a hardcore fly fisher and hunter, would be giving us the tour of a building in Port Isabel, Texas. It is where Ben grew up, and as you have read so many years you know it – the Valley, and South Padre Island – is where I grew up.
It turns out Ben has cranked up a hunting lodge and would be quite happy to have a fly outfitter-coffee shop to go with his lodge business – forming a southernmost Texas fly fishing destination for the first time ever on the Texas map. It almost makes too much sense, right?
INTO THE LIGHT
The lodge is tucked away along a back road to Harlingen, from Laguna Vista, one I never even knew existed as a kid. And maybe it was a bad FM road back then … I have no idea why we never used it. Forget the time-saving shortcut, enter the old gate and time no longer matters. Valley time kicks in when the skinny chain rattles on the gate closing. The charming lodge is a combination of style and function with its origins coming from WWII military barracks that were sold off from the decommissioned Harlingen Airport as the war effort wound down. (I still have the 50-cal.rounds I found on the strafing practice ranges around the airport) Apparently the barracks dot nearby neighborhoods and fishing villages for various purposes to this day. I think it's called, "good bones." These barracks were the good bones for people to make a start, something that no longer exists these days – affordable housing.
The lodge, now notched into a restored thicket, houses hunters intent on finding quail, dove and the abundant nilgai. At eight miles from Downtown Port Isabel, it is also a natural resting place for fly fishers, intent on the pursuit of Lower Laguna Madre redfish and trout. And with a little effort, the targeted fish now include snook and tarpon. Snook and tarpon. Do you get the same goose bumps? Do I have your attention now? These are fish that were non-existent in my childhood! Now, they are there and can be found without a lot of smoke-and-mirror fly fishing.
PIECES OF THE PUZZLE
Once we relocated to Downtown Port Isabel, and rolled around the back of the line of buildings; I knew FOR SURE where I was. The building on the bayside corner? That was the famous Pop's Surf Shop, the same place I named my online fly shop after – Pop's – ten or so years ago. Now the surf shop is the finely tuned art and gift store ART-SEA with well selected merchandise, a charming mother-daughter team and beautiful displays.
The building, the final piece we had come so far to see, is two doors down, or up – depending on your leanings – from the corner. And … it's a beautiful wreck, neither undersold nor oversold. Talk about good bones? This is a building that will talk in the future about the moment it was claimed for new life, to bring new life and lives, through its doors.
The newest Coffee-Outfitters (fly shop)-Cigar Bar on the Texas Gulf Coast is born in Port Isabel, Texas. And get this! I am managing the Outfitters side of the business, and GM for the operation for now. Boys and Girls, I am finally going home. Home, there's no place like it – warts and all.
FANTASY VS. REALITY
Does everyone filter out the worst of their childhood as they get older? I think we do, and probably should, filter out the bad. Otherwise, it eats us alive and leaves us dead too soon. So as I prepare in coming days and weeks, for my homecoming, I have a pretty good dose of caution running around in my head. The known-knowns are solid, but the new unknowns are roaming around and inviting in unknown-unknowns to slip inside, between the cracks in my head. One thing is certain: You're coming along, and this is going to be a wild, wild ass ride!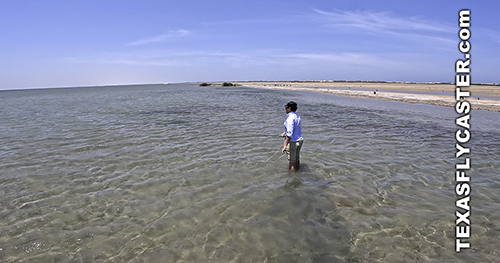 WHAT THIS MEANS
I have always known the Tip-of-Texas, the Lower Laguna Madre, Port Isabel – South Padre Island, all the same, has the most beautiful water and beaches on the Texas Gulf Coast. I know what I am talking about, and I defy you to prove otherwise. It also has one of the few waterbodies in the world that can claim hyper-salinity the Laguna Madre. And a view of that water is right out the back door of the new Shop in Port Isabel, Texas. The Lower Laguna Madre is its own world, with immunities and afflictions unique in their symptoms. And for decades now, the Lower Laguna Madre has been left off the mainstream map of fly fishing destinations. It is a long way, and maybe I won't be welcomed for bringing the little spotlight I carry back home, but guess what? I was a "local," and I am a "local," and if you've ever surfed Southern CAL? you know what that means. We're going to light it up.
I am excited to relocate the Texas Fly Fishing Report to the Lower Laguna Madre, and I/we/the shop will be bringing you all the news that fits from that location … until the last dog dies. Most consider a trip to South Padre Island a "bridge too far," but I am here … there to tell you how to get there, when to get there, what you can find, what your family can do, and most importantly WHERE and HOW to find fish in this tropical paradise. News, views, products, celebrations and events — and so very important to me – photography from the giving landscapes, people and places I rediscover in South Texas. I think forty years away has done me some good, added some much needed visual perspective. And now it is time to go back and see if I actually learned anything.
My plan is to continue to provide content on all levels. You know there will be some inconsistencies in the timing, but on this ride? You will be witness to things you have never seen, or thought you would see, or maybe even dreamed ever existed. We are in eye-shot of SpaceX, so you can bet the Lighthouse across the street will be jam-packed on launch days, and we will be live streaming that to you when possible. There are also ecological issues that need to be highlighted, and we are there for that as well. But, obviously this is a quantum shift in focus for myself and my coverage! The "Soggy Bottom Boys" takes on a whole new meaning now … you're going to have salt in your drawers … or panties … or whatever! A long board is probably in the future as well. And we're going to adventure into gator infested resacas for big bass when the wind goes past thirty in the bay.
There will be a "hand-off" of the Denton 380 Greenbelt Disaster coverage. I will have more on that soon!
FOR MY PATREON SUBSCRIBERS
And the visual document I have wanted to create for years: "Building a Fly Shop," may just find a starting point now.The Patreon-fly fishing subscribers have already been let inside this fly shop process, and there is where paying subscribers will get inside looks at the outfitter-coffee-fly shop in Port Isabel AS IT IS being built. The nitty-gritty is found there, and it may amount to a public, full-length feature someday. Trust me though, some of what you find on the Patreon Channel will end up on the cutting floor.
Thanks for reading, and I hope you have a fantastic week ahead! I am out of commission from Wednesday to Sunday at the very least, so give me your thoughts as I go spinning into sedation Wednesday morning!
---
Sorry for this late publication. My internet cable was cut this morning, for the fourth time in ten days. What is the definition of insanity, the Verizon Company and City of Denton subcontractors doing the same thing – over and over and over and over again. Just another minus in the minus column!
Category: Adventure, Destination Fly Fishing, Fly Shops, Soggy Bottom Boys, South Texas, Texas Gulf Coast