Breaking a South Texas Gem Down
There are places I go to in my mind, and regardless of fishing, the Arroyo Colorado, in the Rio Grande Valley is one of those places that holds firm in my memories. That doesn't change the set of facts that surround my experiences there; before now, my only experiences were from a dock, fishing at night under the lights, exactly 7-tenths of a mile east of the turn at Chilli Willie's Drive In. And the old guys will recall it is the place where Texas Parks And Wildlife research was stationed and the netting boats were docked and stored. They rented from my Grandpa for years, while we stayed in the small cabin in front on weekends when TPWD was away, or not conducting research.
Maybe, with the ending of this epic, I will wind back through those memories, but I bet you are much more interested in the fly fishing opportunities that exist in real time, on the Arroyo Colorado!
INTRODUCTION
The Arroyo Colorado, or simply Arroyo, exists as something of a drain for rural and agricultural lands that surround it. It is long enough that I feel the need to break it down into three easy pieces. For lack of imagination, I am calling them the upper, middle and lower zones. As you can see from the map, they are more divided by trying to be equidistant, rather than by change in structure or habitat. Sections one and two are very similar, and can easily overlap each other without much distinction. But the difference between zone three and one and two? They're distinct, and the demands, and access are different for a fly fisher.
Technically, the Arroyo is described as a "distributary" of the Rio Grande River that stretches from Mission, Texas, to the Laguna Madre through three South Texas Counties – Cameron, Willacy and Hidalgo. You can learn a ton more here – https://arroyocolorado.org/about/watershed/ And, that is something I never knew before now!
While the Arroyo is incredibly long, we are only interested in the areas we can reach to safely and "easily" fish. And I will add; I will be concentrating on areas where the water turns, and mixes fresh and salt.
THE PLAN
My plan is/was to show and tell you what you may be able to do on the Arroyo, and all you need to do is stay within your abilities. If you have a kayak, that means one thing. If you are staying at a cabin? that means something else. And if you have a boat, not necessarily a skiff, that means something else WHEN IT COMES TO your options for fly fishing this "red river bed."
While the best laid fly fishing plans would include a lot of fish porn, that was not be an option given the time restraints I had while in the Borderlands – in April of 2023. My hope is that the information you get makes you forget about fish, and actually take notes, or bookmark this information for your own future adventures. It may be up to you to add the fish porn! But I promise I gave it the old college try. HINT: Zone 3 does have some surprises.
THE DIFFERENCES
There are tons of differences between the "old" Arroyo, and the Arroyo of the 21st. Century. For instance, snook were a novelty fish. Very rarely, we would catch one right under the dock on a simple retrieve of a shrimp – dead or alive. I remember the first snook I caught. I had to go home and look it up on the TPWD website, the one with those great illustrations of the different species. And you can recall Larry Haines talking about snook in the interview I did with him here –
I was so proud that I actually decoupaged the magazine image onto a cheap oval wood plaque, and had it for years. Nowadays, snook are just about everywhere, and the Arroyo is said to have their share as well. Back then tarpon were ghost fish, in old photographs, faded and almost forgotten. Now, they have been caught in the Arroyo – at least the word on the water is, they're there. I think it is safe to say the images of snook and tarpon in the Arroyo Colorado are rare. I caught some flack for my story on the Brownsville Ship Channel – Watch the Brownsville Ship Channel Video.
But that can be said for so many fly fishing places and fishes in the Lower Laguna Madre of Texas. I know there is a vein of, "don't show, don't share," that runs through the community AT LARGE, and while I respect that when gathering from others? What is someone to say if I can give you all the ingredients I have gathered with no human interactions, and maybe you can make your own fish cake? This ultramodern concept of "me, myself and I," rocket fueled by the pandemic, just has no place in the fly fishing world I inhabit … along with the other worlds in which I live.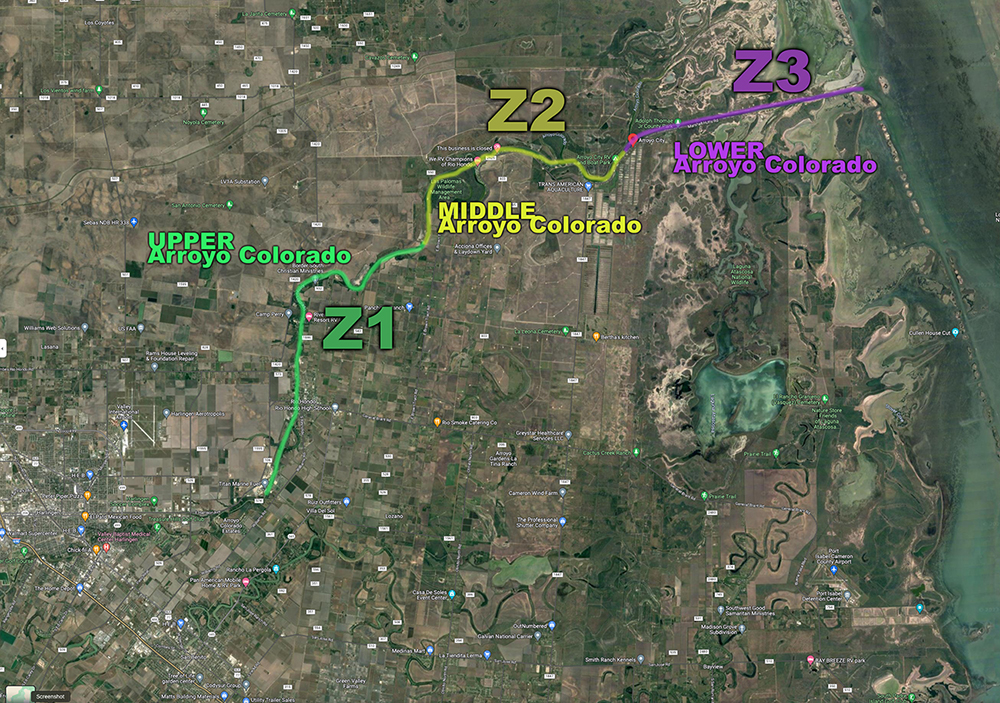 ZONE 1 – The Arroyo Colorado from South of Rio Hondo – to the Harlingen Port.
ZONE 2 – The blurry line from Rio Hondo to Arroyo City.
ZONE 3 – From Arroyo City to the Laguna Madre.
!COMING SOON!
Category: Adventure, Destination Fly Fishing, Fishing Reports, Fly Fishing for Redfish, Fly Fishing for Trout, Fly Fishing World Destinations, Gulf Coast Report, Lower Laguna Madre, South Texas, TECHNICAL, Technique