texas saltwater fly fishing #flyfishing #carponfly oklahoma fly fishing
Good morning again! I hope you are already pumped about the weather changes in your part of Texas, or wherever you may be. Fall is falling into place now, and I can sense the winding down of a season to remember, and the startup of a new season full of expectations about a whole new can of worms about to  be opened and tossed onto the compost pile of Texas Fly Caster information that just gets more potent with proper aging. (REMINDER – CHECK THE ARCHIVES!)
While the carp "season to remember" is winding down, I still have to push it as far as I can, and this week seems like a great time to see just how much we can squeeze into mild upper 80-degree days, and cool nights in the 50's. Since the weather IS changing, it IS time to also start thinking forward to our fall-winter season of fly fishing opportunities here in North Texas and elsewhere. Elsewhere? How can anyone get the idea of Louisiana bull reds, Texas flounder runs or Texoma smallmouth out of their heads?
---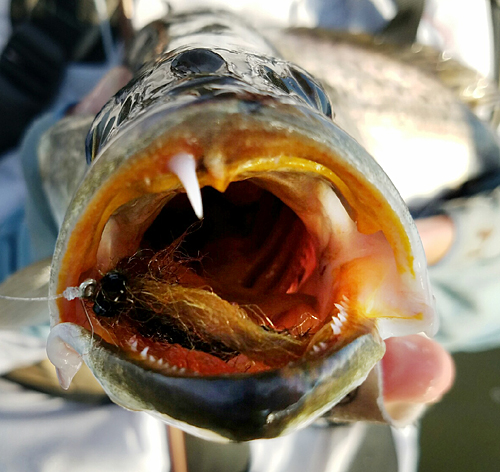 GALVESTON ISLAND STATE PARK FLY FISHING
Speaking of getting out, and on the road; a friend and I hit the flats behind Galveston Island State Park Saturday, and that full report will be coming out tomorrow for TFC subscribers reading pleasure and knowledge. It's a great time to hit the Texas Coast – as long as you heed the tides and can handle the winds that may take a calm day and churn it a bit. It was refreshing, and exorcising to simply walk out onto a flat and start casting. And it just goes to show you how simple the pleasures of saltwater fly fishing can actually be. Tune in for that story tomorrow.
GOING LONG THIS CARP SEASON
Like I said, I'll be pushing the carp season – running them until the last dog dies – and keeping you in the loop here as usual. The old adage of "showing-and-telling," and, "always telling the truth," still stands here after all these years, and I see no reason to bend a story into propaganda or a "chamber of commerce" report, just to  generate readership or income.
So you can expect me to keep you on board until the last carp leaves for the winter, and then we will be delving into the Blue River and Beaver's Bend, Oklahoma — making the old new again, as we investigate and explore the new reality at the BendBow, and good old Blue River. Nothing's going to stop me this year. As the Airstream has again waited patiently, I will just have to pack up the tent, find my favorite spot (or new favorite spot due to floods), and prepare for your arrival at my site – either by reading, or actually arriving – rain, shine, sleet or snow. I can't wait!
Thanks for reading. Be safe on your drives, the most dangerous thing you do every day! I know, from yesterday's drive, that the highways are changing course more than any river ever does.
+Shannon Drawe
+Texas Fly Caster
-30-
Category: Adventure, Complimentary Reading, Culture on the Skids, Destination Fly Fishing, Fishing Reports, Fly Fishing For Carp, North Texas, Oklahoma Report, Saltwater Fly Fishing Texas, Texas Gulf Coast