How to start a Tuesday … perhaps citing the fact it's national taco day, or the Bass Pro swallowing of Cabela's, or the fact we caught two smallmouth yearlings on Lake Ray Roberts last night, or a boring old fart's weather report, or maybe I should just stick to the advertised topic; catching speckled trout at Galveston Island State Park?
CROSSING INTO THE SALT
The days shortened, gave me the cover of time as I crossed the 45 bridge over to Galveston Island. The rising sun delayed its arrival even more, as a cloud bank offshore gave the appearance of a high mountain range far distant. Yellow-orange-gold was yet to peak through.
I rolled down the windows to take in that smell, the smell of salt marsh, the smell that clears the sinuses, attracts and repels, cleanses the soul and clears the thinking. Salt wipes away everything, all the static, all the things that matter less than the day's pursuit. It's always been that way for me, the ride to the beach always woke me up from sleeping in the back seat of the Buick, and put Toby (our standard poodle) on high alert, as we made the last curve on HWY 100 at Laguna Heights. We strained to look over the brush, over the bay and see the tall building just built on South Padre Island. It was a new beacon then, and now just one of dozens of sky scraping condos.
Taking the back way to the Galveston Island State Park (GISP), I though way back to Hurricane Ike, and the devastation I photographed there a mere two weeks after Ike beat Galveston down. Down, but not out. Now, it looks like nothing even happened. How soon they forget, I thought … it's only a matter of time, and time is something I know a bit about now. HURRICANE IKE ARCHIVES
It's a whopping $5-dollars to park on the bayside of Galveston Island State Park, a true bargain that lets you park and wade right in, or launch a kayak and ply some vast and dynamic habitat that can yield redfish, ladyfish, speckled trout, flounder and stingrays. Of course, one way or another, you need to be ready for stingrays.
I "loaned" my friend the fiver so he wouldn't get popped by the extremely attentive park parking ranger, and we headed all the way back in to park at the kayak launch. As we were lining up, me sitting on the back edge of the 4Runner, we talked about the day ahead. There was no need to hurry, as the sun was still angled too low to reveal any fish, and the tidal movement was yet to come (a major tide event). I "loaned" my friend a solid fluorocarbon leader with a ten-pound tip for the extra abrasion resistance, and he tied on a gold spoon fly while I tied on a home grown redfish crack fly (video of that fly tie coming soon!). Set aside the "loans," I was happy to see my young friend awake and near water at this hour!
Our small talk was interrupted by a loud crash, as the kayaker parked next to me lost his grip on his kayak, sending it sliding off the side of his Excursion, rebounding off the side of my vehicle, and hitting the ground. Call it what you will, PTSD or whatever, but I didn't flinch, didn't go running around to see what happened … nothing. I just asked the guy, who was embarrassed and adrenalized, if it looked okay. He said yes and professed embarrassment, which was plenty for me. My friend remarked at my casual demeanor, to which I replied, "How could I care about that after the last year I've had?" and we started walking. I didn't tell him, a younger veteran, I hadn't flinched in decades.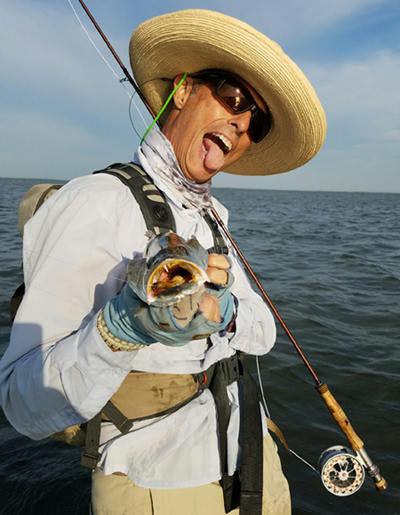 GOING RETRO
I liked the idea of going RETRO, back to the feet, the boots on the muck, shuffling and sliding and sinking my way to some inexperienced fish – old school. Mainly, I just wanted to prove again to myself it could be done by me, or anyone who reads this and wants to do it. No kayaks, no SUPs and no boats.
There was plenty of bait action on the water, and there were the occasional big blowups of trout smacking on the top. The water was shallow enough that someone more adventurous would certainly have a shot at some topwater trout action that Saturday morning. I began to recall the NEW lessons I learned while convalescing — watching the (mostly conventional) DVD's by www.troutsupport.com. FYI – These DVD's are critical to our collection of knowledge.
There were the bait slicks being blown by wind, as described, the mud boils, the clear water areas, and the areas starting to cloud by the breeze blown mud. While the tide wasn't in full flow, the activity seemed to be everywhere. After a new moon, it was the morning feed. It certainly helps to know (thanks to TroutSupport) what you're seeing!
I cast to the back of the slick and retrieved the crack at a deliberate (trailer park) pace, probably best described as, "medium speed foot long," strips. The ticks came immediately, and then the harder munches came, but none were committed. A few more times at that pace, then I recalled a morning years back, on kayak, where the same behavior was happening nearby.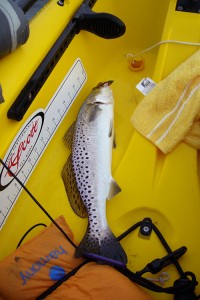 From the Archives – Click Image to read Offats Bayou 2008
I solved that problem by changing the strip. I picked up my pace, with two-foot strips that had zero pause, and shifted to "fast" mode. That did the trick. I could imagine these fish, mere feet away, competing for a … lame, slow moving, strange looking shrimp stimulator pattern? No, these specks needed to be pushed into a competitive frenzy mode to take.
I caught two small fish almost instantly, on consecutive casts, and once I saw the size I realized the reason for the ticks. These were small 10-inch fish just learning the ropes of group think, group slaughter. I determined to prove to myself that just like when going after stripers, I would work my way through many small ones to get to one large one that JUST HAD TO BE THERE.
Sure enough, a solid hit on the fly came after about three more casts. It was a fight that comes only rarely. The trout headed straight toward me, and I was caught with slack – stripping to maintain tension, and going to the reel – alternately spinning the knob as fast as I could on the Lamson Guru 3.0. Still, all the onus was on me to take up the slack, the TFO Mangrove was barely bent on the tip. Finally, high sticked, with about three feet of fly line left, the fish less than a rods-length away, it figured out something was wrong with that last meal, and headed west, putting a full bend in the rod and finally boiling to the top. A nice swirl told me it was a fine fish.
The trick is to land these trout by simply horse collaring them in front of their dorsal, from above, and putting a little pressure on either side of, and above the gill plates. It was a nice trout at about 18-inches, and fed to fat.
We moved on sweeping the flat, along with a few other guys fishing conventional, and ended going up against a grassy point where I again saw the signs of more fish feeding (bait was being pressed up against the point by the ever-increasing winds), and fast stripped my way to three more dink trout — mostly in an effort to prove I knew what I thought I knew about trout in saltwater shallows.
Those distant mountain clouds finally came in as the winds increased, so we decided to pull out and do some more looking, but nothing more came of the day at any of our other stops. The wind and clouds, as often happens on the salt, dominated the day.
I have to say, we both were pretty well worn, and satisfied that we were not going to walk-wade these waters again any time soon. Not with him the proud owner of a SoloSkiff, and me the proud, if inexperienced owner of a saltwater skiff. As dangerous as these areas are for boats (hence the lack of boat traffic), we both swore we would be floating next time.
You would ask about redfish wouldn't you? We saw absolutely none, and no indications of any at all. They were somewhere, just not there. I had heard, "schooling," which means staging, and I take that to mean deeper and nearer the channels. However, that may be inaccurate. Maybe we can get Danny Scarborough of Houston Fly Fishing to fill in that particular blank?
HERE'S WHAT YOU NEED TO KNOW
[ppw id="144641102″ description="THE INSIDE INFO ON GISP TROUT" price=".10″]
WHERE – Galveston Island State Park – on the bay side. It's a great park, and not crowded this time of year (compared to the summer season). It's a darn good spot to bring a trailer, or maybe even a tent! There were less mosquitoes there than in my backyard right now.
WHEN – Check the charts. Check your Apps. You want tides that are really moving water in-and-out of the system. KEY on those chart times, and make sure they are accurate by checking in more than one place for the times. THAT IS CRITICAL.
HOW – Any way you want. Boat, kayak or on foot, it's hard to go wrong by starting at Galveston Island State Park. But, don't hesitate to go north instead of south, and if you make the GISP home base, well, the world of Galveston is your oyster. Everything is closer there than to Denton, Texas!
WHAT – Speckled trout – flounder – redfish.
USING –
Seven to nine weight saltwater rods
floating line – tropical for awhile longer switching to cold-water line soon
long leaders without compromise 9' to 12' fluorocarbon or mono for topwater 10#tippet
save your ammo, and only cast at probable targets of opportunity
Clouser / shrimp / crab imitations — depending on your time of year and intelligence reports
vary the retrieve until the fish tell you it's right
DON'T leave fish to find fish. DO leave if you don't find fish.
Change flies when the thought comes to mind
Check for frayed leaders and knotted leaders
Turn all your senses on full blast – eyes looking for signs (not just at the end of your line), ears listening for surface smacks, nose smelling for slicks upwind of you
Polarized glasses – low light (early) and saltwater flats (later) contrasts (2 Pair)
Full sun coverage – brimmed hat, buff, gloves and sunscreen
WARNINGS – Stingrays. Sticky mud in other locations make for actual danger if you are physically challenged. Oyster beds – can trip you up. Whatever you do, if you are falling down in an oyster bed – putting your hands out to catch yourself is the end of your day. Remember – it's not the cuts from oysters, or the sticks from stingrays that necessarily do the most damage. It's the VIBRIO that gets in those cuts that can kill a horse. Jellyfish.
[/ppw]
+Shannon Drawe
+Texas Fly Caster
Category: Adventure, Body-Mind-Soul, Culture on the Skids, Destination Fly Fishing, Equipment, Fishing Reports, Fly Fishing for Trout, Fly Lines, Fly Reel, Fly Rods, Fly Tying, Gulf Coast Report, Hot Spot, Kayak, Life Observed, Movies DVD Video, On The Road, Paid Reading Content, Saltwater Fly Fishing Texas, TECHNICAL, Technique, Texas Gulf Coast