Fly Fish Offatts Bayou in Galveston SOLO on Kayak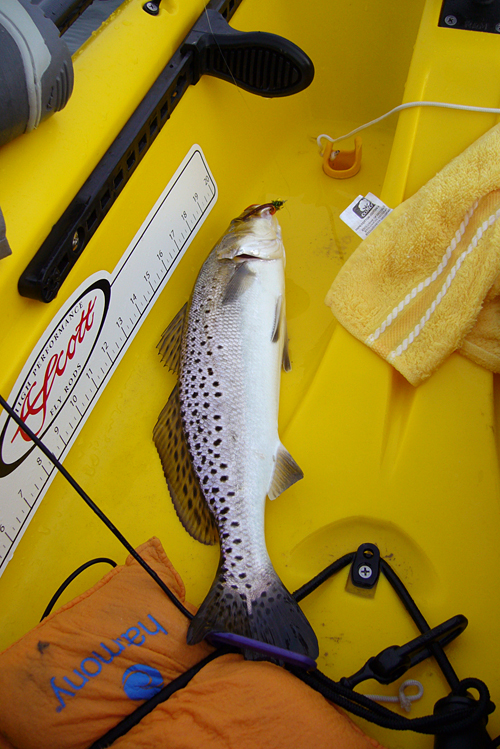 Offatts Bayou, Galveston, Texas, Speckled Trout. [ppw id="133613103″ description="Fly Fishing Offat's Bayou by Kayak" price=".10″]
It looks bigger than it is. I think it was actually between 16 and 18 inches as were all the Trout caught yesterday.
Once I used the visual process of elimination, I settled on launching at one of the spots pointed to in Ray Crawford's book, "Wade & Kayak Fishing on the Upper Coast of Texas", on page 135. It seemed like, based on information from the Texas Kayak Forum (TKF), and prevailing winds, the shelter of Offatts would be a safe place to take a first ever saltwater kayak excursion.
Honestly, based on all the chatter on TKF, I was expecting to stand in line to launch, but instead was all alone launching right next to the airport on a Saturday morning. I guessed everyone was still playing with their new toys, or I was in the wrong place. The airport off Stewart is hard to miss though, and so is the continuing drama of devastation on the back side of the island. People could expect a sit-com length thirty minute solution to the Ike disaster, but they would be again disappointed. There is still so much work to be done.
Based on my dreams I guess, I was expecting to see signs of Reds in some fashion somewhere along these grass-edged flats, or prowling the channel bottoms in the bayou. I thought they would be standing on their heads, be waving their spotted tail flags saying "Live Fish Here – Catch Me".
In a good six hours of kayaking, exploring and orienteering, I saw and caught no Reds, but did manage to ferret out a few tight schools of Speckled Trout on the edges of deep boat channels. It is easy to forget just how good a fight Speckled Trout can give, even if I was battling them with a heavy 8wt rod. I managed about 5 in the school fish range of 14-18 inches, which was very satisfying since the most time was spent paddling an estimated total of 6 miles. There were many more hits by them but I had a hard time adjusting to hook-setting, and they were simply released without a catch. In all, I never got a killer hit that made me think "this is a BIG" Speck.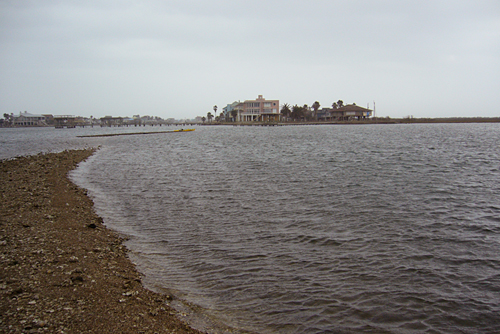 Reef at the entrance of Offatts Bayou. The homes, piers and boat houses along the shore are in various conditions – from untouched, to destroyed.
It didn't take long at all to navigate to a neat little reef at the entrance to Offatts where I beached the kayak and walked and fished the edges of the reef. Currents, and winds made this spot look the healthiest, but perhaps better in warmer months.
The day on the Island ended with a run down to San Luis Pass where the surf side was churning and the currents and waves through the pass made for spectating sport. The back side near the bridge looks very healthy for future fish – much like all the flats along Offatts. It may not be "on" right now, but during typical months of Reds in the flats, my imagination again runs wild. I can't wait until it heats up again.


At home in the bottoms around the San Luis Pass.
GEAR REPORT
The Amas on my Tarpon 140 were the difference in casting and catching in my opinion – allowing me to stand and cast at will. The only drawback on a day like yesterday, was the wind and bigger wave action I had to endure in order to fish the channel drop offs. An extreme case of "sea legs" was prevented by going back to shallow wading, or beaching on reefs occasionally to walk and cast. If I had GPS, I could have known to go slightly further on one occasion, and hit the inlet to Sweetwater Lake. Missing that alone seems to warrant serious consideration of GPS. If I lived on the coast, besides the obvious shallow water poling boat, I would go ahead and opt for the T160 for the added stability.
My Panasonic Lumix DMC-FX9 just doesn't seem to like the water. It may have gotten a bit wet, and it did rain on me while fishing, but from the first time I pulled it out to use it, the screen was black and has been black for awhile now. So all the images you see here came from that camera without the benefit of me seeing what I was actually photographing. The fact this camera has lasted this long, in such adverse handling and conditions, is a testament to the Panasonic Lumix, and I continue to recommend it to all my beginning students, family and friends who may want a shirt pocket size party or fishing camera.
I did shoot some video with my Sanyo Exacti camera, but even though it records on a SD card, the card has to be in the camera, and the camera used as a "Card Reader" to extract the video from the card. NOTE TO SELF – use the Exacti to record still images as well as video since it is good down to 1 meter. The video is piling up on the camera because of that bottleneck problem of having to use the camera as the card reader. It has been a great pocket size video camera so far, and has surpassed my expectations in durability. The biggest drawback are the buttons, and specifically the zoom function, since it is too small and hard to activate for the average thumb (yes thumb). A complete redesign of the button positions could render this camera a classic in short order.
[/ppw]
Category: Equipment, Fishing Reports, Gulf Coast Report, On The Road, Paid Reading Content, Photography, Reviews