LAKE CONROE TEXAS
with Guide Danny Scarborough
Are you ready to get prehistoric? How about on a fly rod? Well if you are ready, then your next destination in Texas could well be Lake Conroe, Texas, to catch bowfin on a fly rod.
"The Cajuns call em choupique, but I've also heard mudfish, mud pike, dogfish and cypress trout, but I prefer plain old bowfin," Danny Scarborough of Houston said.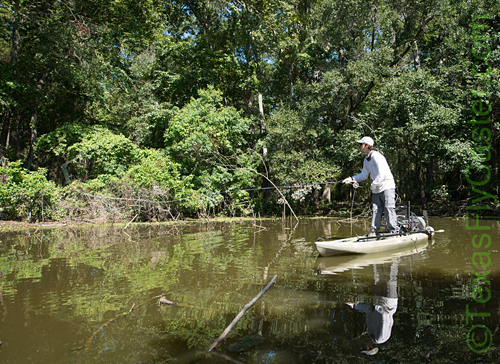 Diablo Paddlesports "Amigo" make for a great fly casting kayak platform in these demanding conditions.
Bowfin are not that uncommon in East Texas, but have often been regarded as a trash fish, or a nuisance by fishermen seeking largemouth bass around the swamps of places like Caddo Lake.  That's where Scarborough stepped in, and decided to elevate the pursuit of bowfin in the eyes of fly fishermen who might be looking for a new species with new challenges.
Pursuing bowfin, East Texas style, involves slowly, quietly kayaking through shallow coves loaded with stickup branches, and looking for telltale signs of bowfin. Sometimes they find you though.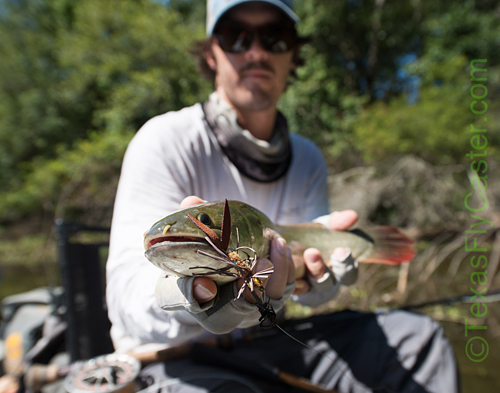 Bowfin are toothy, aggressive and territorial fish that can reach double-digit weights.
"They actually will come up to my kayak and investigate what's disturbing their territory. It's the coolest creepiest thing ever! Anyways one day I was fed up with a Grass carp that had just broke me off and I decided to tie on a streamer and give an area a shot I had been seeing tons of Bowfin," Scarborough said. Four casts later he had his first ever bowfin on fly, and three more bowfin later, Scarborough knew he was hooked.
"I like everything about them! They're up shallow, sight castable, aggressive, prehistoric, they have teeth, they're powerful and will take a streamer," he said.
The fly fishing season for bowfin runs spring to fall, and hot days reveal the fish more readily as they surface to gulp air and return to their territory. It's not uncommon to see them cruising the same areas where fly fishermen stalk grass carp or common carp in the warm months.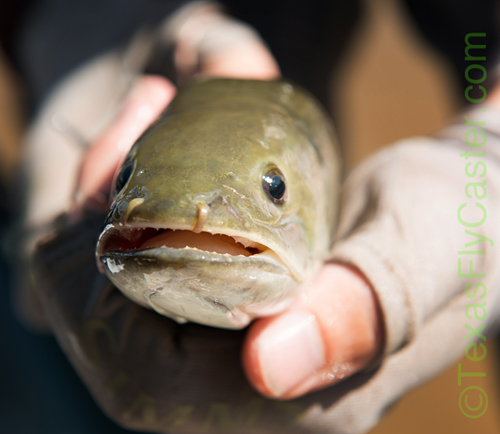 Two rows of teeth can do damage – to flies and fingers.
A significant number of fly fishers in Texas and the US are interested in seeing just what kind of strange fish they can catch on a fly, and the prehistoric bowfin certainly qualifies as strange. "I don't know of anyone in Texas consistently catching Bowfin on the fly and definitely no one guiding (specifically) for them on the fly. I've heard and read of some guys up north catching them on the fly but mostly Lake Champlain during the spawn," Scarborough said.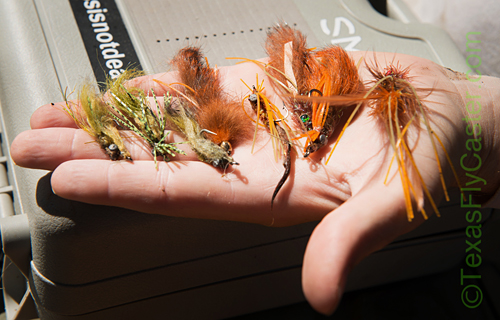 Voila! A typical bowfin fly selection.
HOW TO DO IT
Contact guide Danny Scarborough at www.houstonflyfishing.com, and he will be glad to book an outing with you!
---
NOTE – This is my version of a story appearing in a recent issue of Lone Star Outdoor News. I checked in with Danny before publishing, to see if this action was still on, and he said the fish are, "even more feisty right now."  10-07-16
And IF YOU HAVE A FLY FISHING STORY, I would be glad to listen, and perhaps we can work it into something interesting for thousands of readers at Lone Star Outdoor News, or here at Texas Fly Caster. Your first step is to contact me! You can call me, or text me at 9fourOthree800fourO8 24-hours a day, seven days a week. Or fill out the contact information on the "CONTACT" page, and I will respond as soon as possible. REMEMBER – I would always rather talk (write) about and photograph YOUR STORY any day!
+Shannon Drawe
+Texas Fly Caster
Category: Adventure, Complimentary Reading, Culture on the Skids, East Texas, Fishing Reports, On The Road, Technique