Tag: guide service lake ray roberts
Last week was an exceptional one here at Texas Fly Caster
Good morning fly friends! I hope you are happy with the weather this morning? You could ask for better, but you wouldn't get it.
I am suffering from a case of tennis elbow, this time caused by the constant patting of my back by myself. Have you ever tried that? Some decent videos last week, two guide trips, and a Texas Fly Fishing Report that nailed, NAILED the fishing conditions last Friday … honestly, by Saturday I was thankful for the rain giving me a chance to sit still and recuperate.
By Sunday I was quite content to ride along with a friend on his tandem Hobie pedal drive, acting like I was pedaling occasionally. He wanted to "trawl" around for sand bass, but the schools I saw last week were elsewhere. Wow, Lake Ray Roberts was crowded too!
This is shaping up to be a defining week for our future, with things happening "one way or another," "for better or worse," in regard to a lot of things that have meandered along for this entire year. It will be nice to get past these boxes on the calendar, and on with some new opportunities.
Are you a Drake Magazine subscriber? I have been looking for the Summer 2017 issue on Denton's only newsstand, but they don't have it yet. I am always wondering which comes first, the digital issue, or the paper one? I know I've told you about the article I have coming out in this issue (at least once), but I am always anxious to see how the images are used … I guess it goes back to my newspaper days.
As this week begins to define one part of life, it is refreshing to know it also defines the time on the water – like today. The skiff is hitched, and I just need to throw the dart.Thanks for reading, and check back this week. This week will be as big a mystery to me as it is to you (believe it or not) at this very moment.
---
---
LOVE YOUR CHILDREN
Tomorrow is another somber day. Another of the contemporaries of, and friend of family members, died of a drug overdose and that service is tomorrow. Twenty-nine years old. That makes three young men we knew, in the last five years, dead at the hands of drugs. Tragedy, pure and simple, pays another visit.
For those who are a captive audience wherever you are this Thanksgiving weekend, please enjoy a look back at what turned out to be an epic year of chasing carp on Lake Ray Roberts, Texas. A look back at a year of recovery for me. A look back at how rough things were, and appreciation of all things, a Thanksgiving for how good my health now is. To say I don't recognize myself from this March to this November is a bit of an understatement. But then, I certainly don't recognize myself from, say summer 2015 to now either!
Enough about "myself" though! This long video (which you can FF at any time) is a way for me to close it out, create a document, and keep on moving; new chapters are already in the works. You may experience problems with video length / quality / streaming speeds — and there will be a lot of bandwidth chewed along with that dressing over the holidays!
If you do watch – THANKS! And if you don't? Thanks anyway! I would rather not see myself on screen anymore, so you can keep me off screen by sending me "newstips," and story ideas, and inviting me along on your trips — to DOCUMENT YOUR FLY FISHING (and other) STORIES for consumption by hungry fly fishers here at Texas Fly Caster. Operators are standing by!
Have a fantastic Thanksgiving tomorrow, and we'll see you out there somewhere on Black Friday!
carp on fly guide texas fly fishing lake ray roberts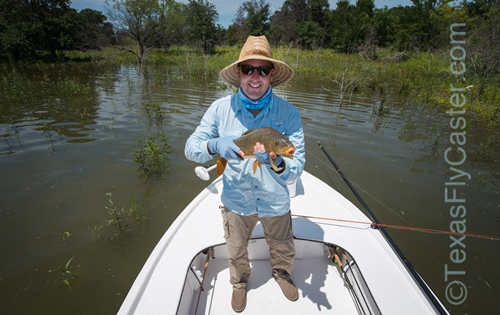 I thought I should go ahead and put out this report on my outing Tuesday … an outing with an old, old customer from way back in the BOGO days! He was willing and able to hang tough for two years, as the circumstances on Lake Ray Roberts changed, and the circumstances in my throat changed. Heck! He even had another kid in the meantime! Hats off, and thanks to Brandon Smith for his patience over all these years, and his patience today as we reached, ran, and found carp on Lake Ray Roberts.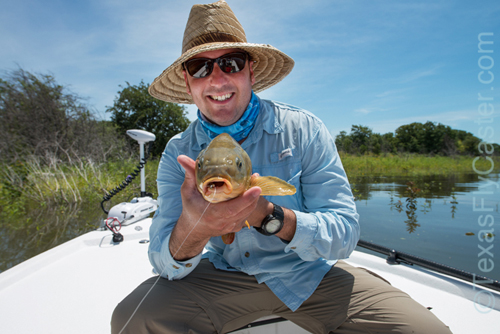 [ppw id="134517786″ description="Carp on Fly Guide" price=".10″]
Today was a day when I had to throw out what happened yesterday, and start from scratch. I saw carp yesterday, in one place, and today? they were gone. What happened? I am not sure, but it looks like a green algae has moved into areas, coves and such, of Lake Ray Roberts, and that moves the carp, and all fish – OUT.
DAMMIT JIM – I am not a scientist. It could be algae, or it could be simply pollen. When I looked at it though, it wasn't just laying on the surface as pollen does, but it is down deeper as well. It shouldn't come as any surprise with such a sudden influx of freshwater that Ray Roberts and other lakes will now be dealing with algae blooms (again this year).
Anyway, we did finally find fish, and while they did take the heavy-eyed Coyote Carp Fly (available at PoPs Fly Shop by the way), the take of the "Stupid Simple" fly was instantaneous. Clarity was the culprit. And there was little clarity around in general.
[/ppw]