Overnight Rains Flood a Perfect Picture
We had another real rain last night, and the jungle I live in is rinsed, free of its dust and pollution once again. Somehow, the rain gods have pounded our house at intervals that have given the house near invisibility from the drone I have been learning to fly. All I see, without going too high, is a rooftop poking out like the edge of a rock sticking out of a bluestem pasture. That's it, just the house rooftop seems to be giving hint to our residence on the ground below. It is an amazing scene this year.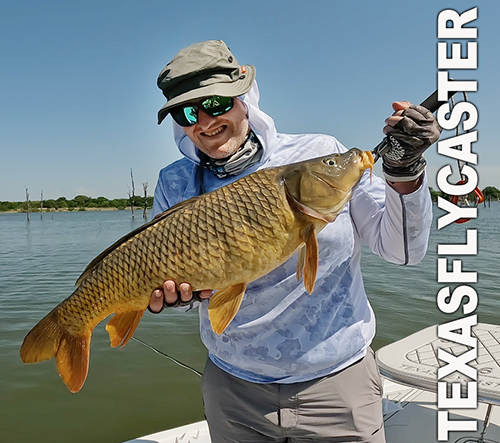 Ray Roberts Carp
The fish, those sweet sensitive carp on Ray Roberts? They are everywhere and because they essentially took a year off last year? They are the healthiest herd I have ever seen – that said after only one day guiding on the water last week. It appears the entire population has grown, un-tamed and untouched, to a volume that matches their stature of the late oughts when I took up this pursuit.
Sand Bass Run, Hide and Seek
A few weeks ago, I went on a research trip of the Brazos River near Granbury-Weatherford, Texas, with local Guide Greg Welander who lives in this part of Texas now. He's been here awhile actually, but he's tuning up his game, and with the help of his Hog Island Skiff (an extremely practical Texas vessel), we got up to some of those sand bass stacking points, and threw in a couple of nice striper as well. The bait was abundant at that time, and the striper were more incidental than intentional. That said, seeing backing was a refreshing experience. Pound-for-pound these striper were not in the mood to be food. Of course they didn't know we are catch-and-releasers until we showed them how that works. Thanks to Greg for the great ride! Watch the video and please LIKE & Subscribe to the YouTube Channel people!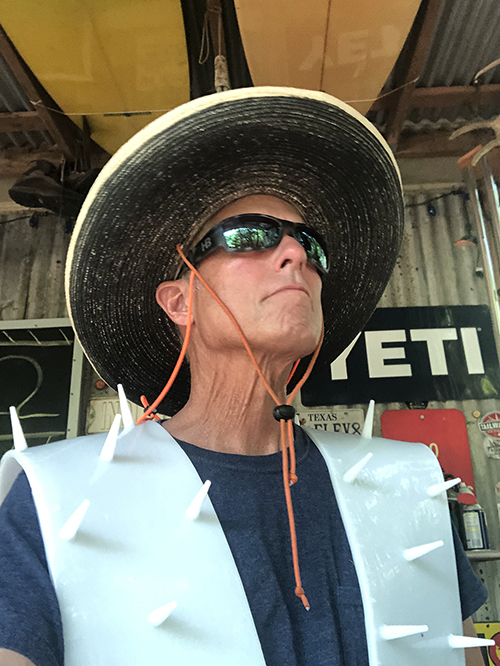 The Fly Line Spikes and Fly Line Mats – It's The Same Thing!
Running 24-hours a day, is the fly mat business. Literally, things are running day-and-night because of the needs for these mats to cure properly. Some of the geographic places these mats go make me wonder just what I am doing wrong. Why are they all going to Florida the Carolinas, Georgia … from me here in Denton, Texas? One person ordered a couple of mats after seeing them on his guide's skiff in the Bahamas. So … I guess you're saying there's a chance?
Whether this burst in popularity will last is a true product marketing mystery (hence the headline above). I hardly ever get any feedback from buyers, and my efforts to promote seem to have been mostly fruitless this far into it. My "smartest" marketing move was to imprint the back with "Made in Texas USA / 940- -" on the back of each mat that goes out. Still, no one has said they ordered because they saw my number on the back of the mat. No, I believe this spike, pardon the pun, in sales came from someone else's Instagram account – Chittum, a little over a week ago. My first Chittum, though, is NOT on order just yet. I need this to be a marathon and not a sprint! Not only are there Clint V.2.1 Fly Line Mats to make this week, there are videos to promote the mat and actually SHOW the new 2.1. Whether you are looking for fly line mats, or fly line spikes – you're in the right place now!
Patreon Extras
For the Patreon Fly Fishing Subscribers, there will be some bonus content that goes with the Brazos River Fly Fishing video that went live just before 2-am today. That will show up there later this week. My Patreon subscribers are a breath of fresh air. They make me HAVE to produce, and that is the kind of pressure, like guiding, that I crave.
Thanks to them, and thanks to you the faithful readers who come here Mondays to see just how the rubber hits the road these days … so many miles along the road, and so expensive a run it is these days, isn't it? I cannot remember a time when there was more to do, to see and experience! The road goes on forever, even if the gas budget does not, but we'll get there somehow, won't we?
Category: Central Texas, Culture on the Skids, Fishing Reports, Flats Boats, Fly Fishing For Carp, Guides, North Texas, On The Road, Soggy Bottom Boys, Texas Skiff