We're back in the saddle again, after a few days in Port O'Connor, Texas, last week. As usual, road trips send me lots of different messages that require time to recognize, decipher and translate into the words you find here. I certainly wish those messages had translated into volumes of photographs – of fish – as well, but what the fish taketh away in images, the fish giveth in words. Yes, I know that is torture for some expecting the opposite, but the words, I hope you choose to read, may be more informing and entertaining than a single fish photo.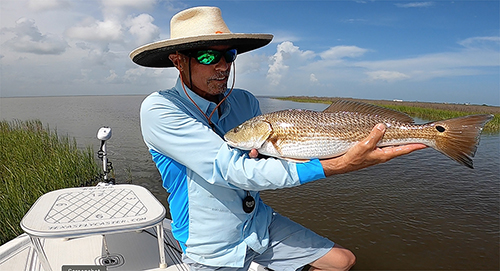 CASTING AND FORECASTING
Yesterday, Sunday the 18th. of July, I spent a few hours casting several different Thomas & Thomas fly rods with the Texas T&T rep, Greg Welander and others, at an event put on by Grapevine Fly-Fishing at a park on Lake Grapevine. The social value of events like this cannot be overemphasized after 2020, and yesterday was a good few hours playing catch-up with Greg, some of the guys from Fatties on the Fly and helping out with new fly fishers casting strokes. For those of you I met during casting, if you really are interested in continuing the learning process, see the page on this website – Casting Lessons.
The forecasting comes from all of us who guide, and have had our dependence on Texas weather FULLY EXPOSED this year. The only weather we can predict with certainty; we certainly are living an unpredictable weather year. We are all holding our breaths, hoping this week does not bring back the rain, and raise lakes and river flows to the point of fly fishing uselessness once again. The environment, while behaving strangely, was normalizing – emphasis on was.
THE BACKCAST
Observations on the road, and on the Texas Gulf Coast at Port O'Connor, are obviously still in the word processor – in my head, and while one long article on a slightly OFF TOPIC is already ready to publish? I also want to give you the red meat topics you've come here to find year after year. The slightly off TOPIC on the new "SPORTS" of fly fishing is one that formed over time, but was triggered by a chance encounter inside the Port O'Connor Speedy Stop 5am Saturday morning. We will also break down the fly fishing realities last week (not the Chamber of Commerce Version), and a brand new video will be out with a fish fight dark-side smackdown. And I will show you what did the trick for prospecting for reds on the dark side – for me – last week. PLUS! We will take an economic look at the state of Port O'Connor in real time – put on your shades, the future looks bright, with clouds on the horizon.
THE BROADCAST
As always, feel free to send in hints, ideas or even your own stories about fly fishing. I will take those at face value, edit if necessary, and gladly put them out here with your name in the rolling credits in bright lights. Some of my best days alive are when I hear from you, people!
This week, while filling in the blanks from last week, is a grinding week that includes guiding and making several fly line mats to ship off to faraway Louisiana and nearby Texas. The beat goes on! Need a guided trip on the flats of North Texas? Be sure to check out the page – If you haven't seen the fly line mats either? Be sure to learn more about those here – Fly Line Deck Mats / Line Management.
Thanks for reading! I am confident more unknowns will be known this week, and more unknown stories will find their way to me as our tightly looped broadcast continues …
Category: Adventure, Backcasting, Body-Mind-Soul, Conventional Spinning Rod Reel Fishing, Destination Fly Fishing, Fly Fishing for Redfish, Fly Shops, Life Observed, On The Road, Prospecting Conventional Gear, Saltwater Fly Fishing Texas, Science and Environmental, Texas Gulf Coast