texas fly fishing EXPO bass on fly #flyfishing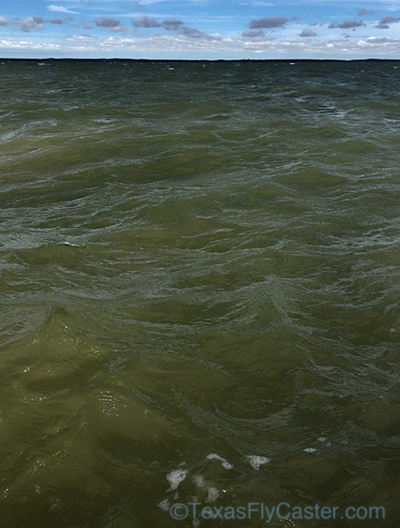 High NORTH winds drove me around to the other side of Ray Roberts to find a launch spot out of the wind!
How about this early fall weather? Typically, we don't cool off this soon here in North Texas, but here we are with these little cool fronts passing through every few days – just about in time for Texas' famous Friday night lights every seven days. I do love football season. It takes so many people off the water!
Last weekend was marked by the Texas Fly Fishing EXPO here in North Texas, an event I missed, one day due to the weather, and the next because that same weather (overcast and rainy) offered a chance to go back and find the huge grass carp I came across a few weeks ago in the rain. Besides we all remember my old adage; it's better to fly fish than to talk about fly fishing. Isn't that still the truth after all these years?
Not to be critical, but for those of us who didn't attend the Texas Fly Fishing EXPO, we'll all have to guess about its success since the EXPO avoids the technology of the day. No updates on the website, no youtube videos, no snapchat, no twitter — not even smoke signals? Absolutely nothing from the scene. Not exactly a formula for the broadest sharing of (what I'm sure is great) information, and definitely shutting the door on those things that have a chance at bringing youth into the sport. Thank goodness you still have Texas Fly Caster, right? Slap myself on the bony back – SLAP SLAP!
I am just kidding about that last of course. What you have that's better than anything here or anywhere is – YOUR OWN FLY ROD in your OWN hand, out there plying the waters you love, trying to figure out where the fish are, what they're eating and when they eat. Feel free to share your experiences here if you dare.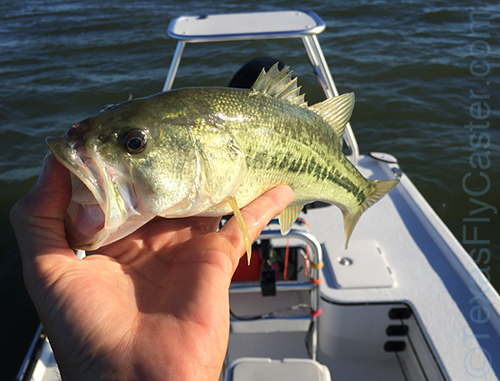 I wonder what else one can do to bring attention to the spot population, one that loves flies, on Ray Roberts? Maybe I should put one of the larger ones on the books.
With my fly rod in hand this past Saturday, I found that the water had been churned by high winds in broad areas, but that the same winds died down Saturday evening and made a wind current push of bait that stacked up bass on the lee side of lake points with vegetation. Bass were everywhere (on the lee) in two to five feet of water and biting topwater flies on down.
The bass were easy pickings and were gorged on small baitfish. There are thousands of yearlings, and many two-year-olds as well. I did put a hook in one of Ray Roberts' five-pounders, but it was so close to the boat that he came up right away and shook before I could set. That was foot-stomping frustrating, but it was nice to be able to predict the pattern and then play it just like it was supposed to happen. If you get out, try a RATTLE EYE CLOUSER pattern in red/white.
THE WEEK AHEAD
There is so much information accumulating about coastal fly fishing conditions, I'll just have to crank up the camera and do one of those infamous Texas Fly Fishing Reports sometime midweek, and post it later in the week.
The talking weather-heads are predicting this week to be another week almost exactly like the last, but with rain coming a bit sooner than last week. So the temps will begin their climb today, we'll fish tomorrow, and I hope Thursday for grass carp in the rain. (Are you getting my subliminal message: Grass carp show up, feed and bite on overcast and rainy days?)
We will rerun the FWIW post, and give you another chance to drop a dime and pick up some serious dollars on a guided skiff trip. I'll run that a couple more weeks, and maybe longer, if we get back into a North Texas heatwave.
Have a fantastic week, and be careful as you run the sacrificial highways of North Texas in the days ahead. Take the back ways if you have the chance, and hug your families when you get home – never take that safe arrival for granted.
Category: Complimentary Reading, Culture on the Skids, Events, Fishing Reports, Fly Fishing for Largemouth Bass, Hot Spot, Life Observed, North Texas, On The Water, Technique, Texas Fly Fishing Club