Tag: fly fishing for bass
Bass on Fly Rod
Good Monday Morning, or what's left of it! This could be a week for the memoir after another weekend to forget! A book review pressing down on me – guess I should be different and actually read the book. This one's right up our alley, "The Best Bass Flies," subtitled, "How to Tie and Fish Them."
It's funny, I threw my box at them last week on Lewisville Lake, and what worked in the end, and worked quite well? The last fly I tied on was a Black / Black Clouser on a circle jig hook. I found some very good structure around a high pressure cove, and picked off four there, before heading back over to the old dam riprap I had just covered with a different fly – and put the hit on fish there as well. IT WAS the fly. And, if YOU are fly fishing for bass right now, and everything's right, but everything's wrong; try a super-slow retrieve to go with an impressionistic fly.
One nice thing about Lewisville Lake is that you can find cover from our prevailing winds this time of year – those would be the NORTH or SOUTH winds. This lake may provide cover, but it feels  like the bigger bass have departed. I can't wait to challenge them this spring.
I have some feelers out for new stories to work this off-season, but am not hearing back from my primary contacts at the moment. Seems like everyone is busy these days, these weekdays anyway. What's up with that? I am looking for anyone who would be interested (not magazine story related) in a day trip to the Blue River this week, or maybe a meetup in BendBow. Just let me know.
Well, it's on to a pending welding project, a pending website build and post production on images for a band and that website build. Throw in a new product I am creating for the skiff crowd – doing a "Go Fund Me" for that one – and this week was over when it began.
Enough said, let me know what YOU are doing and where you are catching these days. If you say, "PK below the dam," I would say, "You must live closer than I do!" I may make it out that terribly long way once the TPWD starts feeding the striper some fresh trout, but until then … have at it.
texas fly fishing EXPO bass on fly #flyfishing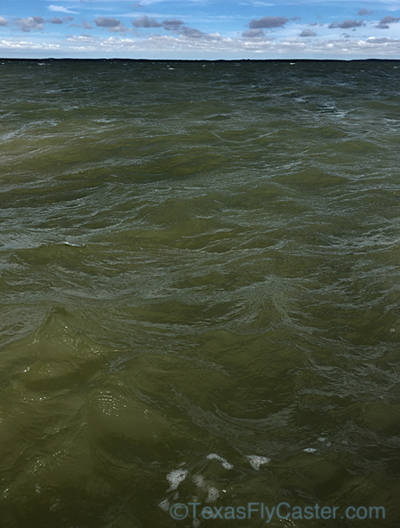 High NORTH winds drove me around to the other side of Ray Roberts to find a launch spot out of the wind!
How about this early fall weather? Typically, we don't cool off this soon here in North Texas, but here we are with these little cool fronts passing through every few days – just about in time for Texas' famous Friday night lights every seven days. I do love football season. It takes so many people off the water!
Last weekend was marked by the Texas Fly Fishing EXPO here in North Texas, an event I missed, one day due to the weather, and the next because that same weather (overcast and rainy) offered a chance to go back and find the huge grass carp I came across a few weeks ago in the rain. Besides we all remember my old adage; it's better to fly fish than to talk about fly fishing. Isn't that still the truth after all these years?
Not to be critical, but for those of us who didn't attend the Texas Fly Fishing EXPO, we'll all have to guess about its success since the EXPO avoids the technology of the day. No updates on the website, no youtube videos, no snapchat, no twitter — not even smoke signals? Absolutely nothing from the scene. Not exactly a formula for the broadest sharing of (what I'm sure is great) information, and definitely shutting the door on those things that have a chance at bringing youth into the sport. Thank goodness you still have Texas Fly Caster, right? Slap myself on the bony back – SLAP SLAP!
I am just kidding about that last of course. What you have that's better than anything here or anywhere is – YOUR OWN FLY ROD in your OWN hand, out there plying the waters you love, trying to figure out where the fish are, what they're eating and when they eat. Feel free to share your experiences here if you dare.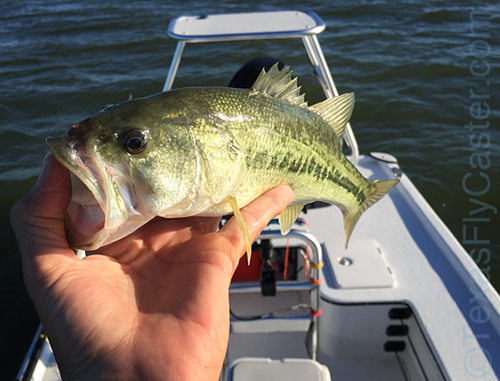 I wonder what else one can do to bring attention to the spot population, one that loves flies, on Ray Roberts? Maybe I should put one of the larger ones on the books.
With my fly rod in hand this past Saturday, I found that the water had been churned by high winds in broad areas, but that the same winds died down Saturday evening and made a wind current push of bait that stacked up bass on the lee side of lake points with vegetation. Bass were everywhere (on the lee) in two to five feet of water and biting topwater flies on down.
The bass were easy pickings and were gorged on small baitfish. There are thousands of yearlings, and many two-year-olds as well. I did put a hook in one of Ray Roberts' five-pounders, but it was so close to the boat that he came up right away and shook before I could set. That was foot-stomping frustrating, but it was nice to be able to predict the pattern and then play it just like it was supposed to happen. If you get out, try a RATTLE EYE CLOUSER pattern in red/white.
THE WEEK AHEAD
There is so much information accumulating about coastal fly fishing conditions, I'll just have to crank up the camera and do one of those infamous Texas Fly Fishing Reports sometime midweek, and post it later in the week.
The talking weather-heads are predicting this week to be another week almost exactly like the last, but with rain coming a bit sooner than last week. So the temps will begin their climb today, we'll fish tomorrow, and I hope Thursday for grass carp in the rain. (Are you getting my subliminal message: Grass carp show up, feed and bite on overcast and rainy days?)
We will rerun the FWIW post, and give you another chance to drop a dime and pick up some serious dollars on a guided skiff trip. I'll run that a couple more weeks, and maybe longer, if we get back into a North Texas heatwave.
Have a fantastic week, and be careful as you run the sacrificial highways of North Texas in the days ahead. Take the back ways if you have the chance, and hug your families when you get home – never take that safe arrival for granted.
THE RESULTS
2015 World Championship Bass on The Fly Fishing Tournament
– by Ted Warren Lake Fork, Texas –
The weather was great but the fishing was really tough!  High muddy water, clear sunny skies  and a nearly full moon made for a lot of casting and not much catching at the 6th Annual World Championship Bass on The Fly Fishing Tournament held Saturday, May 2nd, at Lake Fork Marina.
A record 54 anglers from Texas, Louisiana, and Colorado registered for this exclusively fly fishing event. Thirty-four folks entered the boater division and there was a record 20 kayakers in the non-boater division.  The difficult conditions resulted in only 18 of the 41 teams having fish photos to submit at check in.  (This is a catch-photo-release tournament so even the "slot fish" can be utilized.)  The winning stringer consisted of 3 fish with a total length of 49" and the big bass was 21".  By contrast, last year the winners had 5 fish with a total length of 90.5".
The 2015 winners are:
Boater Division
1. Robert & Jason Gilbert, $510
2. Johnny Martinez & Jay Garrett, $340
3. B.C. & Benson Fowler, $170
4. Mark Ledyard &  Ben Reed, $100
5. Joe Heluvanic & Danny Sullivan $70
Big Bass – Jason Gilbert, $170
Big Bluegill – Mark Ledyard, $80
Non-Boater (Kayak) Division
1. Tray Collins, $330
2. Greg Stine, $200
3. Burton Fowler, $170
Big Bass – Greg Stine, $95
Big Bluegill – Burton Fowler, $60
(Cash payouts are determined by the number of entries in each division.)
The winners consistently reported they caught the few gullible fish they could find on poppers.  While most fish were caught by 8:00am, the Kayak winner caught his fish after Noon.
The accuracy casting contest was won by Mark Thomas and the distance contest was won by Russell Husted.  They each received the TFO NXT Combo  that was used for the respective contest.