Texas Fly Fishing Club
In The Grips of Normal
Are we happy about this cold, or what? This is what I remember North Texas weather to be; a box of chocolates that can sometimes freeze as hard as South Texas dirt clods. Weather that inspires our memories to recall … remember when Lewisville Lake froze almost completely over? Yes, that is true, and it was only a few years ago, okay, a few decades ago, but I was there and photographing some guy – truck parked near the ice edge, and long surf rods set out for who knows what, an iceberg, an orca? Hardcore …
I missed both of the local fly club meetings this week (at least I think they were this week), Dallas Fly Fishers and Fort Worth Fly Fishers both meet at the first of every month, but with this weather and a lot of work on a new website for a client – I just didn't make it out. Maybe a club member-reader will give us the minutes of their meetings?
I guess we should ask if there are even any fly fishing club members who bother to read the Texas Fly Caster news at all? It has taken a lot of years, of blowing in the wind, to realize that there are a lot of folks who can talk a good game around here, but when it comes to playing the game? Let's just say the number of willing dwindles, by the numbers, to something like two-in-a-hundred. I get it though. Clubs remain a good source for beginners looking to gain information quickly (and get out), and for DFW here are the links to the two locals – Fort Worth Fly Fishers & Dallas Fly Fishers. Off the top, you have to admit the Dallas Fly Fishers website really sucks, while Fort Worth's certainly is more active and current. But, these strange days I really have to ask: Who Cares about websites?
Texas Drought Map
Here is the 12/28/17 Texas Drought Map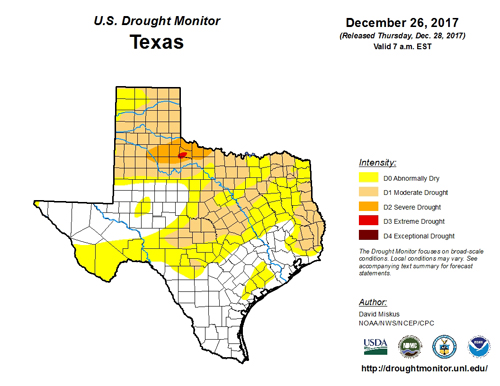 As you can see, we are right back into a drought for North Texas, and much of Texas as a matter of fact. The story still to be told is; will spring rains come and bring us another epic season of warm-water fly fishing like we have had the past two years?
We certainly are not going to waste any spring action times this year. All things being equal, we hit five new lakes WAY TOO LATE in 2017, and I won't be making that mistake again. We are going to throw the long bomb in 2018, during primetime … so that we have a fair shot in exposing these lakes in their prime. Those five are on this year's list (I did learn a lot about their structure and habitat), and the list will expand in interesting and helpful ways – for readers, and watchers of the Texas Fly Caster YouTube Channel.

Guadalupe River Clean Up – July 8th @ Rio Raft
Preserving and protecting our river starts with keeping it clean. Come join us for a family friendly river clean up event on July 8th as we work together to keep our river clean. Please RSVP below by clicking Yes! or No.
Schedule:
9:00

– Sign-In at Rio Raft

9:30

– Safety Briefing – Location Assignment – Head Out with Your Clean Up Team

11:00 – 11:30

– Arrive back at Rio with Filled Trash Bags

11:30 – 12:30

– Cookout Provided by GRTU

12:30

– Done! Enjoy the rest of the day on the river.
What to Bring:
Please wear GRTU logo t-shirts, hats, etc. (If you have them.)
Gloves
Water Shoes or Wading Boots
Wading Staff (If desired)
Sunscreen
Hat
Sunglasses
Waterproof Camera (If desired)
Your awesome enthusiasm!
Let us know if you can make it!
GRTU's Troutfest is back. Here's 10 reasons to buy tickets now.

Guadalupe River Trout Unlimited is excited to announce that Troutfest is back and better than ever. Troutfest 2017 will take place February 17, 18 and 19, 2017 at the Lazy L&L Campground in New Braunels, TX. The banquet will be February 17 at the Pavilion at the Lazy L&L with cocktails starting at 6pm.
While there are numerous reasons to attend and support this effort, here's our shot at a top ten list:  Continue Reading
texas fly fishing EXPO bass on fly #flyfishing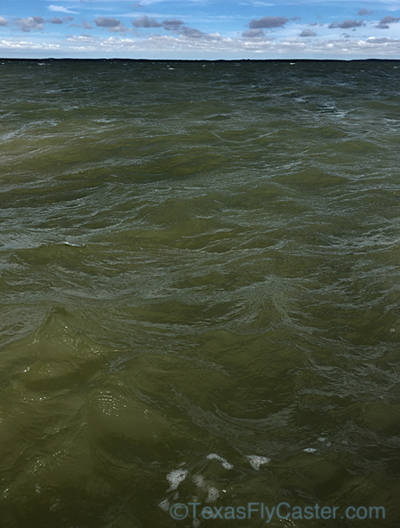 High NORTH winds drove me around to the other side of Ray Roberts to find a launch spot out of the wind!
How about this early fall weather? Typically, we don't cool off this soon here in North Texas, but here we are with these little cool fronts passing through every few days – just about in time for Texas' famous Friday night lights every seven days. I do love football season. It takes so many people off the water!
Last weekend was marked by the Texas Fly Fishing EXPO here in North Texas, an event I missed, one day due to the weather, and the next because that same weather (overcast and rainy) offered a chance to go back and find the huge grass carp I came across a few weeks ago in the rain. Besides we all remember my old adage; it's better to fly fish than to talk about fly fishing. Isn't that still the truth after all these years?
Not to be critical, but for those of us who didn't attend the Texas Fly Fishing EXPO, we'll all have to guess about its success since the EXPO avoids the technology of the day. No updates on the website, no youtube videos, no snapchat, no twitter — not even smoke signals? Absolutely nothing from the scene. Not exactly a formula for the broadest sharing of (what I'm sure is great) information, and definitely shutting the door on those things that have a chance at bringing youth into the sport. Thank goodness you still have Texas Fly Caster, right? Slap myself on the bony back – SLAP SLAP!
I am just kidding about that last of course. What you have that's better than anything here or anywhere is – YOUR OWN FLY ROD in your OWN hand, out there plying the waters you love, trying to figure out where the fish are, what they're eating and when they eat. Feel free to share your experiences here if you dare.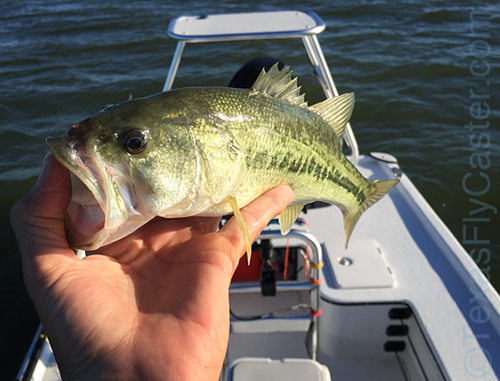 I wonder what else one can do to bring attention to the spot population, one that loves flies, on Ray Roberts? Maybe I should put one of the larger ones on the books.
With my fly rod in hand this past Saturday, I found that the water had been churned by high winds in broad areas, but that the same winds died down Saturday evening and made a wind current push of bait that stacked up bass on the lee side of lake points with vegetation. Bass were everywhere (on the lee) in two to five feet of water and biting topwater flies on down.
The bass were easy pickings and were gorged on small baitfish. There are thousands of yearlings, and many two-year-olds as well. I did put a hook in one of Ray Roberts' five-pounders, but it was so close to the boat that he came up right away and shook before I could set. That was foot-stomping frustrating, but it was nice to be able to predict the pattern and then play it just like it was supposed to happen. If you get out, try a RATTLE EYE CLOUSER pattern in red/white.
THE WEEK AHEAD
There is so much information accumulating about coastal fly fishing conditions, I'll just have to crank up the camera and do one of those infamous Texas Fly Fishing Reports sometime midweek, and post it later in the week.
The talking weather-heads are predicting this week to be another week almost exactly like the last, but with rain coming a bit sooner than last week. So the temps will begin their climb today, we'll fish tomorrow, and I hope Thursday for grass carp in the rain. (Are you getting my subliminal message: Grass carp show up, feed and bite on overcast and rainy days?)
We will rerun the FWIW post, and give you another chance to drop a dime and pick up some serious dollars on a guided skiff trip. I'll run that a couple more weeks, and maybe longer, if we get back into a North Texas heatwave.
Have a fantastic week, and be careful as you run the sacrificial highways of North Texas in the days ahead. Take the back ways if you have the chance, and hug your families when you get home – never take that safe arrival for granted.
fly fishing texas #flyfishing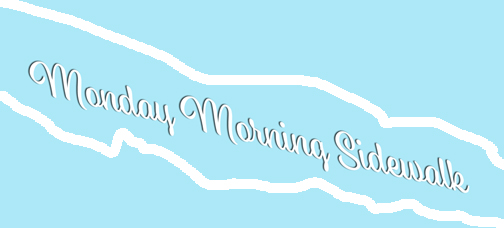 Good morning, and welcome once again to the real hub for a bit more than just your daddy's fly fishing information! It's a fantastic Monday morning here in North Texas, and one that shows to be topping out in the low 80's and a stiffening wind as this day goes by. That means it's a quick writing task before I hitch up the skiff, and[ppw id="133619867″ description="Fly Fishing Book IT" price=".10″]
head out to see what our day holds.
So today's walk is short, if not exactly sweet. Continue Reading