guide carp on fly fly fishing texas #flyfishing buffalo on fly lake ray roberts guide
by
+Shannon Drawe
+Texas Fly Caster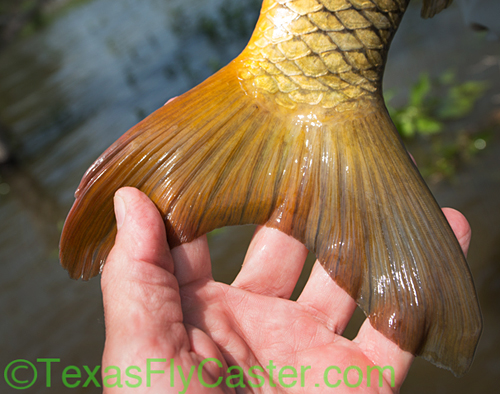 GUIDE REPORT FOR May 11, 2016
As I have been reporting to readers, here and everywhere[ppw id="133619038″ description="Fly Fishing Report" price=".10″]
for that matter, the habitat on Lake Ray Roberts, Texas, has blessed those of us who consider fly fishing for carp one of the finer pursuits in the fly life. I use a term like "blessed" because we are way past the "epic" quality of fish habitat, and well into the "biblical" qualities that show themselves only very rarely on this particular lake.
At the same time, the clock is ticking. The Ray Roberts Dam is again open after days of being shut in for weeks. That means the habitat the carp are loving, and loving on, will be dry in a matter of … a week, ten days? So it's safe to say it's, "the best of times, and the worst of times," as we enjoy the abundant carp and buffalo in places they haven't been seen in some time (years). And if the USACE keeps up with the inflows from spring rains, a more intense search is predicted for the future outings on Ray Roberts habitat.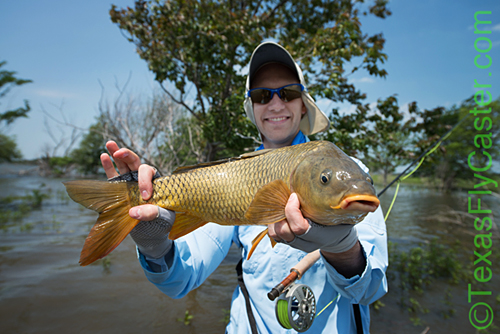 Yesterday yielded a (guide's) record number of carp caught by a first-time carp fly fisher and client who had been waiting a long time for conditions to right themselves. And the wait was worth it, with ten carp and three buffalo caught in a four hour trip yesterday. The fish are in post-spawn mode, although there's a lot of splashing still going on. You can see from the images, these fish have spent their seed, and they are ready to eat … however many still are playing mating games as well.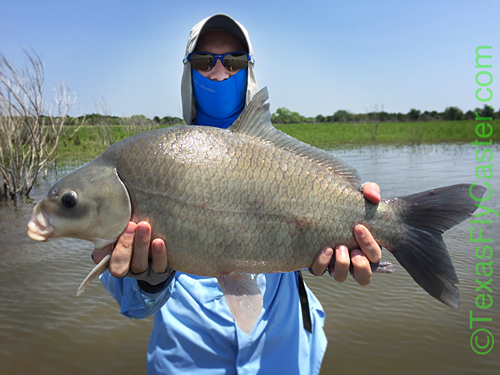 The fact that the flats were overrun with huge buffalo was just too tempting to pass up, and although a lot more time and effort goes into hooking, landing and even HOLDING a buffalo.
Travis Wade did a fantastic job of settling in to dap on a lot of the fish he hooked, and got his mind wrapped around this style of fly fishing – very quickly. When he asked me about equipment for this trip, the one thing I emphasized was footwear (we walked yesterday), and recommended the new Simms Intruder wading boot. He had picked up a pair at Tailwaters, and spoke well of them after we were back on dry land. They are shorter than I expected, and looked a lot like a running shoe. The integrated neoprene bootie kept debris out and he didn't cite any abrasions even though he was wading sock-free.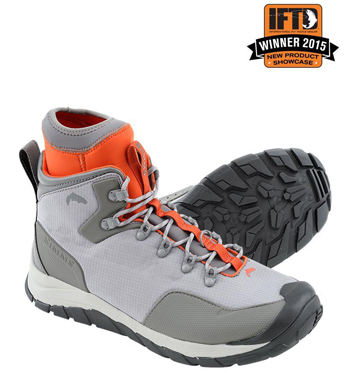 Hats off to Travis, who has held on for two years – waiting for all conditions to right themselves on Lake Ray Roberts. He was well rewarded for his patience, and it was the best day I have been a part of on the lake's carp habitat – SO FAR! I don't know how many ways to say IT'S TIME TO PULL THE TRIGGER on a trip, if you have been watching and waiting … just as I predicted — this is it! If you believe this will be "normal," or the "new normal," all I can say is; let's not forget the four year drought just yet.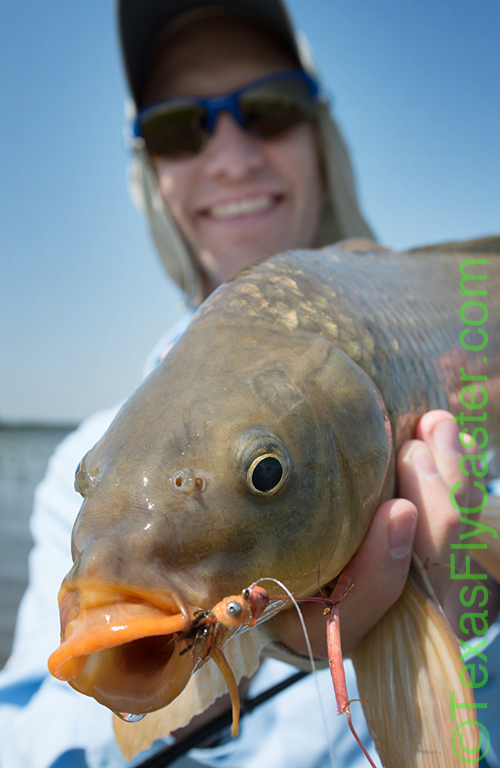 [/ppw]
Category: Adventure, Culture on the Skids, Fishing Reports, Fly Fishing For Carp, Guides, North Texas