TEXAS FLY FISHING NEWS & ADVENTURES
BEST LAID PLANS – 2018 Texas Lakes on List
Do you feel it? No, not the mountain cedar snot, but the signs of spring … flowers are beginning to try, buds are beginning to try and I am about begin trying to dust the cedar off, and try to tie some flies for this spring's fly fishing breakout season.
The last two years have been epic for carp on Lake Ray Roberts, Texas, and this season may just be the beginning of a downward trend for that action. Why? Lake levels are still good, but we find ourselves in a drought once again this winter leading into spring 2018. IF THE LAKE WASN'T so high to begin with, the situation would be troubling. As it is, we have good levels leading into the spring rainy season with no predictable monsoons ahead. So down we go. That falling lake is actually a fun ride, and extremely productive for most of the ride down. If we DON'T get rain this year, the season will be over before the pain sets in, and 2019 will be the real falling knife.
Couple a fine carp season with a continuing search for other productive lakes – that continues from 2017 – and will put us smack dab in the heat of carp and bass season on lakes that I waited too long to ply last year. I did manage a few wayward fish on those lakes last year*, but here's the list for this year:
Bridgeport (took a lake record buff there last year)*
Kiowa – Private invitation outstanding
Texoma*
Amon G.
Whitney
Lewisville*
Grapevine*
Lake Lavon*
Rockwall*
Tawakoni*
Athens*
Purtis Creek State Park
Possum Kingdom
The most difficult part of the adventure is leaving tailing carp on Lake Ray Roberts to go and chase fish unknown and unseen and in unknown places. I was enjoying the fly fishing on Ray Roberts so much last year, it put off those lake adventures from last year* until the more difficult part of the season.
Make no mistake, if we can land some lake records this year on these lakes, we're going to book them.
BODY-MIND-SOUL
So this year, we will leave the known for the unknown – as soon as it turns on on Ray Roberts! That'll take some intestinal fortitude, but there's a balance between too difficult and boredom with the predictable — that went out of balance last year. We will be calling it "Creative Balance," and will be going in depth on this topic under the Body-Mind-Soul heading in 2018.
Lower Mountain Fork River Foundation
Mystery Fly Contest


February 24, 2018
7:00 AM until 12:00 Noon
Lower Mountain Fork River; Beaver's Bend, OK
Starting Point – NEW! Canoe and Kayak Rental Parking Lot – across bridge from Beaver's Bend Fly Shop.
Pairings will be drawn just prior to the start.
Join us FRIDAY evening (the 23rd) for dinner and the LMFRF Meeting at 5:00 pm at the Forest Heritage Center.
Details and registration information available at
:http://lmfrfoundation.org/mystery-fly-rules-and-guidelines/
Broken Bow Dam Spillway Repairs
The USACE completed repairs to the Spillway release valve on January 20/21 and flow through Spillway Creek should be returning to normal.
SEE MORE TEXAS FLY CASTER STORIES – THE LOWER MOUNTAIN FORK  BEAVER'S BEND
Publishers Send Seventeen New Fly Fishing Books for Review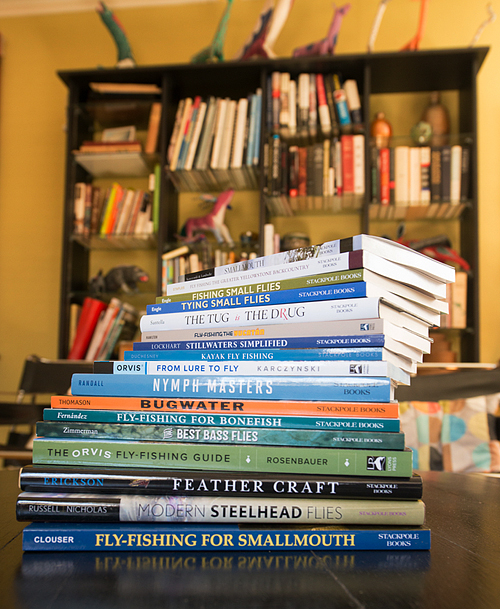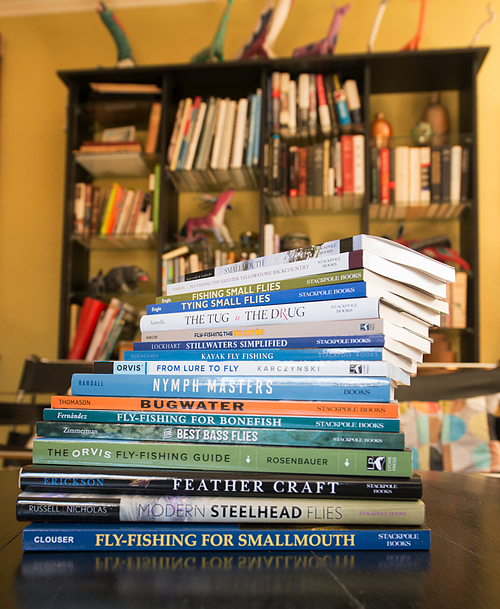 I am not sure whether it was publisher or distributor motivated, but maybe you can help me decide which of these books to read for the first book review of 2018?
I have read a couple of them already (now I have two copies!), but this is a pretty big stack and I need to get started.
it is an amazing time when someone in my position – to share information – is torn between reading books, and producing YouTube videos! Talk about a split personality? The two may be polar opposites, for me they are, but one audience still reads, while the other apparently never reads. I never want to have to choose between the two, and time does force some hard choices, but what is the winter for if not to read, and watch and wait?
So this is the reading list. Two of these are already reviewed here, and in publications. "The Tug is The Drug" is a book I read awhile back, and I recently published a review on "The Best Bass Flies" here and in the pages of the Lone Star Outdoor News.
You too can own and read these books! I highly recommended the book, "The Best Bass Flies: How to Tie and Fish Them
," and you can read my book review of The Best Bass Flies anytime you like.
Thanks for READING, and be sure to put in your two-cents-worth, whether it is recommending which book to read, or your own opinion of the books listed here.
Check Your TP Before You Sit Down
Good Shutdown Monday Morning! Do you feel it? Did you have to get your own roll of toilet paper before diving into the stall in your Federal government building bathroom? Now that you'e seated and enjoying the view – of your screen – on a Monday where the sky is not falling, and we will all get along fine during this continuing debacle.
IT IS TIME for some good questions though. Do these antique politicians get paid to not do their jobs? When the government "shuts down" do these fat cats still get paid? Why should they?
Politics. Politics are the third rail of fly fishing (the one that electrocutes you into ash), but there are other sections of the third rail line that are equally deadly to peaceful fly fishing conversation. And that's why I have tried, successfully in my opinion, to avoid the third rail all these years. Locally, there are plenty of red meat bomb throwers, who just throw out something to generate polarizing debates. I always call those guys out.
CONFESSED: RED MEAT BOMB-THROWER
This past weekend, mostly to see who is actually looking and following on Instagram, I threw out a red-meat-bomb. It was a simple photograph of an auto window sticker, reading, "Does Your TRUMP STICKER Make You Feel Stupid Yet?" and it lit a fuse that burned through a record (for me) 33 comments and paltry 26 likes. I wish there was a "dislike" for fairness. It enlightened me. My "takeaway" is that people actually LOOK at the images on Instagram feeds, and the folks that comment fall into two distinct categories – I Got Money, and Now I Got More Money, and two, the other side that realizes exactly what all this great income is actually costing the environment, the future and their children's future.
For goodness sake, why can't we all just Rodney King (for young readers that means "get along")? The only politics I care about are those that have a direct effect on fly fishing. I know I am done and gone as an economic force – as long as no one cares about, and understands and supports the values of quality, creativity and integrity.
And politics – State of Texas politics – leads US to what will be the longest discussion about, arguably, the most political geography in Texas – THE DEVIL'S RIVER! I was talking to family at a recent gathering and a couple of cousins have boys that are the right age for a Devil's River trip, and are familiar with that area from behind a rifle scope (hunting leases in the region). The time may well be right …
THE DEVILS RIVER
So taking on the last great wild ride in Texas is a bit daunting to me. In my mind, I see it as my own personal "health statement" about just how well I have healed, and as I see age 60 off in the distance … the time seems right.
Let the gathering of information begin! If YOU KNOW ANYTHING about the Devil's River, if you have done the Devil's River, I would sure like to know about it. I know the situation on the ground there – has changed in recent years. But I don't really know exactly how it has changed. I am going to reach out to people I have seen have done the Devil's – people like Alvin Dedeaux (check out that Devil's YETI video), and Thomas Flemons at Diablo Paddlesports. I know there are more people than that, but I will start there (and try to jog my memory at the same time).
I am cautiously optimistic that I can make this trip happen, and if you are interested in making this trip – let me know. This is starting from scratch though … the Devil's is in the details.