TEXAS FLY FISHING NEWS & ADVENTURES
The weekend's looking better than the week past for fly fishing.
BLOWN AWAY?
Well, we won't be putting out a video report this week, but if you survived last night's wind storm, things are looking a lot better from here on – in North Texas. It was a bugger of a night around here, significant damage to trees, but no structures seem to have taken a hit. I have folks in town, and am preparing for this weekend's guide trips at the same time. Juggling, juggling …
It's still a good idea to watch the weather reports, and today does not seem to be free-and-clear just yet. I'll be out on the water tomorrow midday and Sunday as well, so if you want to get a play-by-play be sure to keep your eyes on the twitter feed @texasflycaster. Feel free to call or text as well!
For the most part, this wind has had an effect on the Texas Gulf Coast as it either pushes water out of or into the bay systems, causing some extremes that would not be obvious just by reading the tide charts. So, know before you go! Spring weather instability does grip most of the state, and it will relent gradually but not fully in the next few days. The humidity and clouds here in North Texas are ominous at this writing.
I translate a lot of the information at TPWD's weekly fishing reports into functional fly fishing information that shows up in the YouTube Texas Fly Caster Fly Fishing Reports, and you can do the same – creating your own translations – by visiting the TPWD Weekly Fishing Reports.
Thanks for reading, and look for some exciting new photographs, story announcements and a lot more in coming weeks here at Texas Fly Caster!
Here's an old redfish video from the Texas Fly Caster YouTube archives. Rockport, Texas.
Rockport, Texas, was a great stop at the beginning of this long road. I get a lot of folks contacting me about these places without checking the Texas Fly Caster YouTube channel. So be sure to check the channel!
Thanks for watching again! Pretty primitive days of recording, wasn't it?
The week ahead for fly fishing in texas looks hectic!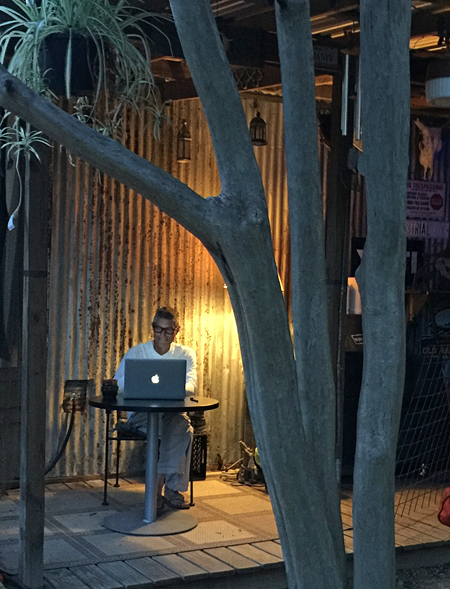 Good morning and welcome to an early Monday Morning tapout of the always reliable Monday Morning Sidewalk. It's early because I am headed out early myself – to the water, and to a carp valhalla containing king-sized golden bruisers.
By the time you read this, I should be underway, but if you are an early riser, it would probably be a good day to NOT watch the morning news shows … and go fish if you have the chance. Watching the D.C. death spiral is no longer fascinating as the executive branch quickly approaches terminal velocity. But those words do take me back to my oath of 2008, when I would swear off talking politics, even if the rednecks I came across in the bush stopped me to tell me it was the end of the world, "Obama was going to declare martial law, he would be the last elected president," so on and so forth. I even had fly fishers thrust multi-page treatises in my hands, documentation of how God predicted the coming of Obama, and that he was the Anti-Christ. I'm not kidding, this is not fiction. I wonder what they are saying now?
The sun is rising on another day here in North Texas, and there are plenty of other pressing FLY FISHING thoughts to ponder. For instance, we all know Lake Ray Roberts is experiencing a carp season better than last season, which was the best in ten years. But, what do we know about other lakes? For instance, I have good intel on Tawakoni and some flats there, but nobody has gotten back to me on that. What about Lewisville Lake, where a guy who learned carp from me still holds onto a record size carp he caught along the 121 Pier (where they feed carp – or used to) at 15.5 pounds. Not bad for a guy who took a line-drive softball to the head – at the pitcher's mound.
It will be one of those weeks, where you report and I decide what makes the digital print and social media of Texas Fly Caster. And that's because it's going to be a busy week outside the fly – family passing through, CEO photography and some sketchy weather should punch significant holes in any plans that would have been made this calendar week. Odds are this is the only day, for about a week, that is viable — even with the winds headed toward 20 today.
So have a great week, don't become another human sacrifice on North Texas highways, and keep checking back in here, as I find something to tickle your fly fishing interests. If nothing else, watch the Texas Fly Fishing Report I published last Friday (the post below this one). There is one additional piece of information that goes with that report, and it's for those of you considering fly fishing the Texas Gulf Coast this month – and it came from watching the Fox Sports Southwest Texas Report, and that big ol' boy that reports from the coast (that lucky dog!).