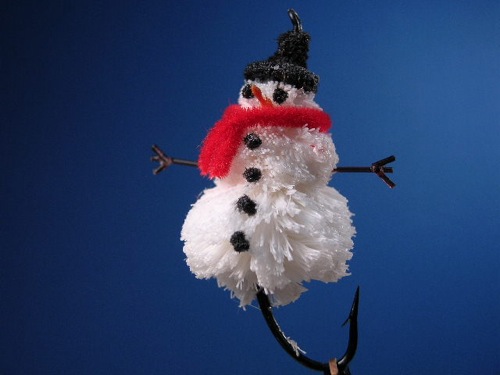 Find this pattern at www.washingtonflyfishing.com.Credit – Ron Eagle Elk / Anyfish
Now that I have your attention with a false premise, let me now tell you; this is not about tying a particular fly. This is about how someone becomes dismayed with the whole Christmas thing.
There was, in a past life, a period where I "did time" in the retail business – as so many college students, and at that time a college dropout, did to make ends meet, win life battles and finally the first personal war to get a degree at UNT in Denton, Texas.
I did a sretch working for the fine company GENESCO selling their Jarman brand of shoes in what was in the 1980's a sparkling new mall here in Denton, the Golden Triangle Mall. The training was very good, at the corporate level and with my luck of having a couple of good managers personally training me in the fine art of measuring a stinky foot, and suggestive sales. If you haven't sold shoes, then you probably never have participated in a sock or accessory contest. I still pay attention to shoe sales people these days to see if they a) ask that I sit down so they can measure my foot b) bring out more than one style of shoes, and c) close the sale with suggestion of sock bundles and/or shoe cleaning products.
The nice thing about taking on The Number and working for a big company like GENESCO was … it was actually a good company to work for at that time. They had a base pay and commission scale that was on par with the lovely Clinique sales girl down the mall corridor. However, the thing that makes you the most can steal the most away at the same time. Mall store employees had to park in the furthest reaches of the parking lot, "Stay past the line", and trudge in during the worst weather of the year. The mall pumped in Christmas music starting just before Thanksgiving, and by the time the new year came along, that loop of muzak tunes was indelibly ingrained on my memory bank. If you had a Santa in your wing of the mall … those sounds still give me flashbacks. The mall hours were stretched to 14 hours and seven days. I had no children and none were in the immediate family to dull my sense that crass commercialism had slid down our collective chimneys while we were sleeping. It was the beginning of my decent that continues more-or-less to this day.
It's not that I don't believe in the holiday, or the individual motivations behind it, or the child's experience – it's that the feeling of obligation, of reciprocity and duty. For example, I am a hugh HUGE proponent of drawing names to give individual gifts instead of everyone buying for everyone. It's a simple concept that deserves respect and the minimal honor of time-tested success. Do you do the "Big Blowout" (my words), or do you choose names?
Humbugger Seeks Revival
All this negativity comes with a high price of course. Let's just say the respective families know where I stand, and there's usually … friction. Now, friction is good when it comes to reel drags, and keeping warm, but Christmas family friction can be exhausting. The fact is, I never tire of making folks happy by thoughtful giving. Economically, sometimes I can do more giving, and in more recent years a whole lot less.
It hit me that maybe what would revive my/our Christmas spirits would be to see what you fly guys and girls would want for Christmas this year. It is already easy statistically see you are getting busy with other things, but if you will take a moment and put your holiday gift suggestions – both giving and getting – in the comments below, maybe just maybe I can find some goods for cheer this year. Feel free to insert links, images (if that's possible?), and whatever you like – to charities, fly gear, trips, locations, boats, kayaks, clothing, serious and humorous, etc… Think of this as assembling the ultimate Christmas 2009 fly gift giving list.
It's up to you to tie this Humbugger and cast him off.
Category: Causes, Culture on the Skids, Equipment, Life Observed