Do you ever wonder if you might be missing something? Perhaps you too can hear the fish swimming on the warm full moon nights, and know you are missing it. Perhaps you truly miss a fishing companion, be it a friend, father, mother, brother or dog? If you fly fish long enough, you are sure to come across all category of fly fisher, and at least one companion in your sphere will pass through for one reason or another, leaving behind good memories, longing for more time, or a sense of loss – like a vapor trail behind a jet. Time passes by, memories made begin to fade, and perhaps photographs or words are all that's left to fill in the details.
I'm known as "easy to get along with," and if you want to go fly fishing, I am even easier. A friend in fly, to my way of thinking, can be ADD, old, young, hardcore, dabbling, male or female. Really, just about any shade in between the differences will do as well. Generally, there are few who surpass my "hardcore" monicker, but where many get tripped up is in scheduling. It could be young children, school, jobs, careers or professions, but my schedule and workload afford me a freedom I would only trade for real money.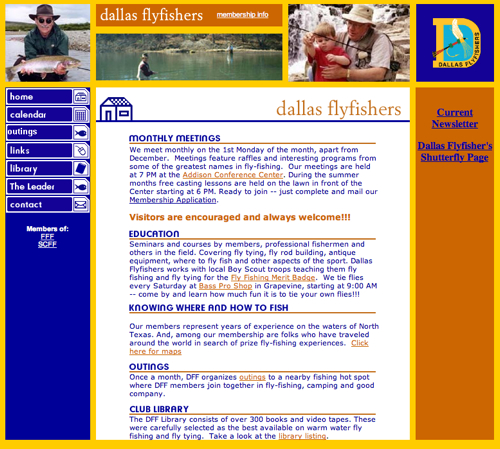 I have, from time to time, thought about expanding my horizons by joining some well know local fly fishing clubs, or "organizations." It crossed my mind last weekend when I came across a booth at the Dallas Fishing, Hunting & Outdoors Show at Dallas Market Hall. The local Dallas Fly Fishers, or DFF, had a booth at the show and I visited a couple of people I knew. There may not have been any others there (or that recognized me) from their last outing I stumbled upon at the Lake Ray Roberts Dam recently.
I am well aware that some of the fishers from DFF read Texas Fly Caster, and there even some of those who put what they learn here – about where fish are anyway – into practice. However, there are a lot of clubs and organizations for the fishers of the world. I'm a member of a few bigger ones, like Trout Unlimited, Coastal Conservation Association (CCA) and International Gamefish Association (IGFA). I don't know how many members from these organizations visit this site, but CCA and IGFA aren't exactly known as inland organizations. On the local level, there is also the Fort Worth Fly Fishers (FWFF), another group that are well known readers of Texas Fly Caster and hardy participants providing knowledge and information here on occasion.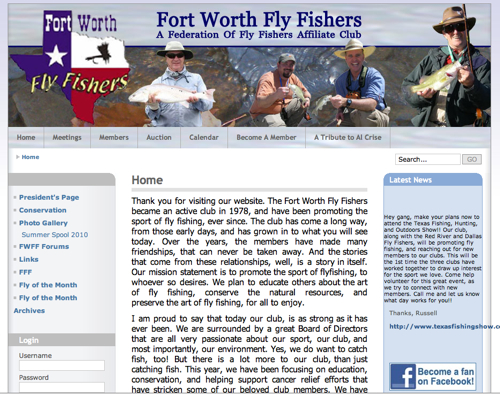 I wonder what, if any, benefit there is from joining either of these organizations – Fort Worth Fly Fishers or Dallas Fly Fishers? If I were to go by their web sites alone …
Perhaps someone from these organizations will take the time and comment here on the benefits of their respective organizations? Or, feel free to slam each other about skills, parties etc… That would be interesting! Since Texas Fly Caster sits at the top of the triangle between Dallas and Fort Worth, geographic distance is not going to be a factor.
Or is it time to create a new organization? It is rather amazing that with so few fly fishers in the North Texas area, there are two separate clubs for two cities barely separated, and with such fertile middle ground between the two; I wonder why the two don't merge.
There's plenty of food for thought, so maybe readers from these respective organizations will have some – thoughts that is.
Note
– Nobody is missing anything right now. It's in the mid '20's here, and the snow is still hanging around these parts. –
Category: Culture on the Skids, Life Observed