montana fly fishing #flyfishing
PUBLISHER'S NOTE – Distractions aplenty as the weather finally turns into something like spring. There's a lot (more than ever) going on behind the scenes, but I am enjoying Joyce's story way too much to interrupt (other than with timely events), so let's continue where we left off. If you are behind the curve, we are at Joyce's Day 3 in Montana, and all this does is add to my fever, and desire to hit the road for parts unknown.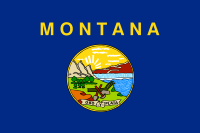 Day 3: Fishski
Saturday's float trip was with a different guide and on the Upper Clark Fork but "Hit 'em, Mend, Eat it" sounded the same as we drifted down the river. The weather changed as quickly as the fish hit. And we had lots of hits. We had snow, rain, snow, sleet and sunshine within 30 minutes. The temps for the day ranged in the high 30's and 40's. The wind was sharp when it blew, but that only made the sunshine feel better. This time, as we headed in for our shore lunch, another guest had the honor of pulling in a fish.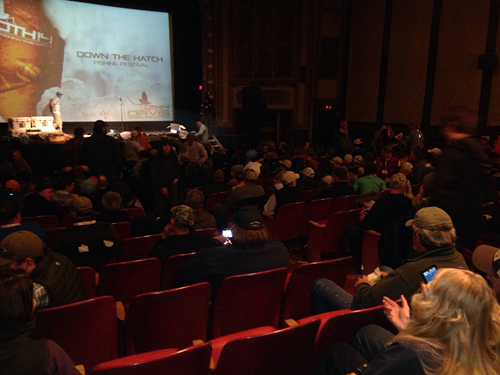 Down The Hatch movie screening attended by Joyce Davis – Courtesy Joyce Davis
By the guide standards we were calling it a day early in the evening. Most of us wanted to view "Down the Hatch," at 7, the Orvis Fly Film to end the Guide Rendezvous. What a good choice.
READ MORE FROM JOYCE –
Hank Patterson is the self-proclaimed fly fishing expert, and the world's greatest guide. His profound Top Ten of Fly Fishing were presented live before the film began. It was a great start to the evening.
Fishski was a "fun film short combining skiing and fishing on the banks of the Missouri River" and was created for the Orvis festival. Our popcorn treat at the theater was special since we hadn't had dinner yet. We did stop at IHOP for a late night snack before returning to the lodge.
Day 3 ended with more fish in the net but no prizes from the Orvis show.
Category: Adventure, Destination Fly Fishing, Fishing Reports, Fly Fishing for Trout, Guides, Industry, Life Observed, Movies DVD Video, On The Road