#flyfishing montana fly fishing
Day 4: Uphill in a Snowstorm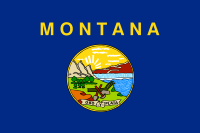 Sunday was our last day on the water. Today we were fishing the Lower Clark Fork. My hand was sore from holding the rod 8-9 hours for two days but I still wanted to catch more fish. Fishing with a guide makes catching a breeze. Our guides set our lines up, tied on the flies, netted our fish, took pictures, untangled lines and entertained us with stories while rowing. Mend.
Did we catch fish? You betcha! We caught rainbow, bull trout, squaw fish, pike minnow, cutthroat, whitefish, hybrids and brown trout. Well, I didn't catch a brownie by my fish partner caught a lot of them. Hit 'em. I love to see the fish break water and we had some of those. My bull trout was 22" and a strong fighter. Bulls are endangered so we had to be careful to keep him in the water and release him quickly.
Time flew by. We had a lot of water to fish but the day was ending. And we still had quite a distance to row to get to our takeout. I mean our guide had quite a distance to row, against the wind, uphill in a snowstorm. Well, he did have a very strong wind!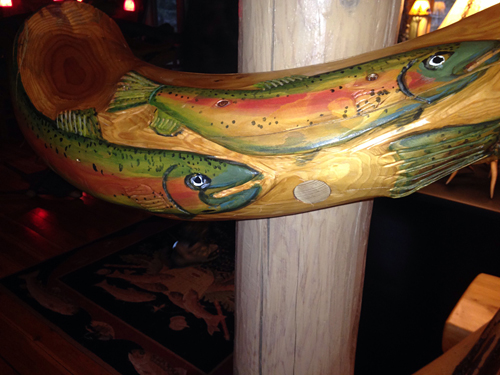 Carved railing. Courtesy Joyce Davis
Dinner at the lodge was another fine dining experience. Each day we had tasty appetizers and an open bar that included imported wines. To begin each meal we had salads with a different salad dressing each day. Day 1 we feasted on halibut cooked to perfection. Day 2 our menu included lamb chops. Day 4 a cut of beef and roasted vegetables were presented. Each night included a dreamy desert. The breakfasts were also feasts for the eyes as well as the hungry guests. We lingered over our dinners visiting and chatting about our days on the water, sharing what we had learned from the guides and more trivia talk and movie favorites.
Day 4 ended with more fish in the net.
The two ladies out fished the men this trip.
NOTE – If you are late to arrive to Joyce's series, you can backtrack –
Day 1
Day 2
Day 3
And we close out the Montana trip tomorrow afternoon with the final post by guest writer Joyce Davis.
Category: Adventure, Destination Fly Fishing, Fishing Reports, Fly Fishing for Trout, Guides, Life Observed, On The Road