#flyfishing montana fly fishing
MONTANA FLY FISHING DAY 1 by Joyce Davis
Day 1: There's No Fish at 30-thousand feet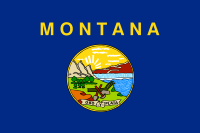 I arrived at the airport early. I'm checking my boots and waders and I want them to arrive in Montana when I do, not 2 days later. Good grief!
My departure gate was changed to another terminal and I didn't get the memo. No worries, I have extra time. I check my bag and schlepp my carry-on and my fly rod to the next terminal. The TSA line was short and I was sent through the preferred line.
After my bag and rod were scanned the TSA Agent announced, "There are no fish at 30,000' feet." That's okay with me. A rest and hopefully a nap are in order. I need all my strength for catching dozens and dozens of fish.
There are no direct flights from Dallas to Missoula. The first leg of the flight was on time, smooth and there were no crying babies. But the next leg of the flight out of Denver was delayed over an hour. Orvis was hosting a guide rendezvous, Down the Hatch, in Missoula and there were a few other fishers carrying rods on board also waiting in the gate area. I hope they stay at the rendezvous and off the waters.
The chef, doubling as a chauffeur, met us (me and my fishing partner) at the gate. We loaded up and headed straight for the lodge. It might be possible to get a few casts in before dinner. Legendary Rock Creek is one of the boundaries on the lodge property.
READ MORE MONTANA FLY FISHING –
The Blue Damsel Lodge is a beautiful log cabin designed to host guests. It was a perfect setting for the next few days. We met guests enjoying happy hour and headed out to check out the creek. Upon our return we met the rest of the guests. Larry and Larry were easy to remember, but will I ever keep the other names straight?
Day 1 ended with no fish in the net.
END of Part 1 from Montana's Blue Damsel Lodge —
Read the INTRODUCTION to Montana Story by Joyce Davis.
Category: Adventure, Destination Fly Fishing, Fly Fishing for Trout, Life Observed, On The Road, Writing