Start Your Month and Week off Right – Here!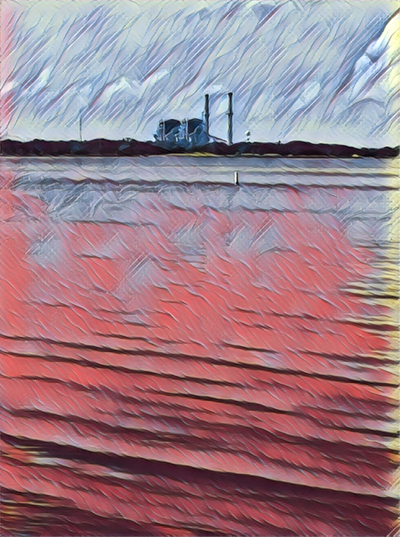 Fairfield Lake is / was / is a cooling lake for a power plant. It proved to be an interesting stop last Friday.
Good morning and what a good morning it is! How often do you get off to such a great start to fly fishing June in Texas? This rain has brought relief to Central North Texas, an area that is six inches behind for the year (at the end of May) and just went thorough a Top-10 driest May on Record. As deeply as I covered those years of drought here at TFC, it seems almost like the weather gods are playing with me, pushing at the panic button finger.
I was headed back from a Houston photo shoot last Friday when I pulled into Corsicana to wait for the storms to clear I45 between there and lovely Dallas. I had killed some time looking at Fairfield Lake, which is in fantastic condition by the way, trying to miss the traffic a Dallas Friday afternoon was promising ahead. There was a flash flood box around Dallas, and I had heard there was flooding on the way … and the Whataburger didn't look too leaky. I was running out to the car after the rain had pretty much stopped, and realized my prescription glasses, hanging around my neck had accumulated some rain on them as I got in and started up. I thought nothing of it, I don't need glasses to drive, and rainwater? It should clean my expensive (very expensive) prescription glass, right? Wrong. This rain was apparently acid rain, and the coatings on my old glasses are now etched by rainwater. Just another example of our changing environment, I guess.
It would be premature to say the summer is, "Taking Shape" because the shape it needs to take is something like these squiggly lines – "$$$" – and so far, the piggy bank is rattling hollow. That shape is what seems to make the fly world go round, isn't it?! At least it's a lot better year of guiding, even without the free publicity spotlight shining on the guiding business. Heck! I wouldn't know how to act with all that free publicity anyway!
READ MORE FREE!
BACK TO FAIRFIELD
Fairfield Lake has taken a bad rap in recent years, and you won't find any local fishermen complaining about that rap. They have the lake, pretty much, all to themselves, and about the only fishing this little lake is friendly to is with kayak or boat anyway. Pedestrians stand little chance of success off the two docks and parks with huge blooms of hydrilla encasing large areas of the water around these small areas.
The locals are cleaning up on tilapia – any and every way possible. I talked to a couple of guys who were having a great time bow hunting tilapia. Now that would be a challenge(and I approve)! It's pretty obvious the way this water is set-up now that; there are big numbers of bass and big bass to be caught. AND, THERE ARE STILL REDFISH there according to the folks at the park ranger station. "Yes, they still catch them sometimes. They catch-and-release the redfish." Of course, redfish have not been stocked there since 2011, and TPWD has basically left Fairfield to fend for itself through this decade. IT MAKES ME WONDER just how good an example of "Hands Off Conservation" Lake Fairfield could actually be? Fairfield is about 135-miles door-to-door from here, so some things will have to align themselves before we can make that run. The great thing actually IS THAT DISTANCE; Fairfield is close to halfway between Dallas and Houston, and a great place to meet a friend from the opposite direction, head out on the skiff and chase whatever you can find. It was Friday when I was there, and the place had two boats on it (yes two boats on the entire lake), and there were camping spots available. Amazing! Want to go? Got gas? Let me know!
ABOUT TILAPIA – Tilapia on Fairfield are, by law, a catch-and-kill affair. It's no time to have a heart – listen to your stomach instead, and keep and clean these well-fed fish. The fly fishing record for blue tilapia at Fairfield is a "BIGGUN" at four pounds! Want to go? Got gas? Let me know!
LINK – TPWD FISHING RECORDS for Farifield
Here is a list of old Texas Fly Caster  STORIES MENTIONING FAIRFIELD
Category: Adventure, Body-Mind-Soul, Complimentary Reading, Culture on the Skids, Destination Fly Fishing, Fly Fishing for Redfish, Houston Fly Fishing, Life Observed