Tag: Houston fly fishers
Start Your Month and Week off Right – Here!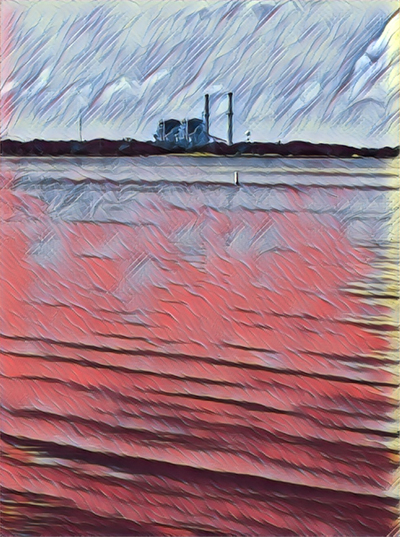 Fairfield Lake is / was / is a cooling lake for a power plant. It proved to be an interesting stop last Friday.
Good morning and what a good morning it is! How often do you get off to such a great start to fly fishing June in Texas? This rain has brought relief to Central North Texas, an area that is six inches behind for the year (at the end of May) and just went thorough a Top-10 driest May on Record. As deeply as I covered those years of drought here at TFC, it seems almost like the weather gods are playing with me, pushing at the panic button finger.
I was headed back from a Houston photo shoot last Friday when I pulled into Corsicana to wait for the storms to clear I45 between there and lovely Dallas. I had killed some time looking at Fairfield Lake, which is in fantastic condition by the way, trying to miss the traffic a Dallas Friday afternoon was promising ahead. There was a flash flood box around Dallas, and I had heard there was flooding on the way … and the Whataburger didn't look too leaky. I was running out to the car after the rain had pretty much stopped, and realized my prescription glasses, hanging around my neck had accumulated some rain on them as I got in and started up. I thought nothing of it, I don't need glasses to drive, and rainwater? It should clean my expensive (very expensive) prescription glass, right? Wrong. This rain was apparently acid rain, and the coatings on my old glasses are now etched by rainwater. Just another example of our changing environment, I guess.
It would be premature to say the summer is, "Taking Shape" because the shape it needs to take is something like these squiggly lines – "$$$" – and so far, the piggy bank is rattling hollow. That shape is what seems to make the fly world go round, isn't it?! At least it's a lot better year of guiding, even without the free publicity spotlight shining on the guiding business. Heck! I wouldn't know how to act with all that free publicity anyway!
READ MORE FREE! Continue Reading
Texas FlyFishers of Houston speckled trout fly fishing saltwater
Event: Big Speck Hunt


When: April 26 2014
Where: Sargent
Start 8:00 AM
End Time: 3:00 PM
Trip Leader: M Quigley
Phone: 713-two-one-three-eight-one 50
e-mail: [email protected] dot com
Trip Description: We will be going back to Sargent & East Matty in pursuit of gator trout! Bring your fighting gear and tangle with one of these bruisers!
NOTE – I can't possibly post all the trips that all fly fishing clubs in Texas are taking, but this one should be a humdinger. Clubs are a fantastic way to make new fly friends, share expenses and learn volumes of knowledge. Houston, due to its size and geography has one of the largest, most active, fly fishing communities in Texas.

Texas FlyFishers of Houston
Event: PINS trip

When: Lock the date…. 27-29th of September. We have avoided "Shark-o-Thon"
Where:
Start Time:
End Time:
Trip Leader: Puck
Phone:
e-mail: PM here
Trip Description: We will take four-wheel drive vehicles down Padre Island National Seashore during the anchovy migration, and target blitzing schools of ladyfish, jacks, redfish, and tarpon.
Based on last year's experience: Let's change this up a little from last year. Let's start early Saturday monring and run down to about MM 40+ and fish the next day, Sunday, on the way back. More to follow.
How to sign up: Sign Up Here, on the sign up sheet distributed at the monthly meeting or e-mail the trip leader.
How to get waiver forms: Download PDF form here. Required Waiver of Liability, filled out and signed, along with emergency contact information.
Cost: National Seashore Entrance Fee $10 per vehicle
Directions: About 250 miles (4-5 hours) from central Houston
Search Houston to Malaquite Beach (20420 Park Road 22, Corpus Christi, Texas (Padre Island National Seashore)) in an online mapping program
About the area:
At 60-70 miles long, Padre Island is the longest, undeveloped, barrier island in the world. Anglers with four-wheel drive vehicles can access almost all of it.
Fall brings bait migrations and large schools of predators. The water is typically clear (much more so than Galveston).
• When the club did this trip in September, 2006, 14 anglers hooked 8 tarpon. Countless large ladyfish were brought to hand, as well as some big jack crevalle.
• Last year, 2012, there were 10 anglers. Ladyfish were the most caught species, with reds, spanish macks, bluefish, and trout also brought to hand.
The typical fishing method involves cruising the beach while looking for signs of fish. When a school is sighted, anglers bail out and start casting. The Port Mansfield jetties (at the very end) offer deep water access.
Driving on the beach can be difficult. Four-wheel drive vehicles are required. Realize that a tow for a stuck vehicle here could cost you thousands (yes, thousands). Cell phones do not work on the island, except at the extreme ends.
The Malaquite Pavilion offers public showers to get off the sand and salt before the drive home.
Important items:
• Member dues are current!
• Waiver of Liability, filled out and signed, along with emergency contact information
• Current Texas Fishing License with Saltwater Stamp
• Have proper safety equipment INCLUDING a proper fitting PFD
• Extra change of dry clothes
• Wind and/or water proof jacket
• Wading Shoes and Sting Ray Guards
• Lunch, plenty of water, snacks and power bars
• Sunscreen and Mosquito Repellant
• Wide brimmed hat AND polarized glasses
• First Aid Kit
• Hand held VHF or FRS radio with extra batteries
• Vehicle rod holders
• Tow rope
• Jack and base plate
• Fix-a-flat
• Shovel
• Spare Tire
• 5 Gallon bucket
Recommended Equipment:
• 8 – 10 wt rods
• Full intermediate lines with at least 200-yds of backing
• Short 4-5 foot long, straight leaders of 30-lb monofilament or fluorocarbon
• Bite tippets of 50-80 lbs if targeting tarpon
• Back-up rods, spinning/casting in case it gets too rough in the surf, or the wind picks up to gale conditions
Recommended Flies:
Surf candy
Clouser minnows
Lefty's Deceivers
Beck's Bombers
Recommended guidelines for participants:
• Notify the trip leader if you have any potential concerns
• If inexperienced, then buddy up.
• If you are boating or kayaking, inform the trip leader of your float plan if planning to fish alone or longer then the designated times. Shouldn't apply on this trip, but still good advice.
• Sign in and sign out at the meet up point. Inform the trip leader if you will be fishing in a different place.
« Last Edit: August 28, 2013, 01:31:38 PM by Puck »