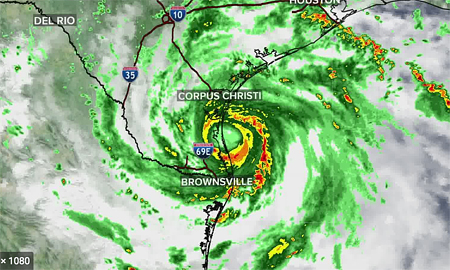 Good Monday Morning to all the fly fishers and readers who have tuned in here so faithfully over the many years!
Last week ended with a supercharged surge of fly fishing news that caught me by complete surprise.
First, it was made public that our favorite son, writer Aaron Reed, has been awarded the Robert Haig-Brown Award for writing "Fly Fishing Austin & Central Texas," the fantastic book that hit the shelves earlier this year … seems like forever ago now. More on that later. For Now: Buy The BOOK!
Then, we had this little hurricane. At least they said it was little … until it hit the hot water of the Texas Gulf Coast. Tropical Storm Hanna moved swiftly toward Texas in a loosely organized way until it hit the hot water and shifted gears into a high F1, and hit land just between Corpus Christi and Port Mansfield. Images from my favorite location, ones that appear to be Mansfield (talking TV heads don't accurately identify the photos they are looking at on their monitors), show some pretty significant damage to the tiny fishing village.
Of course there is no news, but the news that is reported on the big stage of National news media. So Hanna and any other hurricane that hits Texas – will get it's thirty-seconds of fame, and then be gone from the awareness of the masses … much like most of the hurricanes that hit Texas and the Gulf Coast. We're a long way from the New York media epicenter. And with the virus and an election in less than 100-days? I will double-down on that last statement.
THE BLACK HOLE
Right now, I am still paying time forward on our next adventure machine – the silver twinkie aka. Vintage Airstream. Honestly we see the light at the end and it's not a supernova star. However, I cannot tell a lie: This Airstream Silver Fly Mansion is in it's fifteenth year of ownership, yes fifteen years! Young ones, when I say, "time flies and the wheel turns faster as you go," this is what I am talking about! It was reported the last link to the Airstream Diary on YouTube was a bad one, so here is the good one – Airstream Diary
FLY INDUSTRY NEWS
The fly fishing industry is feeling the same pressures that have hit RV sales, new boat sales, and all outdoor recreational supply businesses. THEY CAN'T KEEP UP with demand. I think we will find, looking back years from now, that this recreational spending spree by North Americans was fueled in part by the huge ($600-dollar weekly) unemployment supplement added on by the Federal Government – and has blown a lot of air into this temporary bubble in the recreational business. And couple the demand with the top-end suppliers, like SAGE Fly Fishing fly rods, a company on Bainbridge Island in Washington State — and one of the earliest hotspots for the virus and shutdown (of the factory) … it's a perfect storm. I am standing in line for a couple of heavy new fly rods right now; the Sage Maverick 8 and the Sage Pulse 7. Honestly, it doesn't matter what weight I key in, "Out Of Stock" is the answer. Feel Free To Think about this moment in time and store it in your synapses.
SOUND BODY – SOUND MIND
We fly fishers know how to steel our minds with the sport, but we also need to steel our bodies during a time when we may be a lot more sedentary than … well since I was sick five years ago in my own case. Take the time to restart or continue your exercise regimen, now more than ever! For me, my exercise high comes from riding long distances on my road bike (bicycle). My average was 120-miles a week when I left off years ago, and my new goal is nothing less. Don't be deceived, many forces are now aligned against our physical conditionings – the virus, the Texas heat, etc … we all have our own individual liabilities and full-on physical hurdles. Another year of this pandemic though? Speaking for myself, I know I have to push through the liabilities during this Black Hole of time and space.
Thanks for reading. I have had no time to assemble any new fly fishing videos, but I am working on them simultaneously with the silver twinkie journey through the Black Hole. Be patient with the twinkie, and the fly fishing rewards will follow. And if you are interested in Airstream Trailers? Stay tuned!
Category: Adventure, Body-Mind-Soul, Equipment, Fly Rods, Industry, Life Observed, Literature, South Texas, Texas Gulf Coast