Literature
WHO'S YOUR DADDY? Fly Fishing Father's Day Gifts 2017
We're getting down to brass tacks. Have you done your Daddy right for this FFFD – that's Fly Fishing Father's Day? Those of you lucky enough to be Dads, thank your god for your good luck, and pass this story along to the people that matter.
I bet Dad already has all the fly fishing gear, dangling jangling trinkets, pants, shirts, boots and trout suspenders he will ever need. And, he looks a little funny in some of the hipster fly clothing – you might like; bright colors he's never seen before, designs that are a little slim in the midsection and prices that will take away a few cases of your favorite hipster beer from this weekend's event. So let's keep Dad grounded with a list of gifts that keep on giving, from this Dad's Day onto the next.
KEEP IT SIMPLE
You can keep it simple for good old Dad, and just book a guided carp trip right here, right? Look no further, give that big extra gift to Dad today – by clicking the PayPal button in the side bar, and simply look no further. You really love your Dad, right?
And it's still simple to give a subscription to the Pay-Per-View content on this site! Last week had a timely post on where / what / how of the current technical aspects of fly fishing for carp here in North Texas! This is the kind of information that saves a lot of time for dear old Dad, so that he can take you out to eat, buy you new stuff and keep your hipster lifestyle in tact. Read more about subscription benefits at Subscribe to Texas Fly Caster.
TPWD
How about a subscription to Texas Parks & Wildlife magazine? I was published there last year, so of course that magazine is in favor with me right now. And it was a favorite as a kid as well. Anything that makes Dad smarter can't be all that bad can it?
THE DRAKE MAGAZINE
How about a subscription to the edgy Drake Magazine? Another of those magazines I am currently published in, and one I look forward to writing and photographing for in the future; Drake covers a lot of ground, sometimes with reverence and at times irreverent, but typically with great images and creative text.
THEME? FREE DAD'S MIND – THE REST WILL FOLLOW
As you can read, this year's gift giving theme is EXPAND DAD'S KNOWLEDGE. Besides the reading material, the music below will free his mind, lift or sober Dad's spirits and provide the escape from reality – an escape that is much needed these days. Some of it harkens back to his youth, with the taste of Pink Floyd (from Roger Waters), new Beatles remaster "Sargent Pepper's … " ,  to the way way back sounds brought to us by ultra-cool and modern artists featured on the fantastic release – "American Epic," which is destined to be a Top 10 for 2017 (zero doubt about that!).
Which is Worse
I am still deciding which is worse; blunt force trauma to the head, or 35 rounds of radiation to the head-and-neck. But since I never suffered blunt force head trauma, that I remember, I guess I will have to go with radiation.
Needless to say, the weather has smashed an otherwise fabulous weekend to smithereens – not good enough, not bad enough to make me challenge or retreat … just enough to stop outdoor life, and send me to the sound room where I am spinning the new Roger Waters while contemplating.
---
Speaking of guides, and stories, photography and such …
What do we say of the new cover of local magazine "D" (as in Dallas)? Rob Woodruff, Orvis Endorsed Guide (lest we forget to mention) graces the cover this month! Is that amazing, or what? Rob has obviously worked very hard to get where he is, and this is about as close* to the pinnacle of free advertising that any Texas (spelled Oklahoma) guide could ever hope for – in an entire career. Since Rob has apparently made lemonade out of the lemon that became of Beaver's Bend after the floods, this marketing feat is even more impressive to little old me. I'd sure like someone to tell me my name rolled off his lips – even once – much less the 231 times he's been mentioned here over the years.
For those readers (and haters at the extreme fringe of readers) who think this writer is about his own journey? I only wish you were right. Because if you were right, I would have written about myself in the Summer edition of Drake Magazine. Instead, you will find an article on Danny Scarborough** in the magazines "urban fly fishing" department for the, yet to be released, Summer of 2017. I certainly enjoy working with Danny to expose what he's doing in Houston to a larger audience, a MUCH larger audience. What will it do for me?
I am hopeful that with a little luck and divine intervention, the new article will finally attest to the fact I am about writing about and photographing OTHER fly fishers and guides for publications – more than myself. And perhaps, just perhaps a few guides and readers (anywhere and everywhere) will get the idea (finally) that maybe what they do is worthy of print and photography. Stories need to come to me now, and in volume …
And believe it or not, my writing is not limited to knowledge of the subjects you find here! Test me if you like, about anything but math of course. For example, if you pick up the latest issue of Lone Star Outdoor News, you will find a story on artist Mike Quinn out of Santa Fe, Texas. So besides all the other subjects I write about, add art and history to the list (yeah, the art minor and the economic history minor may help a little bit).
***So who really hits the pinnacle of free press for Texas fly fishing guides this month / this first half of the Texas year? You tell me. I would love to hear from you. And if you know of other publications I should be begging at the door of, let me know about that too – for goodness sake!
Thanks for reading. Stay dry. Have a great first weekend in June, and maybe I will have something interesting to say by Monday Morning! Shine on you crazy diamonds!
Poet Henry Hughes' book, "Back Seat with Fish – A Man's Adventures in Angling and Romance," is a far ranging autobiography that documents Hughes earliest fishing experiences and memories on Long Island through growing up and into a life as an observer writer of his observations.
I asked Dr.Hughes about his memories of his early fishing years, and how he documented them. "I've kept a journal off and on, and wrote and received lots of letters since high school … I kept detailed journals in college and during my time in Asia. The early years on Long Island were retrieved through memory and in revisiting all those places and talking to lots of people."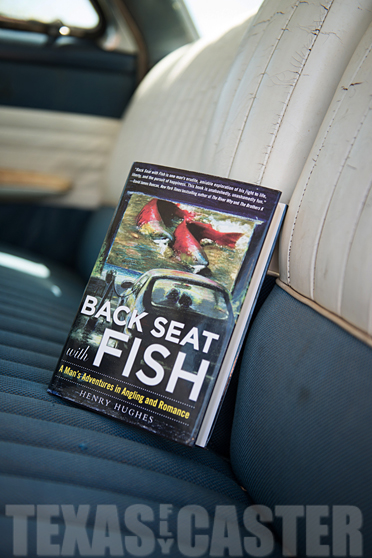 As the book unfolds, and Hughes matures through life, his writing also matures and the horizons of his fishing adventures take him across oceans to Japan, China, Malaysia and Alaska are all penned on his map. Not only does he fish these faraway places, Hughes also drinks in the culture, eats fish we would never imagine.[ppw id="163402188″ description="Book Review Back Seat With Fish" price=".25″]
Hughes' awareness of how the environment effects fish; catching certain fish because of new conservation efforts, and finding none when a favorite place is fished out – also becomes more sharp and important as his fishing life continues.
"We all know conservation is key, and when I saw the human degraded waters of East Asia, I became especially worried about what could happen to America. We can't let industry and land development get out of control. I lobby and vote in favor of environmental protection. I'm not against growth and industry, but we can't go the way of China with polluted air and water," Dr. Hughes said.
There's a heavy dose of his personal relationships that certainly add a dimension to the journey, and some may say this is a "guy's book" because of his attention to detail, and willingness to use a woman's fishing IQ as a primary measure of compatibility.
This book does have mature subject matter. I asked Dr. Hughes how he would rate the age appropriateness of "Back Seat With Fish," and he said, "I asked my wife's opinion because she teaches young adult fiction and has a good sense of appropriate material. She says that Back Seat with Fish is okay for readers over 16. As you know, there are references to sex, alcohol and marijuana."
Along the way Hughes contemplates the deeper questions we long-time anglers think about in slower moments. Do the fish feel pain? Why is there such joy in feeling a fish struggle? Hughes looks fish in the eye, and knows that he must kill and eat some of them. He also gave me an interesting recipe for cooking one of his favorite fish, the common carp.
You can find Henry Hughes writing for magazines, like Gray's Sporting Journal, and The Flyfishing and Tying Journal. "Back Seat with Fish" is available from Skyhorse Publishing at www.skyhorsepublishing.com.
[/ppw]