I DID!
So you say there won't be any traffic Monday after New Year's Day? How wrong was that? Set yourself a reminder; don't do that again.
As I passed the Border Patrol checkpoint last night, I saw a line of lights, on the northbound side, that made me take measure. One-and-six-tenths of a mile later the double-wide line of cars ended. That friends, takes first place for the longest line – by a long shot – at the checkpoint I have ever seen.
And the same was true all along the State from Denton to South Padre Island, Texas. It looked like a hurricane evacuation was underway. Cars by the thousands and thousands were inbound from the holiday week, or weekend, and the gas prices were accordingly gouging and the gas stations were bulging with lines at the pumps. A few Mexico plates made their way south like they were passing me on a deadline. I guess I drive like an "old man" nowadays, but a 9-hour journey is not too slow.
---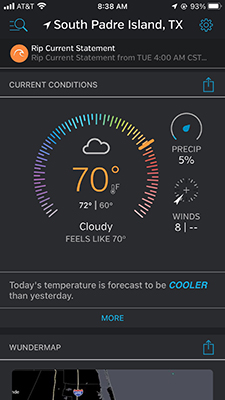 Back on the ground in the Lower Laguna Madre last night before the local news, and the weather is nothing short of great … for January in Texas.I was swallowed by the humidity when I opened the car door, even though I had rolled the windows down in the Heights to take in that smell of the shallows that used to wake me up as a kid. That, along with the stirring of my dog Toby's nose for excitement coming soon. He always knew exactly where he was. Back to shorts. Back to flip-flops. Just back, nothing more and nothing less.
Do you remember that first day back at school after a long holiday? It's just another way school was actually a training ground for the US business machine. The feeling is the same after holidays now. Will my desk still be in the same place? Will the floors be newly waxed? More than once, my desk was stuck to the floor wax when I got back and found my designated place among the fallen faces.
---
By now, I cannot recall how many weeks the lead has been, "This is a decisive" week, or some other variant, in regard to the life of Los Pescadores Coffee & Outfitters in Port Isabel, Texas. So I will do away with any such talk of a pending climax. No, the project continues to flirt with finality … and I continue to gather fodder for a fantastic book. To be written or not, is a significant part of the enjoyment … just to imagine these character's journeys, what they don't tell me …
---
Actually, what has found me – where I am – is an epic novel with sweeping characters who have their own reasons for being on this end of the Earth. Their journeys, how they stopped here … it can be interesting and sometimes riveting. Throw in some real or imagined journeys through tours of duty, Vietnam and newer? All of these characters here, now? 
While all that runs through my mind, mostly as an observation of what could be – given the time and resources, the reality is this weather this January does nothing to lessen the drive to bring the joy of fly fishing to new people – show the possibilities of a 12-month season (or not), and broadcast this across the generations. We will see what the young week of the young year brings us, won't we? 
---
Thanks as always for following along. Be sure to scope out my Instagram Account for Texas Fly Caster, and subscribe to it very soon – even if it means raising your head above the radar, and opening your own account. Just keep your account "private," and save the nudies for your direct messages – Instagram does not care whether you post or not!
Category: Adventure, Body-Mind-Soul, Culture on the Skids, Destination Fly Fishing, Gulf Coast Report, Life Observed, Literature