Welcome to the Monday Morning beach walk. What the heck, why not? When on an Island? Walk on the hard sand.
To say life is one big adventure, at this point? It might be my be my understatement of the young decade … if I get through the decade!
I actually thought we would be getting down to brass tacks last week – when it comes to Los Pescadores CO, but death did come knocking a week ago, and another good soul received the answer to that question we all want the answer to; what comes next? As an aging human, I do try to find the upside to grim hanging out in my neck of the woods … and about all I can come up with is receiving the ultimate answer to the ultimate question. (Pardon the "neck" pun on me.)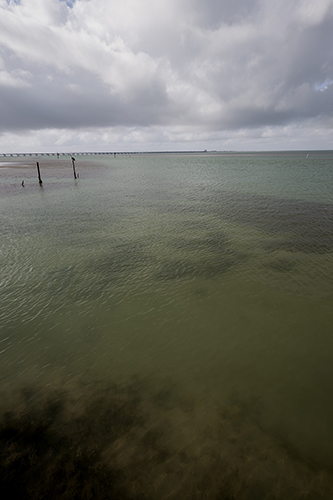 POSSESSION
Have you ever become possessed by a particular fly fishing "spot" that you know that you know that you know has to have fish? I have a spot like that. It's dolphin cove inside the Jetties Park. There are always ripping currents, porpoise circling and munching (yeah I know – anti-fish), and just enough positive reinforcement to keep me hitting it again and again. So far, when it was warm, I caught a mangrove snapper, a baby grouper and before the Sunday cold front – a nice redfish that edged the bottom slot. In the past I have seen schools of jack crevalle pushing bait into the rocks and out in the rips (ripping currents).
POWER PRACTICE
It's only a minute from the cove to the Jetties, and I am starting to look at the Jetties in a way that is a lot like the pond down the street. If you want a fix? Where do you go? I am investing time in the Jetties, every free minute is a chance to learn the cracks, the outcropping of tons of granite that gives that little swirl that may just hold. This is a bigger pond, and most of the time I draw back a blank, but that's not the point of this granite hopping exercise…
The point is being prepared for the return of the main event – fish and tarpon on the Jetties. These are the "practice rounds" that no one talks about, the blank trips that add up to nothing but learning. As long as Florida keeps abusing their water wonderland, and I have no problem with that, Texas stands to benefit from a fish that is smarter and adapts faster than anyone thinks it does. And it's not like tarpon are a mystical beast on the South Padre Island Jetties. I have seen them on random trips a half-dozen times BEFORE my extended stay here (of course as I arrived in October!). My only variable here is the actual thing that keeps me here at this point – Los Pescadores CO.
Zeroing out the Jetties seems logical during the general off-season here, and there are always backup plans for chasing them in the surf when the migration returns in earnest. Jetties have their own danger factor, and it goes to balance, strength and coordination. I have always enjoyed boulder hopping, but a fall on the Jetties could be … shall we say … more catastrophic than a fall on Ray Roberts Dam riprap. The granite does not shift, but there may come a time when I wish it would.
Of course, since the big game is not present, I do not take my elephant gun on the Jetties. It is loaded. It is ready. But throw a twelve-weight blindly for very long, and you will have a whole new set of physical problems. No, there is no sense in that just yet. Once I see the first, I will lock-and-load the twelve as my backup. Basically, everything gets heavier when it needs to.
Along with testing the big pond during off season, today is a day to take a lunch hour and test it in the South Texas mist. We are dreadfully short on rain around here, and that salinity balance has got to be off. It also effects places like the Arroyo Colorado where it thrives as a either a freshwater drainage river or a bay backwash. Almost the same goes for the Brownsville Ship Channel, except I don't think anyone would want anything around the Channel to drain into the water!
Have a great week. Things are almost predictable enough to get back to video producing and posting a bit more often. I say that, and that means it will all blow up of course! YOU have a great week anyway!
Category: Adventure, Body-Mind-Soul, Jetties Fly Fishing, Life Observed, Lower Laguna Madre, Texas Gulf Coast