Where to begin? How about: IT DOESN'T Get Any Better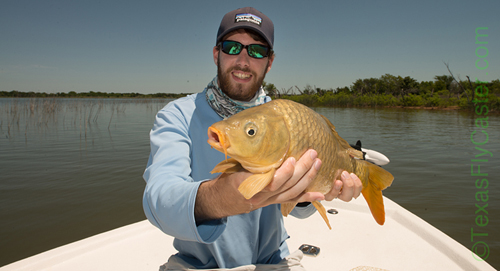 Depending on where you are and what you know about the preeminent carp fly fishing lake in Texas, there's a tale of two lakes going on right now. One side is blowing-and-going, and the other requires a bit more of a search. The juvenile males are running rough shod through the flats, not stopping to eat and in search of love. They look entirely like a spawning crew – small and difficult to distract into consuming.
If you don't pull the trigger NOW, I will guarantee you that the action curve will bend, and it WILL GET tougher. The numbers are huge, and so are the shots at catching the challenging carp. Play the odds amigo & amiga!
Meanwhile the big femmes are ready to eat. Their work is done, and they have the munchies.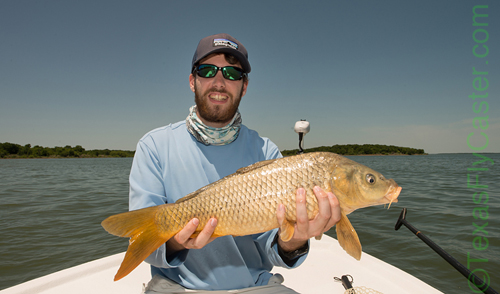 Lake Lavon Carp and Buffalo
I had perfect conditions on Lake Lavon, Wednesday, and after a lot of searching to find a location given by a kayaker at the ramp – I found a nice sandbar between shore and an island that was crawling with carp and dark-shadowed buffalo. I did catch a couple of commons in all, but also bagged this 14.5-pound buffalo. I don't know what it is about me and the buffs, but I seem to have finally dialed them in. I say that, next thing I will be trying and trying with NO LUCK. They are a tough fish to get to eat a fly.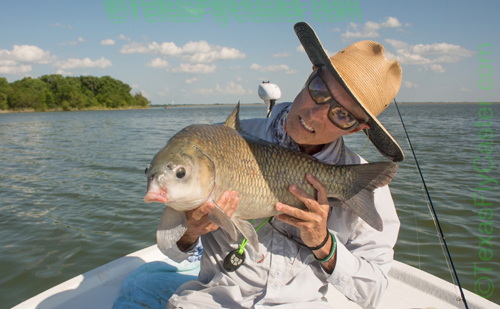 This 14.5'er should unseat the current record of 10.67 caught on a Clouser (?) in July of 2011. It's hard to find the time for the paperwork though! Records are made to be broken.
Netting that monster was pure comedy! It just flopped out of the net and kept going. Remind me! I gotta' get a bigger net!
SANTA FE TEXAS
Our thoughts, concerns and prayers go out to Santa Fe, Texas, today. You'll recall the story I did on artist and writer Mike Quinn awhile back. I vividly recall his kids getting home and hopping off the bus out front, coming over to meet me … they're all okay.
---
YOUTUBE FANS – There simply are not enough hours in my week to be able to assemble the video report today. Besides THIS WEEK LOOKS A LOT LIKE LAST WEEK, except A LOT BETTER and MORE of it!
Category: Complimentary Reading, Fishing Reports, Fly Fishing For Carp, North Texas