texas fly fishing #flyfishing #texasskiff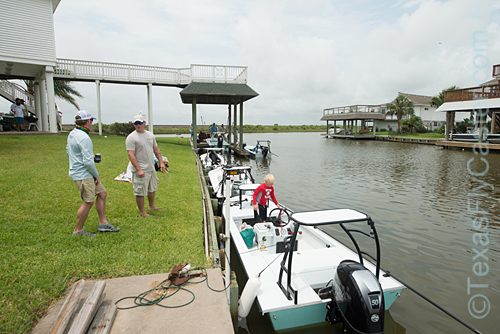 At the inaugural skiff gathering at MarshFly World Headquarters yesterday – Bayou Vista, TX.
The forecast? Mostly cloudy with a chance of something everywhere. [ppw id="135080965″ description="Monday Sidewalk" price=".10″]
That's about the only way to call it this early summer week. I will have a new video report out in a couple days that goes over conditions across Texas, but it doesn't take a rocket scientist (I know a few of those) to know we are in extremely unstable weather patterns these strange days.
The Facebook gathering of Houston Fly Fishers (a closed Facebook group) yesterday, on the water in Bayou Vista was a screaming success. The event was hosted at MarshFly World Headquarters, and was a skiff-in event where FB group members were encouraged to boat in and moor their skiffs for public show. IT WAS quite a show, and a highlight compared to the fishing conditions we found on Greens Lake yesterday morning. More on that later this week.
SALTWATER FLY FISHING IN TEXAS
Conditions in the Galveston system are … not good … to be diplomatic about it. The water is off color and running deep because of the extraordinary rainfall in the State and Houston. For example, I was returning from the event – to Spring, TX, and came through a 30-minute deluge along I45 near NASA, and almost to downtown. By the time I passed through and was on the north side of town, the drainages under the highways were huge raging floodways of biblical proportions. And that water has a short trip to the Galveston Bay System. Obviously there was a reason we saw only a handful of boats in Greens yesterday, and it wasn't because it was ON. I think it would be relatively wise to discard faint optimism across the State's inshore salt, and assume the blowout will continue for awhile longer. I welcome any daily proof / evidence otherwise.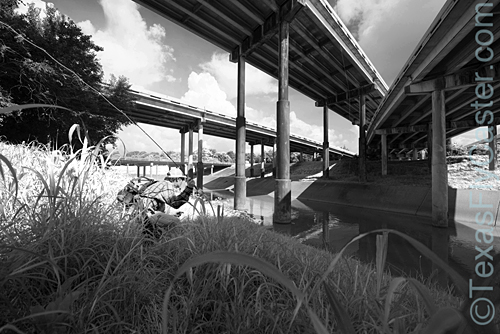 Welcome to the jungle. We definitely got fun and games.
FINALLY FINISHING THE STORY
It was a long time, years actually, in the making, but Danny Scarborough and I put the finishing touch on the story I have been working on about fly fishing the Houston bayou system for the desirable undesirables – fish that call that water system home. We went out Saturday morning, where I proceeded to get beat to a pulp by the humidity and, shall we say "angular" conditions in Braes Bayou presented … what a difference two years make — take note young whipper-snapper readers; that body you call home? it doesn't last forever. There won't be a lot of images shown here on this story, as I have to hold them back for future publications.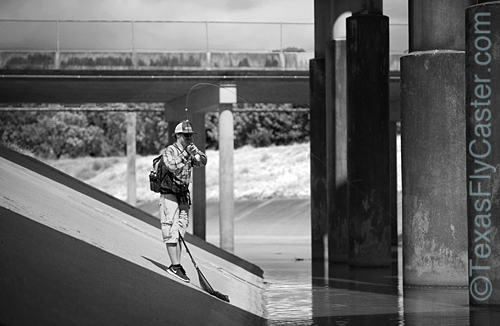 Guide Danny Scarborough sticks a wary city carp in the Houston Bayou Saturday morning.
TAKING THE LONG WAY HOME TODAY
Heading back to North Texas today will be an interesting affair. It was bad enough heading south on I45 last week, but the lines of traffic on the northbound side were even longer! So we'll be exploring new, more favorable routes home today (watch for the strangeness on Instagram!). I even heard that parts of I45 were shut down due to high water, so check your routes no matter how well conceived they may be. These are unusual times to be driving the State of Texas.
[/ppw]
Category: Adventure, Backcasting, Culture on the Skids, Destination Fly Fishing, East Texas, Events, Fishing Reports, Flats Boats, Fly Fishing For Carp, Fly Fishing for Redfish, Gulf Coast Report, Industry, Life Observed, On The Road, On The Water, Saltwater Fly Fishing Texas, Technical Poling Skiffs