Fly Fishing and Brew Festival plano texas 2017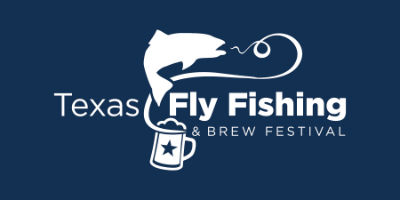 Sometimes I wonder where these gifts come from. Just announced is the first ever (please stop saying "first annual" people) Texas Fly Fishing & Brew Festival. We can collectively forgive them for having a trout in their logo, especially since it contains a frothy mug of Lone Star microbrew. Actually, I would consider two quick slips somewhat problematic, but the addition of beer is like a two out home run in a 0-0 Rangers vs. Astros game (home run by the Rangers of course).
I do see a bit of irony with targeting fly fishing youth so squarely and a brew festival, but that's for the dads in the crowd to work out. I also wonder if organizers realize Texas is a region? Heck of a deal. I'm on board!
Here is the pasted version of their press release:
The inaugural Texas Fly Fishing & Brew Festival will be held March 11-12, 2017 at the Dallas-Fort Worth Metroplex.
Read more in the press release below.
Inaugural Texas Fly Fishing & Brew Festival
The first Texas Fly Fishing & Brew Festival comes to the Dallas-Fort Worth Metroplex in 2017.
The director of the Texas Fly & Brew's sister event, the venerable Virginia Fly Fishing & Wine Festival, said today that he hopes to simultaneously raise awareness among Texans of the region's incredible fishing diversity and introduce them to amazing fishing alternatives available to them across the country. "If even one parent leaves our event understanding for the first time that he or she can haul the kids down to a Texas farm pond after work and have a blast just landing largemouth bass until dusk, I call that a win," said festival director Beau Beasley. "At the same time, the region and the country offer opportunities to land every imaginable species–from reds on the Gulf Coast to trout in Tennessee's South Holston River to every variety of salmon in Alaska. Contrary to popular belief, fly fishing is easy, affordable, family-friendly, and fun. It's my mission in life to communicate that message as widely as possible. It's the mission of these events to grow the next generation of fly anglers."
On March 11-12, 2017, the 1st Annual Texas Fly Fishing & Brew Festival (TFFF) comes to the Plano Center, a mere 20 miles north of Dallas and easily accessed off Route 75. "We are thrilled that the Texas Fly Fishing & Brew Festival chose Plano," said Mark Thompson, Director of Visit Plano. "This unique event is a first for Plano and should attract attendees from all over the region. We look forward to helping Beau and his team make this another signature event for Plano."
Dallas-based fly rod manufacturer Temple Fork Outfitters (TFO) and the Recreational Boating and Fishing Foundation (RBFF) are early sponsors of the festival. "The region has been waiting for an event just like this one–for a new approach to fly fishing," said TFO owner Rick Pope.
"Texas is an important state to the fishing community and we're pleased to support the TFFF," said Recreational Boating & Fishing Foundation (RBFF) President and CEO Frank Peterson. "We need to encourage the next generation of anglers and boaters – a key source for wildlife conservation efforts – to get out on the water, and this festival is a great vehicle for doing just that." Much like its sister event, the Virginia Fly Fishing & Wine Festival, RBFF will be sponsoring the "Family Fly Fishing Classes" where Entire families can learn the basics of fly fishing free of charge, in a family setting."
The support of the RBFF's TakeMeFishing.org campaign also enables Boy Scouts to earn their Fly Fishing Merit Badge at the festival through a series of classes taught by BSA-certified instructors. "We're eager to support this new fly fishing festival concept," said Peterson, "because we believe that these events in Virginia and now in Texas draw newcomers–and especially families–to the sport who might otherwise never pick up a fly rod in their lives."
In addition to the 3FC series, the Texas Fly & Brew will feature lectures and classes throughout the weekend on techniques and tactics for novices and advanced casters alike, exotic fishing locales, fishing etiquette, and much more. Also offered are free Women-Only Casting Classes as well as one-on-one instruction in basic knot-tying skills. Attendees can sit down at the vise for hands-on fly-tying instruction from members of Project Healing Waters Fly Fishing, a nonprofit organization that rehabilitates wounded veterans through fly fishing and fly tying. Experienced anglers may considered enrolling in more advanced distance-casting or Spey-casting classes with expert specialized instructors. Fly fishing icon Lefty Kreh will speak as well as cast at the event; the names of additional fly fishing luminaries will be forthcoming.
Unique to the Texas festival is local micro-brewery beer. Festival attendees 21 years and older will receive a series of tasting tickets with their paid admission. Local brewmeisters will offer free classes on what sets microbrewed beer apart, why and how certain ingredients yield different flavors, and how to brew and taste different types of beer. Beer will also be available for purchase during the festival.
"I know I'm a broken record," Beasley joked, "but it's really true: fly fishing is easy, affordable, family-friendly, and fun. I'm an evangelist with that message. Put down the cell phones, grab the kids and minimal gear, go outside, and get on the water. It's really that easy. For far too long folks have perceived fly fishing as expensive, exclusive, and difficult. It's the sport for rich, tweed-wearing old men, right? Well, sure–but it's not only for them. It's for women. It's for families. It's for everyone.
"Our Texas festival is in Plano–that's within easy driving distance of the Metroplex's nearly eight million residents," Beasley continued. "What if just a fraction of those folks tried something new for the weekend? Maybe that weekend, hard-working young professionals will decide not to bring their work home with them; instead, they'll step off the hamster wheel and come out to learn about the quiet sport. Maybe families will decide to spend the weekend learning to cast and tie flies together. Adults can wet their whistles on free tastings of micro-brewery beer–so what's not to love?
"Think of what fishing together can do for family life. Think of what renewed interest in the outdoors might do for Texas businesses! Think of the effects on local ecology if we raise a generation of Texans who care about the health of what swims because they spend time on local waterways.
In Virginia and now in Texas, we're set to change the fly fishing paradigm. And we're really excited to see what the future of the sport looks like."
For more information, visit www.txflyfishingfestival.org or call 703-402-8338.
Category: Causes, Complimentary Reading, Culture on the Skids, Eating and Drinking, Industry, TECHNICAL, TIPS