texasflyfishing fly fishing texas carp fly fishing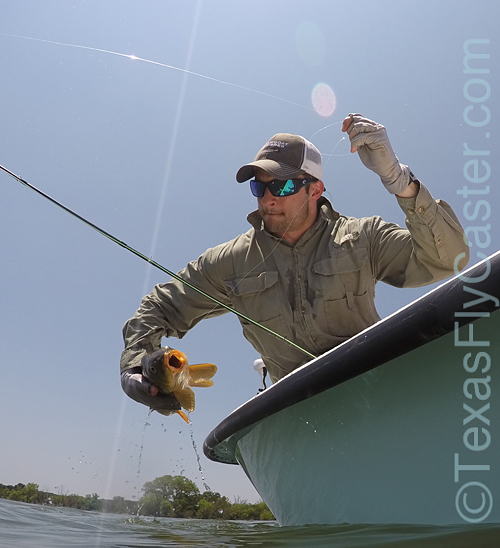 Last week aboard KoKo.
Good morning wherever you are this morning. I hope you find yourself sheltered from the heat and happily recovering from Father's Day celebrations, be you a father, a mother, son or daughter. Today is one of my least favorite days of the year. It's the longest day of the year, which means the days start getting shorter from here on.
One of the things I grilled yesterday was a shrimp hamburger patty. It's real simple; just cut some small shrimp into small pieces (after shelling/de-veining) and mix that into you meat at about a ratio of 30% shrimp or less, spice and season as usual. Cook like a normal burger.
Those 600 or so subscribers to the YouTube channel have been waiting for a new Texas Fly Fishing Report for quite a while. And I had promised a new report last week. Well, thank goodness I didn't have time to get that out on the air! I would have said the dam at Ray Roberts Lake was closed. Guess what? It's wide open again, putting the pressure back on Lewisville Lake and also everyone downstream in the Trinity River basin system. This kind of unpredictable change in habitat causes a lot of problems as we try to dial in fishing this summer.
It doesn't help that I also got a report yesterday (6/19) of nearly 100 dead carp on one of the Ray Roberts flats – killed by bow "hunters" on Saturday. We have put up with this idiotic blood sport for years, and we have been mostly quite – resigned to the damage the idiocracy does to the carp population. No more.
In coming days, or however long it takes, I want to explore the thinking of this group of people who think it's good sport to kill carp using bow-and-arrow. About the only opinion I ever had on this was/is: Why not take target practice on toy poodles? It would be more challenging. However, after seeing these folks on their fancy nighttime stalking boats (proudly built, and sold by Bass Pro), I realize these folks are not about a "hunting" challenge. I promise I'll try to be as open minded as possible. More to come …
When it comes to the State's Fly Fishing report, I can imagine things are getting back to normal on the coast … just in time for a tropical storm Danielle forming down in the Bay of Campeche. As quickly as we turned hot this year, it seems to me like it will be an active hurricane season in the Gulf of Mexico. We shall see. Just about everyone I know, who cares about these things like the weather's effects on our outdoor pursuits, shakes their heads and talk about this being the "new normal" on our planet. Remember the drought? All this local unpredictability makes me long for the Texas Gulf Coast where the tides, the moon and the weatherman are much more predictable.
This promises to be a crazy volatile week with taking on carp killers and who knows what else! It's looking like we need to move downstream to Lewisville Lake and see what conditions are there now. Anything can happen.
Category: Culture on the Skids, Eating and Drinking, Fish Kill, Fishing Reports, Fly Fishing For Carp, Industry, Life Observed, North Texas, Science and Environmental, Texas Gulf Coast