We're rich! Rich I say! Rich!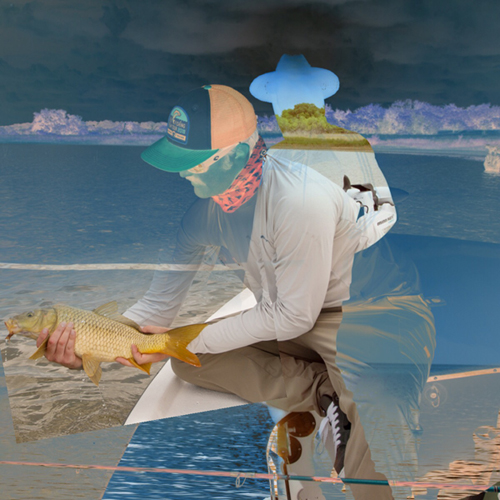 Danny on Lake Ray Roberts, Texas, with common carp. Photo – Shannon / Manipulation – Leslie
Time has value, and it was never more obvious than when I had famous Houston fly fisher Danny Scarborough on the front of the skiff earlier this week.
"How long have you had the skiff?" he asked? "This is the third season," I said. "Really? It seems like only a year!" he replied. I saw my opening, one I always look for, to point out the frailty and quickness of time that passes as the younger generation gets older. "Time, my friend, passes quicker and quicker as you get older," I said.
Time, after all, is the most valuable thing we have in our possession. My riddle to those even younger than Danny, goes like this:
What is the one most valuable thing we have that we all have?
It can't be bought or sold.
We can spend it.
We can save it.
We can waste it.
We never know how much of it we have left either.
We can't hold it, and we can't keep it.
You would be surprised at how many of the younger millennials* have no clue what the answer is. Or, maybe you wouldn't …
Time is not on our side, regardless of what Mick Jagger sings. However, how you want your last memories to imprint on your eyelids as you close your eyes for the last time … how you want to spend the remainder of that time? For the most part that IS UP TO YOU.
I know that on this day, the third anniversary of a cancer diagnosis (and successful treatment) that MY SENSE OF TIME is a lot different from most. After one year and one day of spending an average of 30 hours a week, every week, at a dead-end job in terrible conditions – that is over. I have retaken (realistically) forty hours of time back from the dead, and handed it back over to living. Giving credit where due; the job did build me back into one strong 56-year-old. I just wanted out before something important got broken in the grinder.
As my friends and acquaintances are starting to realize, time got away from them once again this carp fly fishing season. PRIMETIME is over now, and I spend as much time looking for fish as I do ON fish. This season is unlike the 2016 or 2017 season. Any attempt to explain why would be pure speculation. So far that speculation includes – a) rapid heating in May (we broke 100-degrees in May!), b) fluctuating lake levels, c) more of those wasteful bow fishers? I really should call anyone who shoots a carp with an arrow a "Poodle Killer" – in the interest of greater accuracy.
SHIFTING THE SANDS OF TIME
So with this new schedule, I am in a bit of a "reorganization mode" when it comes to when to do my "regular" Texas Fly Fishing Reports on YouTube. This time we are going to try a Monday release date, and see what happens.
So thanks for reading! I hate sounding like a grumpy old man when it comes to time, but you'll see the light sooner-or-later! We'll talk again on Monday, so get ready for that!
millennials* – defined as born between 1983 and 1997. This is becoming the common definition among scientific researchers.
Category: Body-Mind-Soul, Complimentary Reading, Culture on the Skids, Fly Fishing For Carp, Life Observed