Galveston Christmas Bay redfish on fly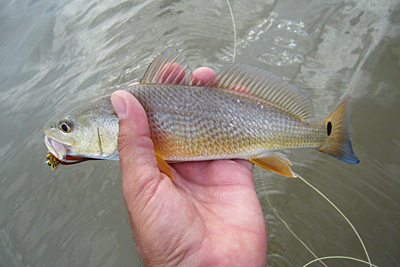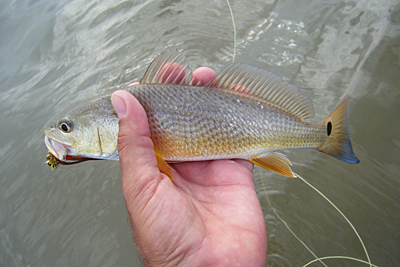 Vivid little Redfish caught at Christmas Bay.
It may be a record for the smallest Redfish caught on a fly. It is, however, a Redfish, and the first one I have ever caught on a fly. Heck, it's the first Red I've caught in 30 years. My Mom loves Redfish. They were her favorite fish to catch, and eat. She just has a thing about Reds – their fight is a predictable series of runs, usually two or three and then a sustained resistance until landed. But those runs …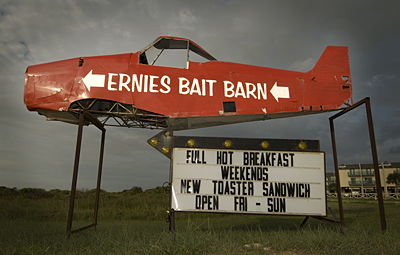 Unusual sign showing the way to Ernie's. That's not Amelia's Electra.
I spent the better part of Sunday morning and into about 1-pm fishing with new acquaintances Jared and Bart fishing on the surf side down below Galveston at Follet's Island across from Ernie's Too. It has been quite awhile since I fished in the surf, so when I saw Bart and struggling with and finally looking down on a squiggling three-foot shark they had just reeled in on a baitcasting reel, well, there are sharks in the Gulf. I am about to wade out into two feet of water where I can see baitfish and fish feeding on baitfish. Sharks. Bait. Fish. No bleeding allowed.
It was amazing how much blood
Now, the focus changes to the Navajo Quality Waters – talk about transition. LK and I leave tomorrow night and drive all night to arrive, with driving mercies, at about noon at the San Juan. I predict this will rock LK's world. I know it rocks mine. I am looking forward to only my second guide experience with Andy Kim on Friday, and fishing with virtual local Richard Plemmons on Saturday. If luck holds, we'll be back in Texas about the time Ike leaves the stage. Technically, we will be driving back into a hurricane. I say stay gone until the coast is clear. Then … go to the coast again!
Category: Texas Gulf Coast, Texas Gulf Coast