Galveston Christmas Bay redfish on fly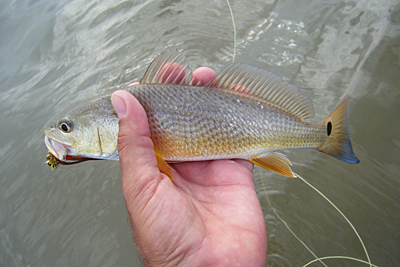 Vivid little Redfish caught at Christmas Bay.
It may be a record for the smallest Redfish caught on a fly. It is, however, a Redfish, and the first one I have ever caught on a fly. Heck, it's the first Red I've caught in 30 years. My Mom loves Redfish. They were her favorite fish to catch, and eat. She just has a thing about Reds – their fight is a predictable series of runs, usually two or three and then a sustained resistance until landed. But those runs …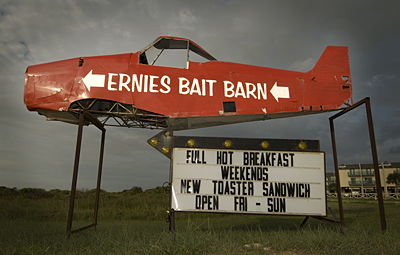 Unusual sign showing the way to Ernie's. That's not Amelia's Electra.
I spent the better part of Sunday morning and into about 1-pm fishing with new acquaintances Jared and Bart fishing on the surf side down below Galveston at Follet's Island across from Ernie's Too. It has been quite awhile since I fished in the surf, so when I saw Bart and struggling with and finally looking down on a squiggling three-foot shark they had just reeled in on a baitcasting reel, well, there are sharks in the Gulf. I am about to wade out into two feet of water where I can see baitfish and fish feeding on baitfish. Sharks. Bait. Fish. No bleeding allowed.
It was amazing how much blood comes from a few little Ladyfish who just couldn't resist a Clouser, or Surf Candy. Heck, there wasn't much they could resist as they chased flies all the way in and hit just before lifting for the next cast. I treated every release with the loving care of a human trying to keep a speck of fish blood from hitting the water … knowing what I knew … sharks.
Nevertheless, we did catch fish – Ladyfish and even some more unusual Sand Trout. It has been forever since I caught a Sand Trout, and I can't remember if I ever caught one in the surf. At least they didn't bleed.
The "green surf" was too far off shore to make fishing the surf that good, but just out of range there was plenty of activity. Even the shrimp boats were in close – inside 500 yards from shore. It was an amazing sight to see boats that close with clouds – clouds – of birds following the boats. I have seen a lot of shrimp boats working, but never so many birds. It was an obvious sign of shrimp, and after a couple of shrimp jumped in front of me and I saw one (about 4 inches long) hit Jaryd in the side, well of course I switched to shrimp. We all switched to shrimp. They worked nicely, but I had developed a partiality to my newly tied Candy. The amount of fatigue from fishing surf was a surprise, and it wasn't long before I was ready for the calmer bay waters.
After lunch at Ernie's, a half cooked half frozen five dollar hotdog, I donned my wading boots and walked right off the back side of the launch and waded along the shoreline to the northeast. My imagination kept me hoping for tailing Reds right around the next corner of grassy shoreline, but all that came on the jaunt were some small Specks and another Sand Trout. Venturing too far away from shore resulted in getting bogged down in deep mud that quickly zapped strength and determination. I retreated, continued along the shore, and then back to Ernie's. I remembered what Jaryd had said about the boat channel potentially holding fish, so I was able to work it near Ernie's and managed to catch a single small Red (on this great fly) before calling it a day – a day that started at 7am with a photo shoot in Galveston, and the day before only ended four hours before that shoot. A success.
There's no – zero – none, no doubt I will be back to Christmas Bay, this time with Kayak in tow, and spend a full day working the bay during prime – early morning and late evening feeding and favorable tides. It's just too sticky to walk it during this time of year.
Now, the focus changes to the Navajo Quality Waters – talk about transition. LK and I leave tomorrow night and drive all night to arrive, with driving mercies, at about noon at the San Juan. I predict this will rock LK's world. I know it rocks mine. I am looking forward to only my second guide experience with Andy Kim on Friday, and fishing with virtual local Richard Plemmons on Saturday. If luck holds, we'll be back in Texas about the time Ike leaves the stage. Technically, we will be driving back into a hurricane. I say stay gone until the coast is clear. Then … go to the coast again!
Category: Fly Fishing for Redfish, Houston Fly Fishing, Saltwater Fly Fishing Texas, Texas Gulf Coast, Texas Gulf Coast