Hurricane Ike rocks Galveston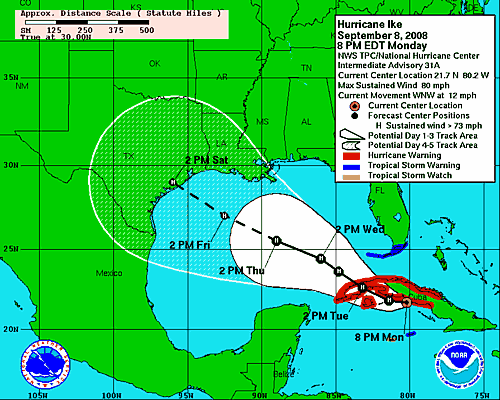 .
Live from the Texas Gulf Coast: Get ready for Ike and no Tina. Hurricane Ike shows a track that would give it a landfall about ten miles south of where I was fishing yesterday (that report comes tomorrow). From what I witnessed in building and development south of Galveston they are vulnerable beyond belief, to a storm on the magnitude of something like Katrina.
It's hard to believe the building that goes on somewhere like this, but the water, sun, sand and beach are an intoxicating remedy to common sense and logic. I mean, it's the Texas Gulf Coast. "It" is going to happen some day, they just gamble it isn't their day to suffer the loss.
Locals have the media to look forward to – those little packs in plastic bags that travel to the safest unsafe spot, where they can park their uplinks, step into the wind on cue, get blown around, and then step back into safety and (I can imagine) ask "How was that?". I witnessed the pack on the move at South Padre Island a couple of summers ago when I was chasing storm surf, and it was a … joke. They – the network talking heads – would all gather with each other, decide they should move, and load up the trucks and move to another big parking lot with beach access. They trudged out to the sand, did their standup, cut, break it down, and they were done for that day. Oh, yes they were on South Padre … a paid vacation waiting for a hurricane that never came. This one may not disappoint them though.
There are times to fish a 'cane – not cane pole, not bamboo – a hurricane. Word has it that before and after a hurricane on the Gulf Coast can be magical in the fishing realm. I don't know if I believe it though, as I have seen the debris from Katrina (long after landfall) in the water, and I can't really imagine what I couldn't see below the surface. I have been through one direct hit and that was Beulah (the third largest recorded hurricane at it's time) in 1967, and I do remember the calm after the storm.
Tomorrow, a better idea of where Ike will make landfall, and fishing from Christmas Bay and surf fishing the Gulf of Mexico
Category: Culture on the Skids, Houston Fly Fishing, Life Observed, On The Road, Saltwater Fly Fishing Texas, Texas Gulf Coast