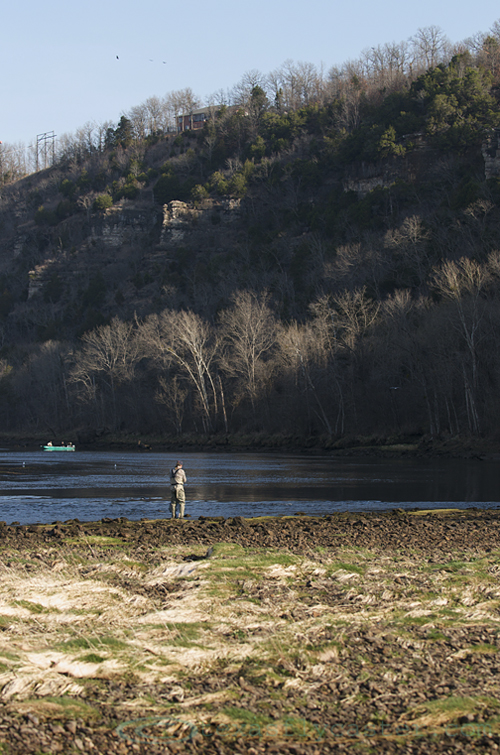 Finally. My imagination was piqued by the wide strong flow of the White River as we dropped down the embankment to the rocks recently emerged from their watery topping. The White was still wide, and the grade made for a fifty yard by two to three feet deep rapid.
This, I imagined, was what rivers look like. Not the lazy canal of the Rio Grande, and not the ditch that the Trinity River becomes at times. No, this river makes me think it's time to see more … more rivers, real rivers. Fascination with fish fleeted as an appreciation, rare for me, for the beauty of the moment and place took over. Yes, perhaps the flow was simply "drainage" as the dam was effectively shut down, but jade green runs of deep water and wide stretches of clear rushing water began to create my personal definition of a "real" river.
Make no mistake, this was challenging water, crossings are deliberate and calculated, and the grade facilitated a faster water than I imagined. Rather than sleepy slow pools lining the sides of the White, it was a search for holding spots and runs that were slow enough to get a good drift. The stocker aquarium life was virtually non existent. I appreciated the new water and new challenge, and was alone in that view. The diversity and beauty alone, were enough to counter the difficulty. This was when I wished a guide were around, someone to set the course for the nymphing drift, or dictate a disgusting streamer and just say, "right there!"
There was no leader, no hero and no villain. I bucked the trend, and crossed river to ply the water from a much more civilized shoreline, one that had put-ins, cabins, resorts and homes along the banks. I disappeared from my cohorts round one bend and up as far as I could go with camera gear and fishing load in tow.
Time ticked and we had only committed to two hours before abandonment. I was certainly going to push that, while the choice to abandon seemed to be more on the minds of others. This was a time where days would possibly solve the riddle, but not two hours on a real clock. We all have these days.
My long trek lead to beautiful water, water that was a puzzle with so many missing pieces. On my arrival back at point "A," where we started, it turns out my three compatriots had made short work of dinner, taking limits of rainbow trout from a backwash pool of hapless trout. Occasionally eating a trout is so … underrated. And with Johnny at the galley helm, my spirits were immediately lifted by the thought of that night's table fare.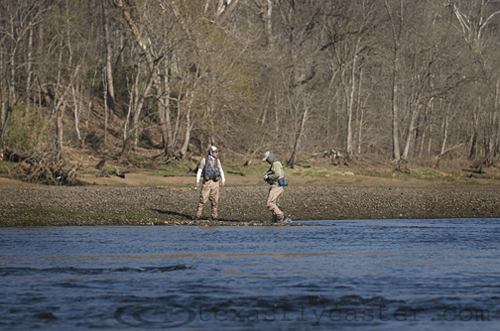 The uneducated adventure upriver had been, for me, all in all, a bust. I was thoroughly enthralled by the water's size, and sophistication, but also feeling thrashed by the reality that the famous White River brown trout were not flopping at my feet. Something was beginning to creep in, something foreign to my thinking – pressure.
Category: Arkansas Report, Culture on the Skids, Fishing Reports, Life Observed