[display_podcast]
We southerners are used to big grab bag of weather each and every spring, but this spring is as strange as the strangest southern spring.
Drought stretching throughout the entire State of Texas, is being dented by late, and locally weak spring rains accompanied by all you've heard about spring in tornado alley. Certainly, we have not been subject to what the Deep South is going through, but portions of Texas have had that experience in the recent past – see Jarrell, Texas.
What gave us a great day of fishing yesterday, variable winds, and changing weather conditions, gave way to rain, wind and hail this Sunday morning. As sure as it comes around, it goes around. Tomorrow may be sunny and fish filled, but chances are the weather folks are finally getting it right, and we are in for more of the same.
Saturday was pretty interesting – a private, managed tank out in Montague County, loaded with spirit-filled largemouth bass, provided hours of catching and curiosity, as a big truck pulled in while we were fishing, and dumped what must have been several hundred pounds of shad in the tank causing a largemouth bass feeding frenzy. We are talking surface action at will, as the bass gorged themselves on shad to the point that (after I changed to a Clouser) they were "regurging" five or six three-inch shad when they were hooked. The other bass following them in feasted on those – twice as nice.
After a lunch intermission, we reconvened at Lake Kiowa, had a little afternoon siesta, and fished until dark around the west side of the lake. Just like clockwork, when the sun finally disappeared, the bigger largemouth began feeding in earnest. Exhaustion on top contentment wrote the ending yesterday.
All in all, it was the best day of largemouth fishing I have ever experienced. It was impossible to keep count, but factoring in both the managed fish (more on that location next week) and Lake Kiowa largemouth bass, I would say somewhere around thirty pounds of bass were caught and released from my flies. Crazy. It ended for me, with another of those four pound largemouth that seem to like my black Clouser these spring evenings.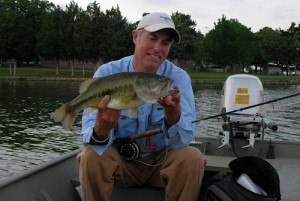 Category: Culture on the Skids, Fishing Reports, Fly Tying, North Texas, Science and Environmental