Tag: brown trout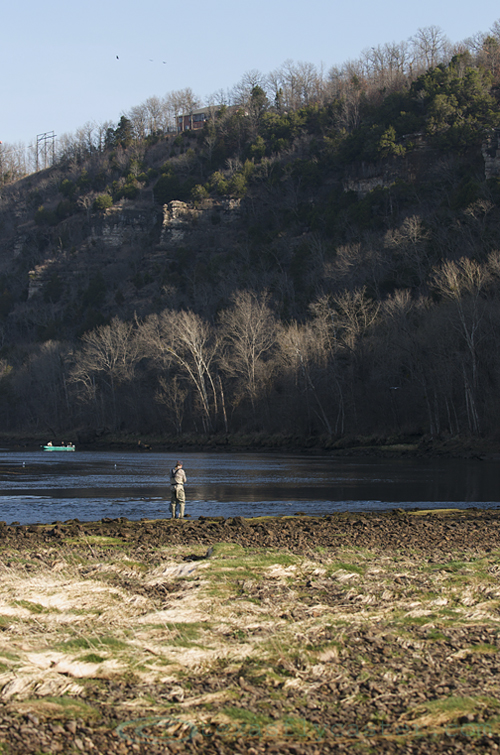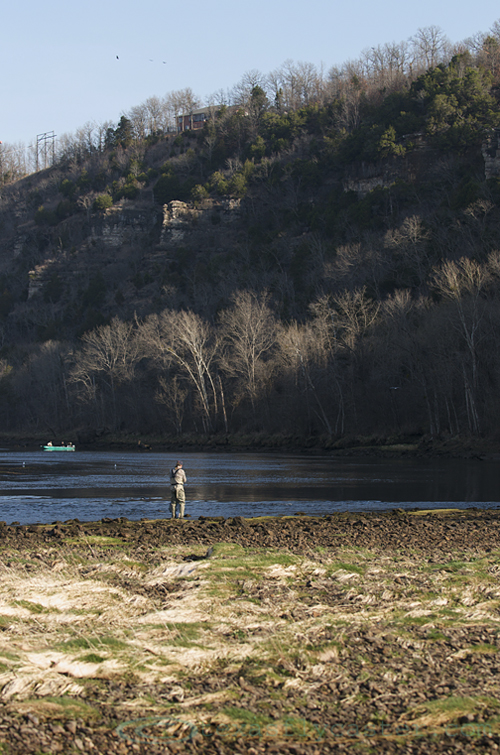 Finally. My imagination was piqued by the wide strong flow of the White River as we dropped down the embankment to the rocks recently emerged from their watery topping. The White was still wide, and the grade made for a fifty yard by two to three feet deep rapid.
This, I imagined, was what rivers look like. Not the lazy canal of the Rio Grande, and not the ditch that the Trinity River becomes at times. No, this river makes me think it's time to see more … more rivers, real rivers. Fascination with fish fleeted as an appreciation, rare for me, for the beauty of the moment and place took over. Yes, perhaps the flow was simply "drainage" as the dam was effectively shut down, but jade green runs of deep water and wide stretches of clear rushing water began to create my personal definition of a "real" river.
Make no mistake, this was challenging water, crossings are deliberate and calculated, and the grade facilitated a faster water than I imagined. Rather than sleepy slow pools lining the sides of the White, it was a search for holding spots and runs that were slow enough to get a good drift. The stocker aquarium life was virtually non existent. I appreciated the new water and new challenge, and was alone in that view. The diversity and beauty alone, were enough to counter the difficulty. This was when I wished a guide were around, someone to set the course for the nymphing drift, or dictate a disgusting streamer and just say, "right there!"
There was no leader, no hero and no villain. I bucked the trend, and crossed river to ply the water from a much more civilized shoreline, one that had put-ins, cabins, resorts and homes along the banks. I disappeared from my cohorts round one bend and up as far as I could go with camera gear and fishing load in tow.
Time ticked and we had only committed to two hours before abandonment. I was certainly going to push that, while the choice to abandon seemed to be more on the minds of others. This was a time where days would possibly solve the riddle, but not two hours on a real clock. We all have these days.
My long trek lead to beautiful water, water that was a puzzle with so many missing pieces. On my arrival back at point "A," where we started, it turns out my three compatriots had made short work of dinner, taking limits of rainbow trout from a backwash pool of hapless trout. Occasionally eating a trout is so … underrated. And with Johnny at the galley helm, my spirits were immediately lifted by the thought of that night's table fare.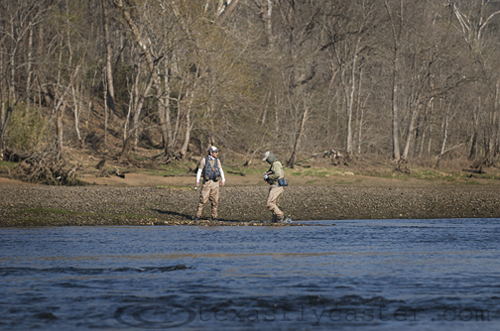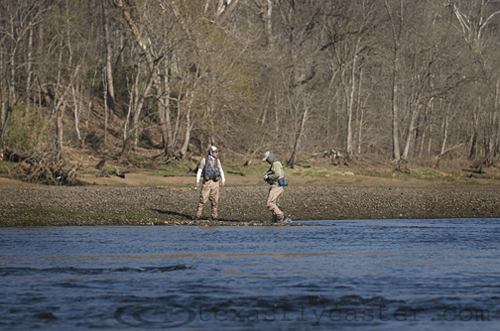 The uneducated adventure upriver had been, for me, all in all, a bust. I was thoroughly enthralled by the water's size, and sophistication, but also feeling thrashed by the reality that the famous White River brown trout were not flopping at my feet. Something was beginning to creep in, something foreign to my thinking – pressure.
[display_podcast]
Recording is a sample from the 17th. and the video is from the 16th.
The weather was predicted to break to the warm side in a couple of days in Northern Arkansas, but until then the generators were running in intervals at one, two and four generators. As much as the water tweaked our learning curve, the weather was heavily overcast, and threatening rain; a perfect setup for trout fishing.
The phone report (which you are to take with a grain of salt) doled out the Bull Shoals release schedule, and then tossed us a glimmer as they also reported the Norfork had not released water in the last twenty-four hours. We could imagine pools of hungry trout, just waiting …
After what seemed like a long sidetrack at the Blue Ribbon Fly Shop in Mountain Home, Arkansas, we were back on the road toward the Norfork.
We headed down Arkansas mountain roads, down 201, right on 5, and back to the left and along the river on River Ridge road. Pools and runs of deep green began to appear on a calm and finally, fishable, river.
So far we had been running on trout time, which is as you know, generally anytime. However, the parking lot was packed with license plates – New York, South Dakota, Texas and mostly Arkansas. Dudes, with their off-the-shelf dude hats, off-the-shelf dude waders, off-the-shelf dude rods, dude wading sticks and dude nets, were dotting the pools for as far up the river as the eye could see. The river bends, so the eye could only see about a half mile. Downriver, it was less crowded, and I had to assume, less populated with fish as the water temperatures rose.
There was nothing imposing about the cadre of fly fishers, as they were respecting each other's distance, abiding by all known stream etiquette. Friendly greetings are the norm, in the parking lot and on the water. There's a typical handicap size Rent-a-Can … that you wouldn't want your worst enemy to have to use. Make sure all necessary movements are elsewhere, and if you have females in your trust, make sure they are relieved before arriving here. It is the worst (inside) I have ever seen, and I can say with authority, I have seen a few outhouses.
Nymphing seemed to be the dudes order of the day, so of course I tied on a streamer late Tuesday morning, and split up with my fellow Texans – our general direction downstream from the lot, and splitting our distances by about 100 yards each. The water picked up speed between shoals (piles of river rock) and would fall out into pools or swirls before moving on. The first rainbow I picked up was in a normal trout holding spot, squirreled in a swirl behind a boulder.
After a very nice battle, I was overwhelmed to see the rainbow trout of legend and lore. It wasn't huge, or even large, but it was perfect. The fins were perfect, and the color was the deep native color with a bold read sidewall. These are beautiful fish. Norfork rainbow trout do not look like stockers of Oklahoma or Texas. They look like "real" rainbow trout. You will want to get some of this just for the beauty of the fish.
Then, there's the brown trout. Fewer, and further in between, but loaded with attitude, they are actually more along the lines of browns seen everywhere. Nonetheless beautiful, and as always my favorite freshwater fish for their honey, gold and dense spotting. Even though there are fewer, they don't hesitate to strike again if they miss the first time, so slow that strip if you get tapped, feign injury and pick up the next strip long and slow.
Our group managed to form independent impressions of a very sizable quantity of rainbow trout of an average fourteen inches, and some scattered browns up to sixteen. The Norfork, shut down from generation, was quite manageable and a great place to get your Northern Arkansas footing, not tottaly unlike Broken Bow, just with massive amounts of steroids.
Back at out campsite along the White, the water was still coming through thanks to two generators at the dam being opened up, but the sky was clearing and the temperatures were warming. That means a decreased demand for electricity, and couple that with the chamber of commerce's need for peace and tranquility for the weekend's deluge of fly tiers; the word was a complete shutdown at Bull Shoals was coming.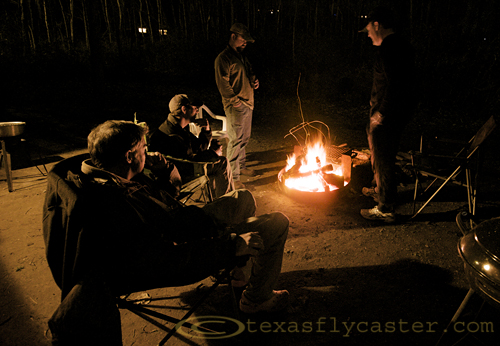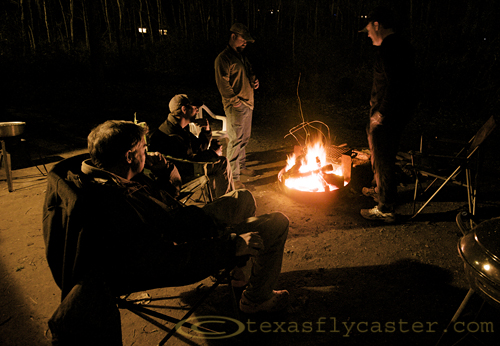 Sitting around watching wilderness television along the White River in Arkansas.
Just before dark, I paddled my Native Ultimate 12 across the two generator current and broke even (not getting washed downriver) landing parallel to departure from the other side. There were sandy outcroppings and logs that formed good holding for fish in current. Finally, a very nice, the biggest I had ever caught, brown trout, came on and took the black bugger for a ride that fly will never forget. Not so dramatic in length, as in the shoulders, I wet my hands, secured the hook and released the fish – no net as I mostly do. No photograph either, because this was only the end of day one, and that brown made me think bigger. Lesson 1 – always photograph.
I was the only one to successfully cross there that day, and the workout left me ready to collapse by the fire, warm my bones, and look forward to tomorrow. With the rumored change in generation, tomorrow would be a bigger mystery than that day.
Fly Fishing on Colorado's Conejos River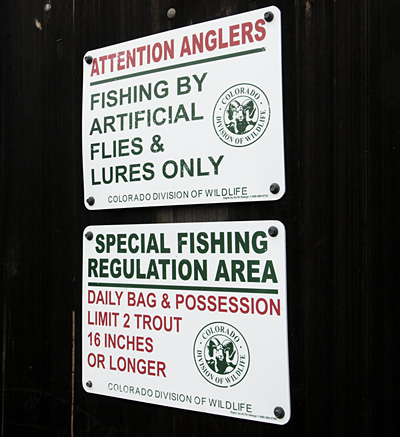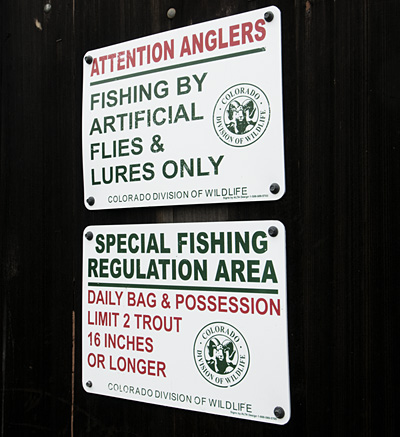 OK, so I have been catching some heat for the long entries on the Conejos. Admittedly, the detail was a little long, but I am guessing that anyone with zero knowledge will appreciate the detail over getting lost! If I had been more on my toes at tracking down resources in the area, I would have made it out to the outfitter I learned about from the fly shop in Pagosa Springs.
Here is the Cliffs Notes version:
Weather – beats the heck out of Texas 50 lows and 80 highs with very low humidity. Rain daily in early afternoon and potentially all afternoon.
Fish – yes. Quick mood swings. Some pressured – Hike to those that are not.
Water – cold. This time of year – waders, but no insulating layers as the air is quite warm. Watch the flows. If you have to go to plan B, go to the reservoir and including where Conejos flows into the reservoir. My guess is the stockers are all gone from the secluded high lakes and ponds by the end of summer because they are so easy to reach.
Flies – Golden stone fly and many,many more. Bring everything and try it all. Fish in Reservoir will go after almost anything.
Guide – Recommended. Try Conejos River Anglers. If you've got the money, they've got the time. They have access to what looks like a vast amount of fantastic private access waters.
Gear – 3-5 weight rods with a stout 4 perhaps the perfect choice. Net. Backpack or vest with big back compartment for long hikes.
Clothes – Waders for sure. No heavy layers this time of year. Hat. Rain gear used every day. Hunker down or ride it out.
Medical – WATER. WATER. WATER. This is high altitude fishing, and that means adjusting to less oxygen, needing more water than usual, and unforgiving rugged water access (for the most part). Aerobic conditioning necessary. Strength helps, but be ready to go long distances. Try not to go alone. I took three real falls in one day.
Communication – No Cell phone. No radio. Pay phones. Modest supplies at the Skyline Lodge. Make a friend, and take a friend – you'll both be safer.