Fly Fishing on Colorado's Conejos River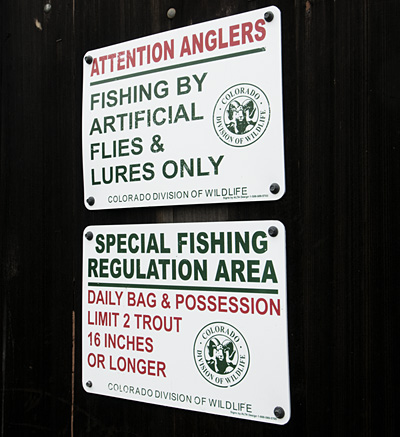 OK, so I have been catching some heat for the long entries on the Conejos. Admittedly, the detail was a little long, but I am guessing that anyone with zero knowledge will appreciate the detail over getting lost! If I had been more on my toes at tracking down resources in the area, I would have made it out to the outfitter I learned about from the fly shop in Pagosa Springs.
Here is the Cliffs Notes version:
Weather – beats the heck out of Texas 50 lows and 80 highs with very low humidity. Rain daily in early afternoon and potentially all afternoon.
Fish – yes. Quick mood swings. Some pressured – Hike to those that are not.
Water – cold. This time of year – waders, but no insulating layers as the air is quite warm. Watch the flows. If you have to go to plan B, go to the reservoir and including where Conejos flows into the reservoir. My guess is the stockers are all gone from the secluded high lakes and ponds by the end of summer because they are so easy to reach.
Flies – Golden stone fly and many,many more. Bring everything and try it all. Fish in Reservoir will go after almost anything.
Guide – Recommended. Try Conejos River Anglers. If you've got the money, they've got the time. They have access to what looks like a vast amount of fantastic private access waters.
Gear – 3-5 weight rods with a stout 4 perhaps the perfect choice. Net. Backpack or vest with big back compartment for long hikes.
Clothes – Waders for sure. No heavy layers this time of year. Hat. Rain gear used every day. Hunker down or ride it out.
Medical – WATER. WATER. WATER. This is high altitude fishing, and that means adjusting to less oxygen, needing more water than usual, and unforgiving rugged water access (for the most part). Aerobic conditioning necessary. Strength helps, but be ready to go long distances. Try not to go alone. I took three real falls in one day.
Communication – No Cell phone. No radio. Pay phones. Modest supplies at the Skyline Lodge. Make a friend, and take a friend – you'll both be safer.
Category: Colorado Report, Equipment, Fishing Reports, TECHNICAL