fly fishing for stripers at denison dam on the red river
It was one of those days. I had to get away and out of the home office, so I loaded up the kayak and hit Ray Roberts. The thing about Ray Rob is it still has the feel of an undiscovered location. Even though you can expect it to be slower on Thursday than the weekend, it was incredibly devoid of boats and people.
I even found one little cove with drainage coming into it that was loaded with Carp. I parked and got out to work the shoreline, fully expecting to see beaten down trails along the edges, footprints and abandoned bait containers. I was pleasantly surprised to find only the flotsam typical of any lake, no footprints and aggressive Carp. The water in that area is still pretty muddy and recent rains are still draining into the lake there.
After that, as the day was winding down, I anchored and waited for the typical schools of Sand Bass to surface in an area I had been at recently during a small feeding frenzy. Although they did not pop the surface, I did manage to catch about ten fish on topwater. For those of you who haven't seen or experienced a Sand Bass chasing topwater, it really is amazing to see them chase and chase and virtually never give up on their pursuit.
I've been getting a lot of questions from around the state on the status of Stripers below the Denison Dam, and went to the best source for accurate information regarding the status of things there – professional guide Scott Bridgess. Bridgess' analysis of what is going on at Texoma and the Dam reads as follows; "I talked to a guide that fishes the river quite a bit. He said it's been real slow. He is not even taking trips on the river right now. He is telling his customers to wait until October. The water coming out during generation is very stinky, low O2, water. This is a result of the decay form the high amounts of organic matter in the lake. (Mostly alge.) The same type of problem is destroying the shrimping grounds in the gulf. High amounts of nitrogen from increased corn production is causing an alge bloom. When the alge dies bacteria break it down and consume all the oxygen." From some recent posts, Bridgess continues, "My buddy caught 8 fish on pencil poppers in that spot. (He had three customers) 3 were close to 30 in. 1 – 27 in. and the rest were 24 to 26 in. They destroyed two push button reels, 2 lures the hooks pulled out and one broke off. All this happened in a 15 to 20 min. Oh well, live and learn … Several areas you can fish on Lake Texoma right now for Stripers. (About 1 to 1/12 hours north of DFW) Around the dam, Eisenhower State Park, The islands located by Highport Marina. There are many other areas, but those will give you a good start. Fish are blowing up in the early mornings and late evenings. Be careful it's a big lake with lot's of power boat traffic. When the weather cools down you will find good action below the Denison Dam on the Red River." I hate to disappoint, so here is an old photo of a Striper I caught during cooler days.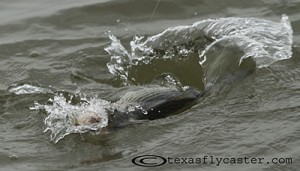 Category: Fishing Reports, North Texas