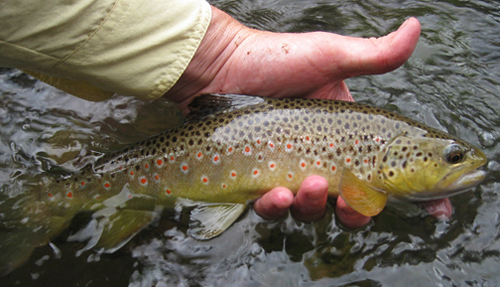 Conejos River brown trout. Photo Courtesy – Clint Keating
The Canejos has been very low due to only about 1/3 normal average snow pack along with hot dry conditions until August when some showers brought waters to decent levels.
As you may know, the Canejos can be a tough river for anglers due to the wide variety of forage and hatches that can occur on a daily basis along with the fact that you can pretty much plan on the dry fly bite being non-existent on most parts of the river with few exceptions.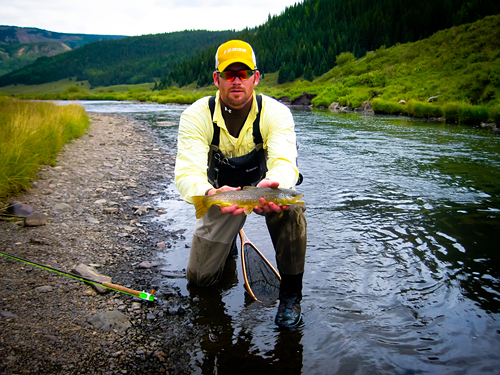 Wouldn't we rather be there right now? Photo Courtesy – Clint Keating
We fished mainly from the "Hamilton" lease, which is just below the "South Fork" (just below The Pinnacles) up river to Sky Line Lodge. I caught more fish on my two days on the river with no guides then I did with the guides for two days, although, the methods learned on the two guided days (Canejos River Anglers – Jon Harp and his great staff of guides) came in very handy!
The type of waters fished were mostly fast riffle and pocket water with dual fly system with various, midge, worm and nymph patterns. The best fly combo was a red annelid (size 12-14) on top with a chironomid (size 16-18) dropper.
We caught 70 % of our fish on this system. Leaders were 9ft 5X mono with two feet cut off and 5X Fluorocarbon tied on with Blood knot also being used for a split shot stopper. Improved clinch knot tied to eye of first fly and 14-16 inches of 6X fluorocarbon was also tied to the eye of the first fly with a dropper tied on the end.
We used a bubble indicator in white so the float would look like the white bubbles on the river's surface about five feet above the first fly and would determine if weight was needed by evaluating the drift based on flow and depth. We would also fluctuate the distance of the indicator by a few inches to avoid weight if possible.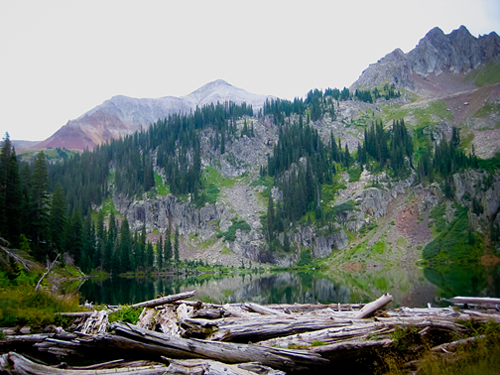 Crater Lake Camp. Photo Courtesy – Clint Keating
NOTE – Thank you Clint for the report. I don't have to twist arms and beg when all goes so well with reader's trips, but we all like to hear about everyone's exploits no matter how successful or dismal. If YOU have a story about your fly fishing experiences, beginner or advanced, from this summer that is winding down, feel free to send it in.
Category: Colorado Report, Destination Fly Fishing, Equipment, Fishing Reports, Fly Shops, Fly Tying, Guides, On The Road, Science and Environmental, TECHNICAL, Technique