LOVE ROLLERCOASTER
(listen to the song – iTunes Ohio Players)
The rollercoaster hits a peak again this week, with high temperatures hitting the 70's today and the next two, or three days. North Texas winters have, in recent years, become a wild ride that we seem to be getting more comfortable with … and these mild winters lead to incredible spring fly fishing experiences, including last year's (10 year) peak performance of an extremely healthy and diverse Lake Ray Roberts.
As these "winter" months have gone by, I've been quietly exploring another local lake for habitat that could offer up carp and bass on the fly – in a different caliber. I have been in the company of a tournament pro bass competitor on his glitter boat, learning the nuances of ultralight spin casting for bass, and just as importantly; seeing habitat that holds bass, seeing habitat that could well hold carp … in short LEARNING. There are things I know for sure about fly fishing Lewisville Lake Dallas, and once April-May turns on: We will be doing the FOR SURE looks, and then we will be expanding our Lewisville horizons.
TIME SPENT
The time on Old Lewisville Lake and Lake Dallas has been time well spent, and continues to be inspirational. It gives a chance to set sights on new ideas on new fish in new places. That's the obvious upside. The never-ending downside: That lake is still very polluted, leaves a nasty film on your boat, it is crowded and it is dangerous. So that part of it is a huge compromise from the still spacious, uncrowded and clean Lake Ray Roberts, but it (Lewisville) has those marinas and double dam ripraps and creek feeds that HAVE huge carp at certain times.
BUSY WEEK IN REVIEW
Here at TFC, Monday is THE DAY for a lot of you to stop in, and then head off to what confronts, challenges and rewards you in the real world during your workweek – all the things we love-hate step right back in – getting in our ways. Last week was a decent example of a week chock full of fly fishing news almost every day. So I want to take a moment to let the "Sidewalkers" get a glance at what they missed last week:
HOTSPOT: HYBRID GUIDE TRIPS NOW
I am in the process of learning and listening to you, the valued readers. I want to hear more about what you want to see / read / hear here at Texas Fly Caster. Sorry, we won't be going 3D or creating an interactive FLY FISHING CALL OF DUTY game any time soon. If I had a son or daughter, that generation would be responsible for carrying that torch, gun … errr … fly rod, yeah fly rod.
THE WEEK AHEAD
Who knows what the week holds? I am quietly restarting work on the transportable fly base station – a 1970 Airstream Safari – and will certainly take advantage of the weather patterns to run the back stretch of that project. The FISH FLASH from last week was just that – a flash that came on brightly, then just as quickly went dark. That's why I call them "FLASHes." For those who missed the hybrid action – Had a Good Time Wish You Were There! (See below.)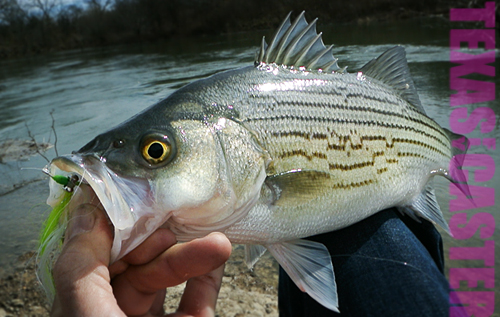 I am completely downhearted on the live broadcast idea. It's just way too far ahead of the curve for viewers from Texas Fly Caster, and the technology has a long way to go to be up to my standards. The "Live Fly Casts" are recorded, so I guess it's best to look at them as a recording opportunity? (For those who would copy in whole, I am claiming the term LIVE FLY CAST here, and now, although I've used it for years.) Sorry, I have to make "claims" in free content pieces – to prevent the "flattery."
Category: Backcasting, Complimentary Reading, Culture on the Skids, Fishing Reports, Fly Fishing For Carp, Fly Fishing for Largemouth Bass, Hot Spot, Life Observed, Live Broadcast, North Texas, Science and Environmental, Technique