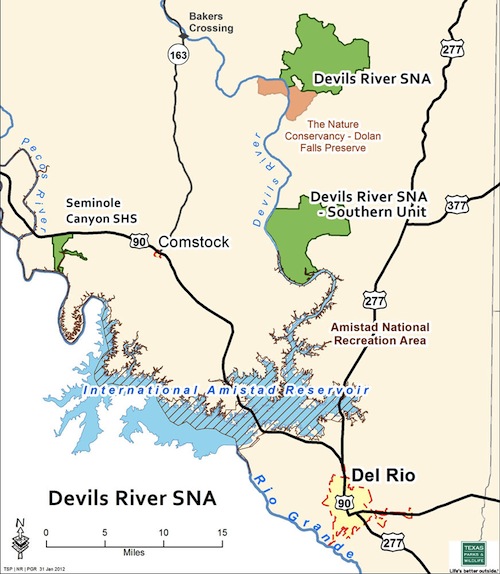 The Devil's River Working Group issued their "Final Report & Recommendations" recently for download at the Texas Parks & Wildlife site.
Although nothing ever seems final when it comes to the Devil's River land deal, and I am always leery of any government releasing a "Final" anything, the table of contents is enough to tantalize even the least interested into continued reading:
– Issues of Concern, Opportunities and Obstacles (8)
– Protection of Natural Biodiversity and Ecological Integrity, Natural Resources and Water Quality and Quantity (9)
Protection of Cultural Resources in the Devils River Corridor (10)
Appropriate Managed Access for the Public (11)
Appropriate Management of Waste and Trash (13)
Maintaining a Wilderness Experience (14)
Outreach and Education (15)
Other Issues (16)
Recommendations (18)
Rec. 01 – Successor Group (18)
Rec. 02 – Devils River Use Management Plan (18)
Rec. 03 ‐ River Access Permit System (18)
Rec. 04 – Control of Baker's Crossing (19)
Rec. 05 – Comprehensive Education and Outreach Campaign (19)
Rec. 06 – Increase Law Enforcement Presence (19)
Rec. 07 – Commission Members Visit the DRSNA Complex (19)
Rec. 08 – River Patrol Program (19)
Rec. 09 – Science (19)
Rec. 10 – Partnerships to Minimize Land Fragmentation (20)
Rec. 11 – Increase Penalties for Damage to Cultural and Natural Resources (20)
REC. 12 – Devils River Aquatic and Fisheries Management (20)
Devils River Working Group Members (21)
You know this is going to make for some great reading on one of the most beautiful and remote fly fishing river destinations in Texas. If you don't already have the Devil's River on your Texas fly fishing bucket list, it needs to be there. I want to do a before and after of the Diablo, and let readers decide for themselves whether all this print, all the politics, and all the time it's going to take to get this done – is actually worth it. I will read the whole enchelada and follow up on this post in about a week.
NOTE – I did hear from a member of Austin Fly Fishers that the Austin Fly Fishers are planning a trip to the Devil's April 13-16 this year.
Category: Central Texas, Destination Fly Fishing, Fishing Reports, kayaking, Science and Environmental, Texas Fly Fishing Club