ONE LAST CHANCE
The fish gods shone on me on the next to last day of 2011, and I was able to put one new waterbody record, recognized by Texas Parks and Wildlife Department, in the books for Lewisville Lake, Texas, for a palmetto bass on fly rod.
I found a nice spot with a natural wadeable area where the old Lewisville Dam was cut long ago back in early November, and drove down to hit that a few times when the wind surprisingly switched out of the north to the south. It created a natural funnel that tightened the bait run, and every evening, just before dark. it was on. And it yielded just about every fish under the sun; active and fat largemouth, sand bass, crappie, and on one trip a nice hybrid. One of my guests to that spot scored her personal best largemouth bass, and whenever it warmed (way above averages), the action was downright good.
I decided to take the time on December 30 to go back and just see if the hybrid was a fluke. The weather has to be just so, and by now this "wadeable" spot is three or four feet deep (that could be even better). It was a bit cooler than usual, but I tied on a shallow black/black jig-hook Clouser and let it fly.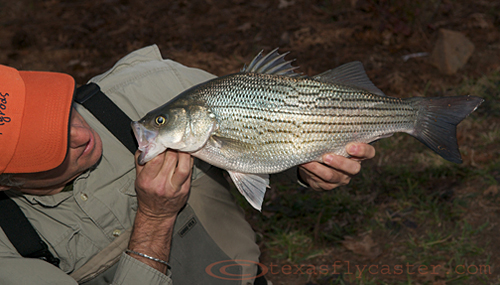 Big enough to be worth recording, a 5.25 pound palmetto bass caught on Lewisville Lake, Texas.
A hybrid take is much like a striper's take … only better. Hybrids, or palmetto bass, have a "never-say-die" attitude that can include finger biting to the point of leaving a mark. Now that's a fish. When they get close enough to see you, get ready for chapter two, because it's on again. That's just in their jumbled DNA.
I was only after one fish, and after about thirty minutes, I felt that wall grab my fly. After a typical five minute tussle I was able to land the lake fly rod record for Lewisville Lake, Texas. Now, make no mistake, this is not a big hybrid by lake standards, and the ten pound hybrid I caught at Ray Roberts Lake Dam came out of Lewisville and swam all the way up the Trinity to the Dam. Now that was a fish! That ten pound hybrid would have been a Texas State fly rod record, but went undocumented for reasons out of my control. As I recall, that fish had a 17″ girth!
This is one record I will spend some time trying to get closer to a double digit – if that opportunity comes around again. Can you tell I like palmettos?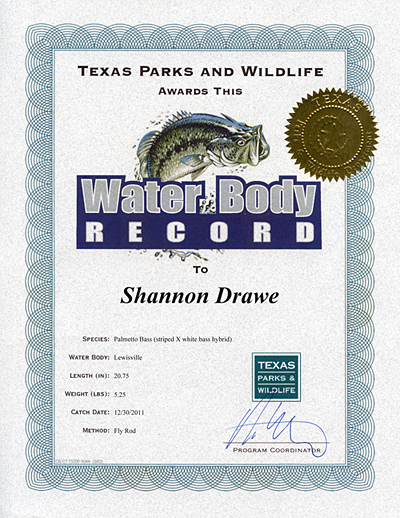 Category: Culture on the Skids, Fishing Reports, North Texas, Technique