I just want to take a half minute to bring some new websites to reader's attention.
After a horrible experience trying to purchase a Louisiana fishing license by smart phone on the way to the boat ramp, and giving up, I thought it would be helpful to create a well functioning site for anyone looking to buy a license for any state in the USA.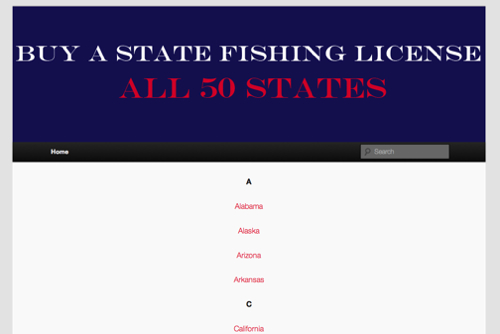 Buy A Fishing License is a new site created to make access to online purchase of licenses easy via smart phone, pda, or home computer.
The site, www.buyafishinglicense.com, is a portal to other state's sites, drilled down to get someone looking to purchase a fishing license as close to where they need to go as is possible. In doing the work for this site, I found it amazing how often individual state's sites change. It is apparent, in times of budget crunch, they figured out how to reduce employee hours by redirecting this kind of thing to online resources. Some of the sites are still pretty weak, and not geared toward maximizing ease of use. Security is something we all take into our own hands every time we head off to sites we consider "safe." Make sure you know where you're going – no matter what.
In an effort to increase world dominance of distributing fly fishing information, there's also the relatively new www.oklahomaflyreport.com, and as you are well aware, www.texasflyreports.com is picking up a lot of steam.
Hardly a day goes by when I don't discover some long existing site that does what some new site, perhaps including these sites, tries to do. It appears there are almost as many discussion boards as there are fly fishers discussing. A quick way to determine how prescient a discussion board may be is by checking when the most recent post was made. The vast majority of boards are, like blogs, abandoned. And that's why I am busy establishing a new network of boards under the broad banner of "fly report" this year. It will be an extremely difficult market to crack, but new discussion boards that will enlighten anyone from anywhere – about the specific state they are in, or interested in fly fishing in – will be slowly creeping into existence throughout 2012.
TEXAS FLY CASTER
Texas Fly Caster is due for some heavy tinkering as well. It ain't quite broke, but that's the best time to fix it. You have probably noticed that some of the sidebar features are hobbling around a bit, an get moved around regularly just to keep them visible.
– The guides page will be downscaled from several guides to just one. The experiment in socialism is over.
– I am also looking to reskin the entire site with a new banner and new look. If you are an artist into the fly, I welcome your ideas, and can even budget in your art for the banner.
– I am finally deleting the "Discussion" page completely from the menu. Discussion is now at www.texasflyreports.com.
SUGGESTIONS ARE WELCOME AS ALWAYS
If you have seen other fly sites that you like the look of, feel free to suggest I take a look at them. This site has a lot of bells and whistles (for better or worse) that have made it the number one organic search site for fly fishing articles about Texas. There's not really much we can change that would damage the rankings. Content is, as they say, content.
Category: Fishing Reports, TECHNICAL, TIPS