A service of the Oklahoma Department of Wildlife Conservation
Go fishing for free June 1-2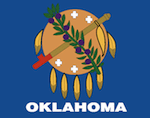 Oklahoma anglers can fish for free during Free Fishing Days June 1-2. During these days, a state fishing license will not be required for anglers to go fishing in Oklahoma, whereas in most other cases a license is required. Additionally, an Oklahoma City fishing permit will not be required for fishing those waters where the permit is normally mandatory.
The Oklahoma Department of Wildlife Conservation's many communication outlets such as its free news releases, Facebook and Twitter accounts and weekly fishing reports are useful starting points for finding fishing information. Every week the fishing report provides a listing of lakes and the current state of angling success at that location. The Department also updates its Facebook page daily with current reports from its own personnel as well as its fans on a range of current outdoor activities.

"If you stay connected with the Wildlife Department through these outlets, you are going to have a good, timely picture of what is happening in the outdoors across the state at any given time," said Michael Bergin, information specialist for the Wildlife Department. "With biologists and game wardens stationed across the state, as well as more than 15,000 Facebook fans and almost 3,000 followers on Twitter, we stay pretty connected to what's happening all over the state. If you connect with us, you'll know what's going on, too, because we're constantly sharing photos and reports from our employees and friends who have been having current success. Free Fishing Days are sure to be a great time to snap some photos to share with us, too."
Oklahoma offers fishing in lakes and rivers, but also in urban waters designated by the Wildlife Department as "Close to Home Fishing" locations. Although state fishing licenses and the Oklahoma City fishing permit (where applicable) are not required during Free Fishing Days, anglers should note that certain city permits may still apply to specific fishing areas.
Additionally, anglers fishing Lake Texoma should be aware that Free Fishing Days applies for all of the lake on June 1 but only on Oklahoma portions of the lake on June 2.
Oklahoma was the first state in the nation to offer free fishing days about 30 years ago and has since been followed by dozens of other states that have established similar days.
The Wildlife Department is encouraging anglers to take a short video clip or photo of someone catching their first fish and send it to the Department through Facebook or Twitter. The Wildlife Department's Facebook page can be found at http://www.facebook.com/wildlifedepartment. On Twitter, search for the handle @OKWildlifeDept.
For more information about fishing in Oklahoma, log on to the Wildlife Department's website at wildlifedepartment.com.
Category: Adventure, Events, Oklahoma Report